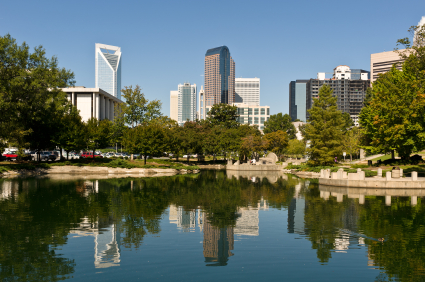 Active adults who venture to Central North Carolina will find several popular destinations, including the Raleigh-Durham, Charlotte, Greensboro, and Fayetteville areas. Each of these urban centers boasts a distinctive character that comes through in its charming restaurants and shopping centers, exciting entertainment venues, and varied cultural attractions.
Likewise, the suburbs of these cities offer scenic beauty, charming neighborhoods, and a laid back way of life that is appealing to many retirees. Take a closer look at Central North Carolina to decide if its weather, lifestyle, and communities might be right for you.
A Four-Seasons Climate
Though there are variations within the region, Central North Carolina has a climate that typically experiences all four seasons. Summers are hot and humid with temperatures in the upper 90s, while winters can be damp and chilly with days in the low to mid-30s. Some areas, such as Raleigh, do see a small amount of snow each year and even the more southern city of Charlotte has occasionally experienced a white Christmas.
Raleigh-Durham Area
As the capital of North Carolina, Raleigh has grown into one of the state's largest cities. Together with nearby Durham and Chapel Hill, Raleigh is part of a popular area nicknamed Research Triangle, or simply The Triangle. The area is known for its high-tech and research facilities as well as being home to NC State University, Duke University, and the University of North Carolina at Chapel Hill.
For active adults, the Triangle area offers plenty of recreational, social, and educational attractions. There are museums, performing arts centers, urban shops, and fine restaurants. Raleigh is home to the NHL's Carolina Hurricanes, and baseball fans will recognize the Durham Bulls minor league team from the movie "Bull Durham."
Several luxurious active adult communities have been built in the Raleigh-Durham area, including Carolina Preserve and Fearrington Village.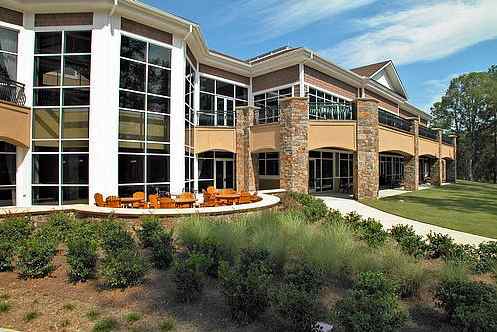 Sun City Carolina Lakes is a resort-style active adult community just 25 miles from Charlotte, NC.
Charlotte Area
Farther west, the Charlotte area has been praised as a great place to retire, particularly for those who love golf. The city is home to the PGA's annual Quail Hollow Championship and it has more than 40 challenging public courses.
Of course, the area offers retirees many other recreations as well, such as entertainment venues, restaurants, and shopping districts. Charlotte has two professional sports teams, the Carolina Panthers (NFL) and the Charlotte Bobcats (NBA), and it is home to the NASCAR Hall of Fame.
Communities in Charlotte
The Charlotte area offers many housing options, including several active adult communities. Just 25 miles south of the city, Sun City Carolina Lakes is a sprawling age-restricted community that contains 3,160 homes. This spectacular golf community spreads over 1,512 acres of rolling hills, offering a beautiful backdrop for its fine homes and spacious clubhouse.
Retirees who prefer more intimate communities also have great options such as Bailey's Glen or Four Seasons at Gold Hill.
Greensboro
In the more northern part of Central North Carolina, just 90 minutes from Raleigh, Greensboro is another of the state's largest cities. Most of Greensboro's growth has occurred in the late 20th century and, despite its size, the city has managed to maintain much of its small-town charm.
Preserving the environment has been as important during the city's growth, which can be seen in its many green spaces. Greensboro is a relatively affordable area that may appeal to more urban retirees.
Fayetteville
An hour south of Raleigh, the city of Fayetteville may be best known as the home of the Fort Bragg Army base. The Fayetteville area has a rich history including key moments in both the American Revolution and the Civil War. Today, Fayetteville is known as an affordable area that often attracts military retirees.