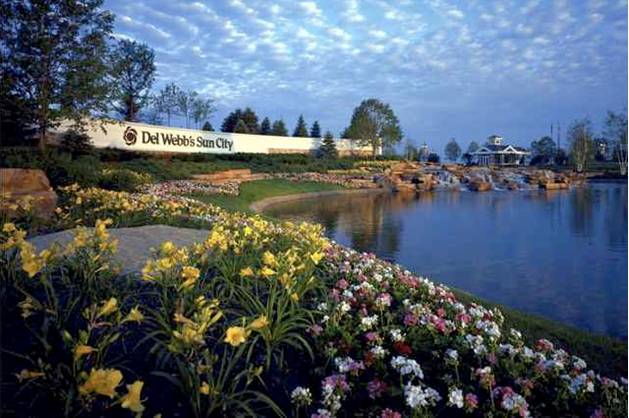 As one of the country's largest cities, Chicago offers word-class dining, shopping and entertainment. The city is an ideal destination for an exciting urban vacation, while its suburbs feature a number of impressive active adult communities.
Located in Northern Illinois, on the shores of Lake Michigan, Chicago is the third most populous city in the United States. The city's impressive architecture creates a beautiful skyline, including some of the country's tallest skyscrapers. In fact, Chicago's building boom in the late 1800s held a pivotal role in beginning the skyscraper era. Today, the city features a mix of modern and historical buildings, as well as a wide variety of urban attractions.
Chicago's northern location means that the area experiences all four seasons. Summers are hot and humid with average daytime highs in the mid-80s. Although heat waves can bring the temperature over 100 degrees. Winters along Lake Michigan are cold and snowy with days typically in the mid-30s and nights often dropping below 20 degrees. Spring and fall months have more mild weather, making them a prime time to plan a visit.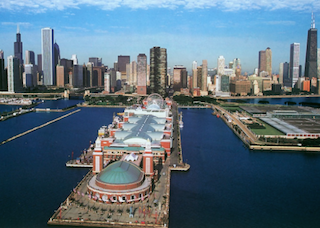 Navy Pier is one of Chicago's most popular attractions with entertainment, dining and beautiful lake views.
During a first visit, Chicago tourists won't want to miss some of the city's well-known destinations. The Magnificent Mile features upscale shopping, while the Chicago Cultural Center houses the city's main Visitor Information Center. A trip to Grant Park lets visitors explore Millennium Park, Buckingham Fountain and the Art Institute of Chicago. Navy Pier is another Chicago hot spot which offers shops, restaurants, exhibition halls, museums and a 150-foot ferris wheel.
With thriving cultural districts, restaurants, shopping areas and parks, there is always something to do in Chicago. Sports fans particularly love a trip to Chicago. They can take in a professional game in any season, since Chicago's pro teams include the Bulls (NBA), the Bears (NFL), the Blackhawks (NHL) and the Fire (MLS), as well as two MLB teams: the Cubs and the White Sox. Athletes also gather each year for the Chicago Marathon, one of six World Marathon Majors.
Beyond sports, Chicago is known for its world-class arts and cultural districts. Visitors and locals alike can enjoy performances by the Steppenwolf Theatre Company, the Chicago Symphony Orchestra and the Lyric Opera of Chicago. The Broadway in Chicago area features popular shows, while dance lovers can appreciate a variety of ballet, jazz and contemporary performances. Venues throughout Chicago also offer music concerts and festivals, art exhibits, galleries and more.
The Chicago suburbs, known as Chicagoland, have become a great place for active adults to retire. The area offers close proximity to the city, as well as its own retail centers, healthcare facilities and entertainments. Just a few of Chicagoland's resort-style communities include Sun City Huntley, Carillon and Grand Haven.
Whether planning a visit or looking for an exciting retirement destination, Chicago offers something for everyone.