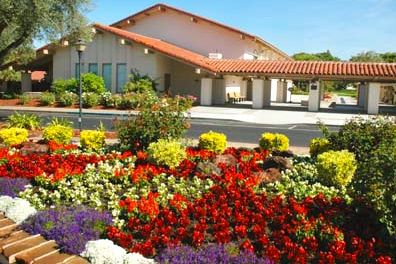 Like many active adult communities, The Villages Golf & Country Club is age-restricted and centered around a beautiful golf course. In addition to that, however, it has many distinctive features that set it apart from other active adult communities. A long building period has given the community its own eclectic personality, and a wide range of social clubs meet the needs of many different residents.
Residences
The Villages Golf & Country Club first opened in 1967, but the final homes were not completed until 2000. By slowly developing over three decades, the The Villages has grown to include a diverse mix of home styles, mature landscaping, and a well-established social community.
The community itself was built on the site of a former vineyard and winery with gently rolling hills and lush landscaping. The Villages' spectacular championship golf course is a focal point of the community. Designed by Robert Muir Graves, this 18-hole course offers challenging play for players of all skill levels. The community also contains a second 9-hole par 3 course, a driving range, and a golf pro shop.
When it comes to residential homes, the community's twelve different villages each feature their own architectural style. There are a total of 2,536 diverse residences comprised of apartment-style condominiums, attached townhouses, and single-family homes. Taking full advantage of the area's natural beauty, homes are gently tucked into the community's 1,200 acres of artful landscaping which includes scenic lakes and lush greenery.
Amenities
With over 100 social clubs and organizations, The Villages' established community has the experience to run smoothly and enough resident involvement to welcome fresh ideas. Special interest clubs cover many subjects including hobbies and games, discussion groups, sports, fitness, and general entertainment.
The Villages Golf & Country Club is well-equipped with the facilities to support active adult lifestyles and meet the needs of the community's various clubs and classes. Four spacious clubhouses contain a vast array of amenities. These facilities include a fitness center, a social hall, hobby and game rooms, meeting rooms, a library, and The Clubhouse restaurant.
The Villages' beautiful grounds provide the perfect setting for many outdoor amenities as well. There are four swimming pools and spas, six tennis courts, picnic areas, parks, and walking and biking trails. The community also offers RV parking and horse stables.
Though there are a wide variety of events and activities available, new homeowners will have no trouble getting into the swing of life at The Villages. The Community Resource Center offers many services to help new residents settle in, including bimonthly orientation meetings. The weekly newspaper, The Villager, offers residents timely information about community happenings, and residents can also check for updates on Channel 26, the community information channel.
Blending a mature community with three decades of home development has given The Villages Golf & Country Club its own distinctive personality. Resident involvement continues to shape the direction of this vibrant community, and it doesn't take long for residents to feel at home when surrounded by the natural beauty of The Villages.