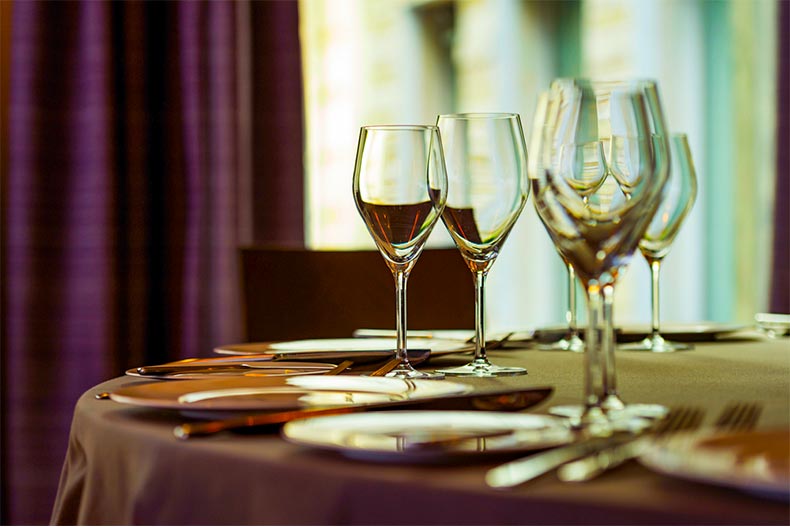 There are many amenities and conveniences that help make certain communities are even more appealing to potential homebuyers, the extra something that helps make them stand out above other neighborhoods. One of those extra amenities that can't be found at every 55+ community, but is certainly an added bonus, is an on-site restaurant.
Having a restaurant so close to home makes a big difference on the nights when active adults are too busy to cook or just want to have an enjoyable evening out without having to drive too far or waste a lot of time on a long waiting list. There are several communities on the South Carolina coast that feature their very own restaurants—below we have highlighted a few.
Sun City Hilton Head — Bluffton, SC
The Sun City Hilton Head community boasts two separate restaurants and bars — The Clubhouse at Okatie Creek and Jameson's Charhouse at Hidden Cypress.
The Clubhouse's menu features a variety of appetizers, including coconut fried shrimp, cajun fish bites, calamari, and grilled shrimp. Along with several soup and salad options, the menu features more than a dozen sandwich and wrap options, as well as burgers, pizza, and flatbreads. Entrees include fish and chips, a shrimp platter, baby back pork ribs, chicken pot pie, and half herb roasted chicken. The Clubhouse at Okatie Creek also serves breakfast daily with everything from pancakes and French toast to Belgian waffles and eggs Benedict.
Sun City's other restaurant, Jameson's Charhouse at Hidden Cypress boasts an assortment of appetizers, including fried green tomatoes, crab cakes, baked artichoke and crab dip, buffalo wings, and sun-dried hummus. Entrees range from classic American burgers and sandwiches to quality cuts of steak, pork chops, and pasta dishes. Additionally, Jameson's Charhouse has a vast selection of wines, beer, signature cocktails, and martinis.
Latitude Margaritaville Hilton Head — Hardeeville, SC
The Jimmy Buffet-Inspired community, Latitude Margaritaville Hilton Head will be home to the Latitude Bar & Chill Restaurant, where residents and diners can expect a laid back atmosphere, tropical vibes, and delicious food.
Hampton Lake — Bluffton, SC
Hampton Lake's Blackwater Bill's offers residents a casual dining experience with a menu full of Lowcountry favorites the whole family can enjoy. Menu items range from corn and crab fritters to smoked brisket and chopped salads.
Hilton Head Lakes — Hardeeville, SC
As part of the Hilton Head Lakes' golf shop, the Cafe at Hilton Head Lakes Pub & Grille serves lunch daily.
Other coastal Carolina communities with restaurants on-site include Myrtle Beach's Waterside Pointe and Del Webb Myrtle Beach, as well as Lakeside Crossing in Conway, and Liberty Cottages at Park West in Mt. Pleasant.