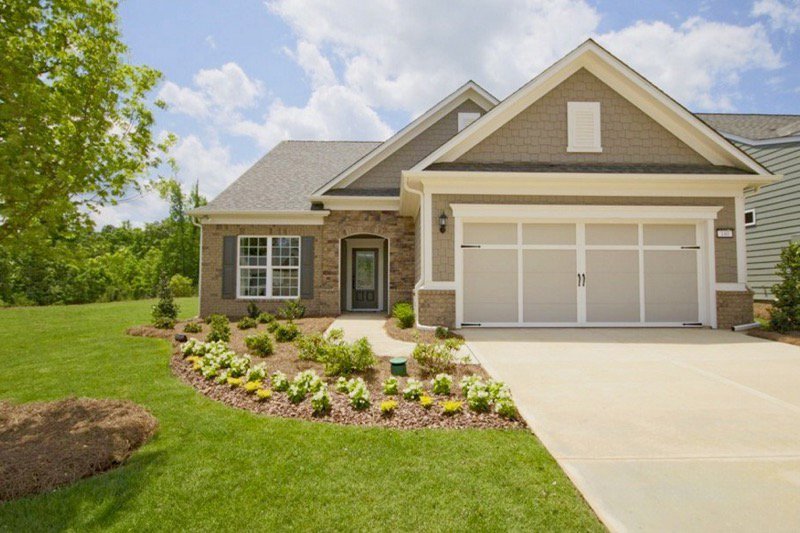 Del Webb enjoys a reputation as being one of the nation's premier 55+ community developers. Not only does the name represent quality and leisure, but their communities have charmed homebuyers from California to New Jersey and have ranged from beautiful new construction homes stretching all the way back to the active adult community that started it all.
For all the ground they've covered, Del Webb has yet to build something quite like this.
Del Webb at Chateau Elan, opening in the fall of 2016, will not only bring the developer's renowned lifestyle to the Atlanta area for the fifth time, but will also be adjacent to one of the state's most idyllic and enduring attractions: Chateau Elan.
A beautiful resort, Chateau Elan sits on 3,500 acres of lush greens  and meticulously manicured lawns. A sprawling estate sits in the center, evoking scenes out of the French countryside more than Atlanta suburb. The full-production winery produces Chardonnay, Merlot, Cabernet, and Riesling, creating some of the region's most dynamic offerings.
Not only can residents here attend wine tastings at their whim, but can also play on the property's 63 holes of championship golf. With three 18-hole courses and one 9-hole course, the golf complex caters to players of all skill levels amidst the estate's dreamy, idyllic atmosphere.
After playing a round, enjoying a meal, or tasting some wine, residents return home to a beautiful community that's just next door. Once complete, homeowners will be greeted with a luxuriously appointed 20,000 square-foot clubhouse. The community will be able to satisfy any exercise regimen with a world-class fitness center and indoor heated lap pool. Social events will be held in the ballroom or multi-purpose room, while more casual get-togethers can take place around billiards tables. If you're itching to pick up a new hobby, the community will also host an arts and crafts studio.
The climate in Northern Georgia makes year-round outdoor activities possible, and Del Webb at Chateau Elan will provide several opportunities to make the most of it. Outdoors, there will be a beautiful pool and patio for relaxing on sunny days. Tennis, bocce ball, and pickleball courts make it easy to break a sweat while enjoying some friendly competition among neighbors. Walking and biking trails will weave throughout this strikingly beautiful 55+ neighborhood.
Del Webb will develop 730 single-family homes in this community. Although final floor plans have yet to be released, Del Webb has an unmatched reputation when it comes to meeting the needs of active adult homebuyers. Implementing a mix of traditional home styles with innovative features, Del Webb's active adult communities have been a major hit with 55+ homeowners for over 50 years, and Del Webb at Chateau Elan will be no exception.
Want to pick up a new hobby or activity in retirement? This community will make it easy by providing an on-site activities director who will continuously schedule events for homeowners to attend. Between the activities director and the sterling planned amenities, homeowners will be a part of the legendary Del Webb lifestyle.
This community's location in Hall County has proven to be massively popular for active adults and is, in fact, the top submarket for 55+homebuyers in the Greater Atlanta area. Not only will the community be around the corner from two grocery stores, several restaurants, banks, and a pharmacy, residents will also be about 45 miles from downtown Atlanta, with its bustling downtown scene, restaurants, theaters, art galleries, museums, and a zoo for when the grandkids come for a visit. Getting out of town is easy with Hartsfield-Jackson Atlanta Airport that's just an hour away.
Lake Lanier, encompassing 38,000 acres, is just 15 miles from the community and is very popular for boating. The massive lake also has a series of islands that residents can explore via the scenic walking and hiking trails. One of the islands even has a recently opened 12-hole golf course for a round unlike any other.
Whether you want to go wine tasting, play golf on an island, or experience active adult living at its finest, Del Webb at Chateau Elan will have it all.