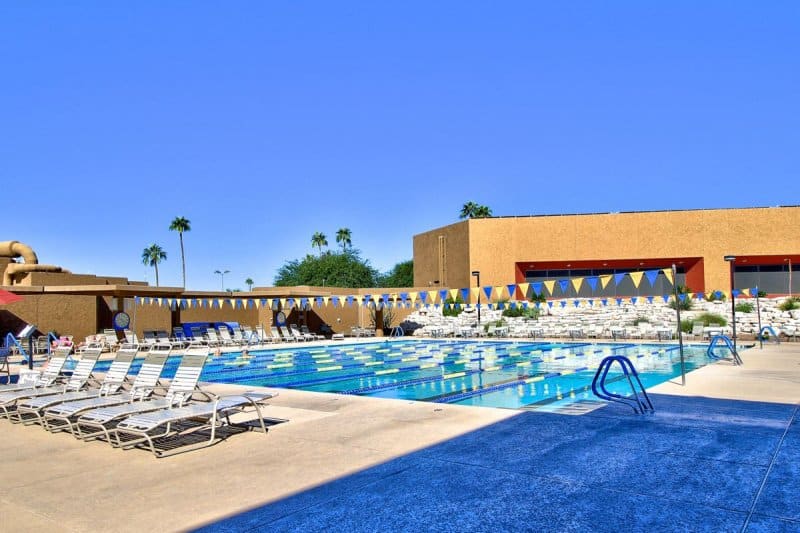 A major draw for Baby Boomers moving into 55+ communities is the active lifestyle and social environment. With countless resort-style amenities, abundant social clubs, and the assistance of on-site activity directors, there's never a dull moment in these vibrant communities.
That's why many 55-plus communities are perfect for those who want to mingle, build lifelong friendships, explore new hobbies, and join special interest groups or clubs. It's not unusual for these communities to offer a diverse selection of social clubs that Boomers can choose from that cater to their individual interests.
Some of the most active 55+ communities offer a long list of fun clubs and organized groups that make the experience of living in these developments more fun and unique. While every 55+ community is distinct in their own way, one common factor is that there is no shortage of Boomers staying physically fit and socially engaged with other like-minded adults. Check out some of the coolest clubs available in these active adult communities below (listed in no particular order).
No list would be complete without including the country's first 55+ community. This Del Webb development features more than 27,000 homes, multiple clubhouses and recreational facilities, and more than 200 clubs and special interest groups. Some of the most popular clubs include bunco broncos, RV club, nextgen club, artistic weavers and fiber artists club, China painting, chamber orchestra, and ukulele club, just to name a few. With such a robust list of clubs offered, the only problem retirees will have is narrowing down their top choices.
This established 771-home active adult community in Melbourne, FL, offers a rich lineup of amenities and clubs. Retirees can choose from a distinct selection of special interest groups like audio video group, investment club, military history forum, patriotic club, Semper FI IRCC, golden eagles quartet, and masons. Boomers looking to stay fit can also take aquacise or stretch and rhythmic exercise classes. And if that's not enough, residents can browse through the other 50 clubs available in this exciting 55+ community.
There's more to this Southern Arizona active adult community than just its desert location. Residents enjoy an active environment where they have more than a dozen social clubs and organizations to choose from that will keep their calendars full. French enthusiasts can share their passion for the language and culture in the Francophiles club. Retirees with Harleys can join other "wild hogs" in the motorcycle club. From the off-roading club and singles group to Rotary club and British club, there is something for everyone in SaddleBrooke.
This Southern California active adult community not only enjoys a beautiful climate and sunny locale, it also has an equestrian center and more than 250 clubs and organizations. With an on-site equestrian center, residents can join the popular saddle club that promotes horsemanship and horseback riding social events. Club members can take educational and fun trips to horse-related functions like the Pomona Horse Expo as well as take riding lessons at the equestrian center.
Rossmoor may be a more established 55+ development in the Bay Area, but that's not keeping the residents from living an active lifestyle. Rossmoor's social scene includes more than 180 clubs that cater to many interests. Avid bookworms can join different book clubs like the mystery book club, great books, talking books, or soul of the text great books. There's also a writers club for those who want to pen their next great memoir. Rossmoor is also home to over a dozen cultural and language groups like Italian conversation group, Japanese-American club, Spanish for fun, AK Polish cultural club, Middle East information club, and Yiddish club.
Sprawled across three counties, three zip codes, and over 20,000 acres, it's no surprise that The Villages in Central Florida has more than 1,000 activities and clubs available. Sports fanatics of all skill levels can partake in clubs and leagues like archery, softball, tennis, pickleball, or bocce ball, and they can even compete for gold in The Villages Senior Games.
Retirees looking to share their passion or explore a new hobby can join a social club or interest group like Big 10 alumni club, RC flyers, Red Hats, basket weavers, Brits tea, memoir writing, kings & queens, bird watching, genealogy, or Jewish singles. No matter what residents choose to join, The Villages has a cool club just for them.
Situated in the Dallas-Fort Worth area in Texas, residents of Frisco Lakes by Del Webb take advantage of the community's resort-style amenities, prime location, and desirable climate by pursuing outdoor recreation. There are more than a dozen interest groups and clubs that cater to fitness-minded residents such as cardio combo, sit and b-fit, stretch and balance, zoomers, walk-away the pounds, and water volleyball, which can be enjoyed all year long.
Active adults who love to be at one with nature can join the garden club, nature club, vegetable gardening, or meditation group. History buffs participate in the Civil War round table or join the Daughters of the American Revolution group. Art lovers also have great options to explore their talents and creativity with options like the visual art club, paper arts stamping group, and art club where they can showcase their greatest work.