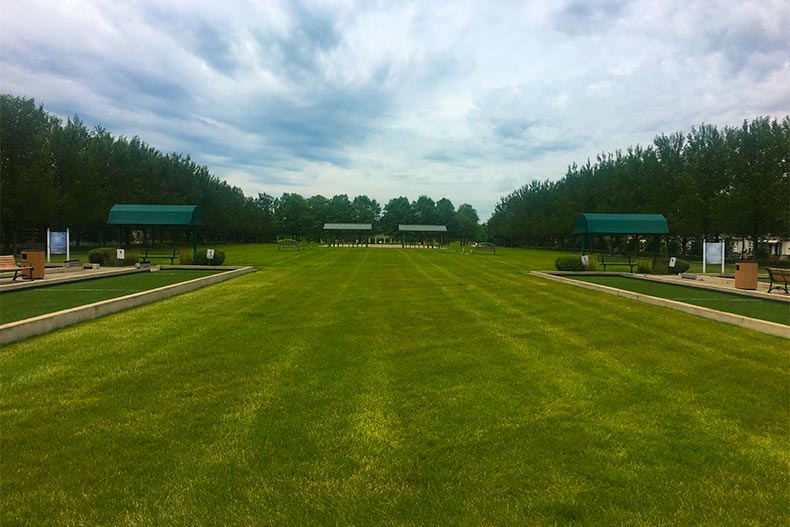 Developed by Del Webb, Bridgewater is a large-scale 55+ community located in Brownstown, Michigan. Comprised of new and resale homes, Bridgewater attracts homebuyers with its luxurious and affordable home collections alongside its long list of offered clubs and activities. From its nearly 15,000 square-foot community lodge to the tranquil picnic and walking areas found throughout, Bridgewater is an active community in Eastern Michigan that homebuyers should pay attention to.
Home Selection
Commencing development in 2006, Bridgewater features 631 new and resale homes that are dispersed between four home collections: the Manor Collection, the Heritage Collection, the Classics Collection, and the Legacy Collection
For the Manor Collection, homes offer one to three bedrooms, one-and-a-half to three bathrooms, and an attached two or two-and-a-half car garage. All floor plans in the Heritage Collection have two bedrooms plus dens, two bathrooms and an attached two or two-and-a-half car garage.
The largest collection in Bridgewater is the Legacy Collection, it includes two to three bedrooms, plus a den, two bathrooms, and an attached two to three-car garage. Finally, the Classics Collection, which is the newest offering at Bridgewater, has two or three bedrooms, two to three-and-a-half bathrooms, and an attached two or three-car garage.
Regardless of each collection, all models are single-family detached homes and range in size from 1,100 to 2,450 square feet. Several models offer optional second floors as well as additional bedrooms and bathrooms. A homeowner's association covers lawn care, snow removal, not to mention the shared sidewalks and walking paths, allowing Bridgewater to maintain a pristine look and feel. Prices start in the low $200s and go until the mid $300s.
Amenities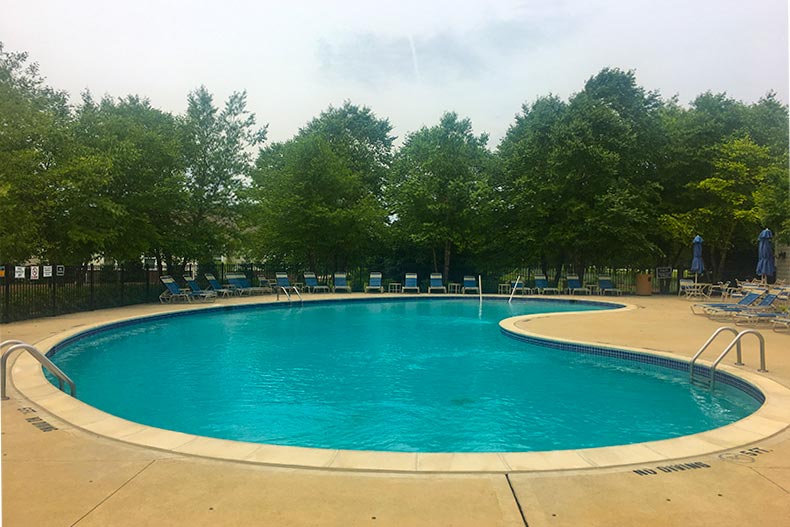 Residents of Bridgewater enjoy a variety of amenities and activities and central to the community is Landmark Lodge, a 14,700 square-foot hub designed for ensuring residents stay active and engaged. A state-of-the-art fitness center overlooking Freedom Park provides the latest equipment, including free weights, treadmills, resistance machines, ellipticals and bicycles. The center also includes an indoor lap pool as well as an indoor hot tub, perfect for unwinding after your workout.
Bridgewater's perks don't stop there. Outdoors, a sparkling pool and patio serve as the perfect backdrop for enjoying the summer months. Additionally, everything from bocce ball, tennis, and pickleball courts to a horseshoe pit are found throughout, allowing residents to gather their friends and engage in some friendly competition. For those seeking a more peaceful use of their time, Bridgewater includes ten miles of walking and biking trails plus a catch-and-release fishing pond.
With so many fun ways to spend their time, it can be daunting figuring out what your perfect niche in the community may be. Fortunately, a full-time activities director is on-hand ready to help each resident embrace all that Bridgewater has to offer.
Nearby Attractions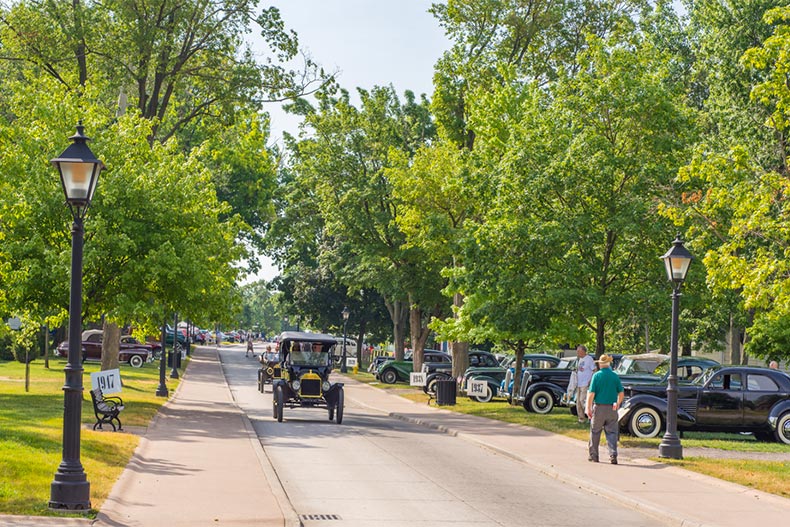 Nearby is The Henry Ford and Greenfield Village, great for any history buff or fan of Americana
Situated in the township of Brownstown, Bridgewater is surrounded by a number of scenic parks, most prominent of which are Heritage Park and Elizabeth Park, both of which include great views and trails to enjoy.
Less than thirty minutes away is downtown Detroit. Michigan's largest city, Detroit is filled with exciting shops, restaurants, and entertainment venues worth exploring. Whether you're looking to brush up on American history at The Henry Ford or looking to appreciate beautiful art at the Detroit Institute of Arts, the area is filled with fun and unique things to do.
Bridgewater is truly a community in which residents have no shortage of things to do. Its variety of homes, coupled with its top-notch amenities cement Bridgewater as a prominent 55+ community worth checking out.