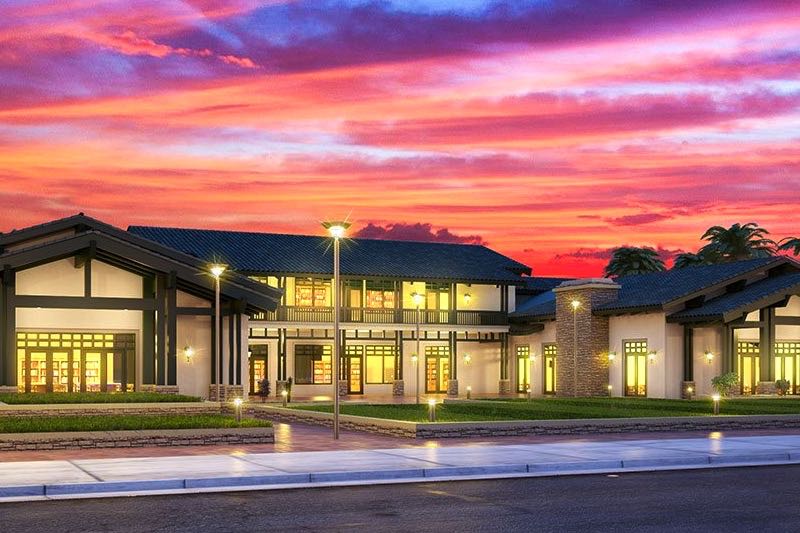 Heritage at Cadence is one of Nevada's newest 55-plus communities and its modern amenities certainly do not disappoint. Located just a twenty-minute drive from the heart of Las Vegas, the community offers a low-maintenance and relaxing lifestyle as well as a convenient place for experiencing the glitz and glamor of the Vegas Strip. Heritage at Cadence is located within the master-planned community of Cadence, meaning the amenities don't just stop at what's in Heritage, but include the convenience of living in a leafy suburb.
Heritage at Cadence features 980 homes that come with modern appliances, granite countertops, and luxurious fixtures. There are four separate home collections at Heritage: Duets, Symphony, Chorus, and Encore. The Chorus Collection homes range in size from 2,088 to 2,870 square feet and offer two or three bedrooms, two to three-and-a-half bathrooms, and an attached two-car garage. The Encore Collection ranges in size from 2,516 to 3,204 square feet and will offer more space for residents who would like a larger home. These homes have two or three bedrooms, two-and-a-half to three-and-a-half bathrooms, and an attached two to four-car garage, with one model even offering an R.V. garage.
At the center of the community is a 22,713 square-foot recreation center, which is in walking distance of every home at Heritage. The Heritage Recreation Center features a fitness room, indoor lap pool, and a café for refreshments after your workout. For more leisurely activities, there's a hobby and game room, multi-purpose room, arts and crafts studio, and a billiards room. There's also a large ballroom, perfect for community gatherings and events.
Outdoors, there's another pool, two tennis courts, bocce ball courts, and horseshoe pits. Residents will also enjoy magnificent walking and biking trails bordering the community's best green spaces. Residents will have their own clubhouse and outdoor spaces, but they will also have access to Cadence's outdoor amenities. That includes 450 acres of parks, more trails, and a modern bike share program. Since Heritage at Cadence is a new community, many clubs and organizations are still getting off the ground.
As the community grows, it's inevitable that more organized events will use the many amenities and group spaces. There's currently an aerobics class, as well as organized tennis, horseshoes, billiards, and bocce ball games. The Heritage Recreation Center will be a natural center point for the community where residents will gather for picnics, BBQs, billiards, and painting. Despite Cadence basically having everything a resident would need, there are still great entertainment and leisure options when leaving the community and heading into Henderson.
Down the street from the community are many retail and restaurant options, including a Walmart Supercenter. Residents will also find several golf courses in the area, as well as many other outdoor recreational areas, including Lake Las Vegas and Charleston Peak. Henderson and its surrounding towns also play host to several hospitals and the McCarren International Airport is around twenty minutes away.
By far the biggest local attraction though is the easy access to Las Vegas. Interstate 515 is minutes away and offers a quick route northwest to the Strip. Whether you just want a quick day trip or an overnight stay at one of the many world-class hotels in the area, the location is a huge plus. It truly is the best of both worlds at Heritage at Cadence, a suburban feel with access to endless nature but with big-city entertainment nearby.