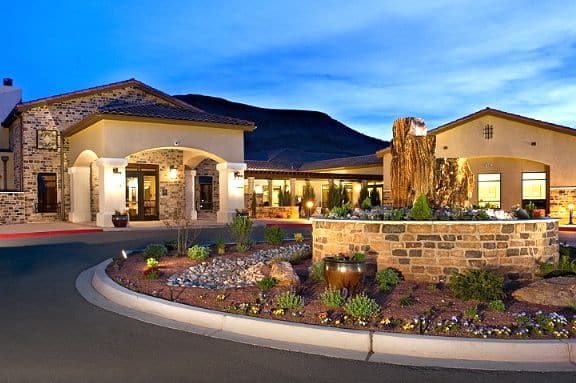 While many people may picture New Mexico as an arid desert landscape, the state actually boasts a diverse geography including majestic mountains and lush forests. Nestled at the base of the El Cerro de Los Lunas Mountains, Jubilee at Los Lunas features spectacular mountain backdrops as well as a wide variety of amenities and activities.
Location
Jubilee at Los Lunas is a relatively new community which was begun by Jenamar Communities in 2006. This gated, age-restricted community provides the intimate feel of small town living, yet it is within close proximity of big city cultural and recreational attractions. Albuquerque is only twenty miles north of the community, and the surrounding Los Lunas area has many of its own shopping and dining centers.
The Los Lunas area has an interesting history. Though it was diverted through Albuquerque in the 1930s, the original Route 66 ran through Las Lunas for over ten years. Just outside the town, Tome Hill is a well-known landmark along the El Camino Real which offers a rich archaeological and anthropological history of the area. Today, Los Lunas residents can enjoy fine dining at The Luna-Otero Mansion, a historic home which dates back to 1881.
Jubilee at Los Lunas Amenities
Within Jubilee at Los Lunas, residents will find many amenities which support an active adult lifestyle. The 10,000-square-foot Villa Jubilee clubhouse opened in 2009 with a fitness center, arts and crafts studios, and a game room. The community great room has an adjacent gourmet kitchen complete with a bar, making it an ideal, central location for residents to gather for social club meetings or community events.
Villa Jubilee's Club Room features billiards as well as card tables which are suitable for a variety of games. Outdoors, the clubhouse features bocce ball courts and four spacious patios which let residents take advantage of the community's beautiful climate.
Later phases of Villa Jubilee will continue to add to the amenities currently offered. Development plans include an indoor lap pool, a resort-style outdoor pool, and a ballroom. Additional sports courts are also planned, and residents will soon be able to enjoy a game of tennis or pickleball.
One look at Jubilee at Los Lunas' activity calendar shows just how much there is to do in this friendly community. Fitness classes include Zumba, yoga, tai chi, and strength training. Recreational pastimes include mah jongg, card games, Mexican train dominos, arts and crafts classes, hiking, and a variety of social events. There are even ukulele classes!
Jubilee at Los Lunas Homes & Real Estate
When it comes to homes, Jubilee offers beautiful single-family floor plans with open floor plans and many designer touches. Homes are available in three series: the Emerald Series, the Diamond Series, and the Designer Series. While the homes are designed to meet many different budgets, the Emerald Series provides exceptional value for those looking for more affordable homes.
With a fabulous location, an active social calendar, fantastic amenities, and beautiful homes, Jubilee at Los Lunas is one of New Mexico's hidden gems. New residents soon feel at home in this friendly community, making it an even lovelier retirement retreat.