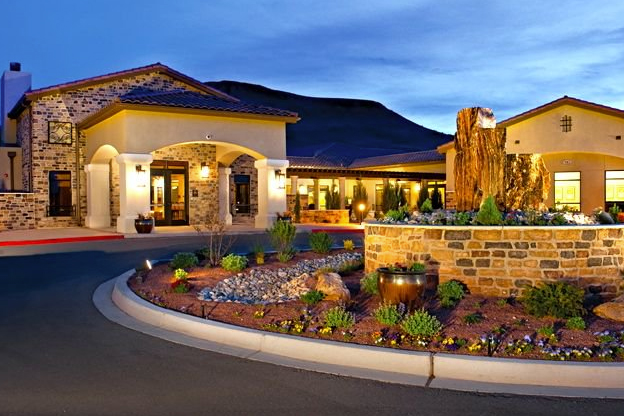 As more retirees seek out New Mexico for its dry warmth, diverse geography, and bustling major cities, Jubilee at Los Lunas has emerged as one of the stand-out active adult communities in the state. Located just 20 miles south of the Albuquerque area, Jubilee at Los Lunas offers residents well-built, modern homes combined with private, resort-style amenities.
It has even been recognized by national magazine Where to Retire as one of the best master-planned communities in the country twice in the past three years, and is the only community in New Mexico to make the 2019 shortlist. Editors of the magazine examined more than 100 communities and chose the ones with the best established neighborhoods in prime locations with upbeat social environments, as well as plenty of amenities and activities for residents. Editors also surveyed current residents, gathering feedback on their community's friendly atmosphere, activities, and location. Out of the 50 on the list, 21 are active adult communities.
Nestled at the base of the El Cerro de Los Lunas Mountains, Jubilee at Los Lunas features spectacular mountain backdrops as well as a wide variety of conveniences for residents who truly love where they live.
Residences
Construction on Jubilee at Los Lunas began in 2006 with Jenamar Communities, and is now currently developed by Avalon with plans to have a total of 700 single-family homes. The community offers 21 different floor plans in three home collections to choose from: Choice by Avalon, Emerald by Jenamar, and Diamond by Jenamar.
Choice by Avalon, the newest series of homes, offers eight different floor plans of both new construction and resale homes. These floor plans range from 1,405 to 2,972 square feet of living space. Animas and Zuni, the smaller of the plans, both have two bedrooms, two bathrooms, and a two-car garage. Residents looking for an extra den or office space can choose from the Jemez, Salinas Peak, and Taos floor plans.
The largest plans, Sierra Blanca, Sandia, and El Capitan, all offer two-and-half bathrooms and two- to three-car garages. With all of these plans available as new construction, residents can choose several options that work best for them, including an optional courtyard, optional bar counters in the kitchen, and the exterior design of the home.
The Emerald Series and the Diamond Collection by Jenamar are available as resale only. The Emerald Series has six models ranging from 1,143 to 1,949 square feet. Every floor plan includes at least two bedrooms and bathrooms, as well as an attached one-and-a-half- to two-car garage.
The Diamond Collection includes seven models, some of which are the largest in the community. Living space ranges from 1,405 to 2,872 square feet, and residents can choose from multiple floor plans that include dens and office spaces in addition to two bedrooms. Other universal features in the community homes include features like granite countertops, walk-in closets, and covered porches.
With ample square footage, open kitchens, patios for entertaining, and accessible first-floor master suites, residents might expect to pay a small fortune for this community. However, Jubilee at Los Lunas has affordable price points, with both new and resale homes ranging from $200,000 to $500,000. With these reasonable prices, residents can spend more money on travel, restaurants, and entertaining with community friends.
Amenities
While at Jubilee at Los Lunas, residents will find many amenities that support an active lifestyle. The 12,000 square-foot clubhouse, The Villa, is located at the center of the community, and includes a fitness center, aerobics and dance studio, locker rooms, and an indoor lap pool.
The community gathering room features a gourmet kitchen and bar, making it an ideal location for residents to socialize at club meetings and community events. Also inside are a hobby and game room, a classroom, library, computer center, and billiards room. Besides these conveniences, the clubhouse offers free Wi-Fi, as well as continuing education courses for residents.
There's just as much to enjoy outside the clubhouse, including a junior Olympic-sized pool, a hot tub, and a patio with lounge chairs. For team sports, residents enjoy the community's two bocce ball courts, horseshoe pits, and tennis and pickleball courts. The community also offers an archery range, a unique and exciting sports amenity. Outdoor lovers also enjoy the miles of walking trails in addition to the community garden.
One look at Jubilee at Los Lunas' activity calendar shows just how much there is to do in this friendly, social community. Fitness classes include Zumba, yoga, tai chi, and strength training. Recreational pastimes include Mahjong, card games, dominos, arts and craft classes, and a variety of community-hosted social events like the Jubilee Film Festival. From amateur play reading to pasta and bingo night, this community has a group for everyone.
Residents of Jubilee are granted more time to enjoy these various activities due to the low-maintenance lifestyle provided by their homeowners' association (HOA). The HOA provides outdoor maintenance, including lawn mowing, trimming, and irrigation. All residents have to worry about is making it to their club on time.
Climate & Location
As a gated and age-restricted community, Jubilee at Los Lunas provides residents with the intimate feeling of a small-town community, but it is within close proximity to the big city cultural and recreational attractions of Albuquerque. This city is only 20 miles north of the community, it takes less than a half-hour to drive there.
The Albuquerque Old Town is the historic and shopping district of the city, offering residents boutique and artisan shops as well as eateries unique to the area. With science and history museums, botanic gardens, and cultural centers, there is no shortage of educational sites and activities. In addition to these, popular outdoor activities include visiting archaeological sites and enjoying the scenery during aerial mountain tram rides. Yearly festivals such as the Albuquerque International Balloon Fiesta, the New Mexico Wine Festival, and the Rio Grande Arts & Crafts Festival provide exciting entertainment throughout the summer.
Los Lunas itself also has plenty to offer residents, including restaurants, shops, and theaters. Just down the street from the community is a Walmart, The Home Depot, and Starlight Cinemas. Residents can enjoy fine dining locally at The Luna-Otera Mansion, a historic home dating back to 1881. Also in walking distance are several parks and scenic views of the immense Rio Grande River.
Overall, Northern New Mexico is home to some of the most historic, continually established settlements in North America. Only an hour and a half away is Santa Fe, which is also home to an exciting social scene, trend-setting restaurants, and an endless array of famed galleries and museums. The area also houses world-class golf courses, casinos, and nature preserves.
One major aspect of Jubilee at Los Lunas' location is its climate, which provides residents with over 300 days of sunshine a year. The region's climate is characterized by its hot, long summers and cool winters, giving residents a sense of all four seasons without extreme humidity and snowfall. With so much to do in and around the community, as well as pleasant temperatures throughout the year, it's no wonder Jubilee Los Lunas continues to stand out in New Mexico and across the country.