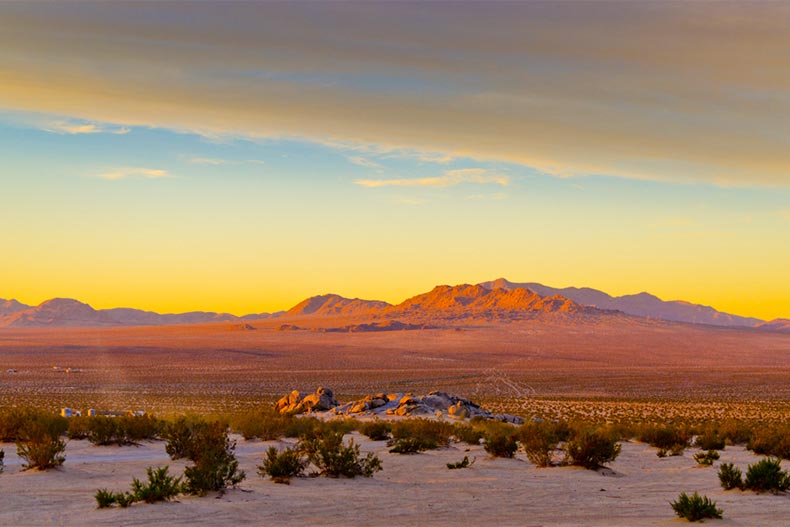 Sun City Apple Valley is a gated 55+ community located at the northern edge of the Inland Empire. This high-desert community is ideally tucked away from Southern California's busy cities, offering cleaner air, a lower cost of living, and a slower-paced lifestyle. Surrounded by some of the best outdoor recreation that Southern California has to offer, the community is a wonderful option for those who enjoy spending time outdoors.
With its vibrant lifestyle and abundance of amenities, it's easy to see why Sun City Apple Valley is a top choice for active adults wanting to relocate to Southern California. Below we're taking a closer look at what makes this community a popular choice.
Great Selection of Reasonably Priced Modern Homes
Development of Sun City Apple Valley began in 2004 and is ongoing, so homebuyers can look forward to modern homes with desirable features. Once complete, this community will have 1,700 single family homes priced between the low $200s to the high $300s.
There are several home collections available, allowing homebuyers to choose from comfortable, low-maintenance homes to elegant residences that offer luxuries such as high ceilings, Corian countertops, and charming fireplaces. Homes at Sun City Apple Valley range in size from 1,099 to 2,340 square feet. They feature at least two bedrooms, two bathrooms, and an attached two-car garage.
A Casual Atmosphere with Abundant Amenities
Sun City Apple Valley has all of the resort-like amenities that Del Webb communities are known for. The Aspen Clubhouse, which is the social hub for the community, offers 22,000 square feet of amenities. This large recreation center has a state-of-the-art fitness facility where neighbors can socialize and stay active. There is also an indoor lap pool, a grand ballroom, library, and more.
For those who'd like to hone their talents and pursue their interests with like-minded neighbors, the arts & crafts studio is a popular choice. Outdoors, the community provides a large patio to enjoy the high desert's clean air, two outdoor pools, two tennis courts, and six bocce courts. With additional walking and biking trails, there is no shortage of ways to stay active.
The Mariposa Lodge is Sun City Apple Valley's second clubhouse, which has a fitness center, library, and outdoor pool. It also has an outdoor amphitheater, which regularly hosts entertainment options such as concerts, movies, and other events. Residents of Sun City Apple Valley can also enjoy use of the Ashwood Golf Course, which is located right next to the community. This golf course offers 27 holes and two putting greens.
There are dozens of clubs and activity groups that regularly meet up at Sun City Apple Valley, including gardening, nutrition classes, ballroom dancing, Pilates classes, and more. With a full-time activities coordinator, residents can always find a way to stay busy and engaged with their neighbors.
Monthly homeowners' association fees are currently $184 and include the use of amenities, maintenance of common areas and landscaping, upkeep of streets, 24/7 community patrol, and more.
Ideally Located in Southern California's High Desert
Sun City Apple Valley is located at the southern edge of the Mojave Desert, which offers a gateway to some of the best outdoor recreation Southern California has to offer. The nearby San Gabriel Mountains are less than an hour's drive away and are unofficially known as Southern California's "backyard."
This rugged mountain range has hundreds of miles of trails for hiking, biking, and horseback riding. Popular attractions include the Devil's Punchbowl and Mount San Antonio, often called "Mount Baldy" by locals. At over 10,000 feet altitude, Mount Baldy is the highest peak in the range. On a clear day, hikers on the summit are treated to views that stretch from the desert to the ocean.
During winter months, residents of Sun City Apple Valley can hit the slopes at Mountain High, which is a winter resort that offers skiing and snowboarding. This popular destination is one of the most visited resorts in Southern California and is only about an hour's drive from Sun City Apple Valley.
When residents want to check out big-city attractions, day trips to Los Angeles and Orange County are easily accessible with a two-hour drive. Apple Valley itself also has plenty of options for dining, shopping, entertainment, and healthcare. The surrounding area is home to popular attractions, such as the California Route 66 Museum, the Victor Valley Museum & Gallery, and Mojave Narrows Regional Park.
---
agent.calls_to_action.here_to_help
agent.calls_to_action.call_us_long