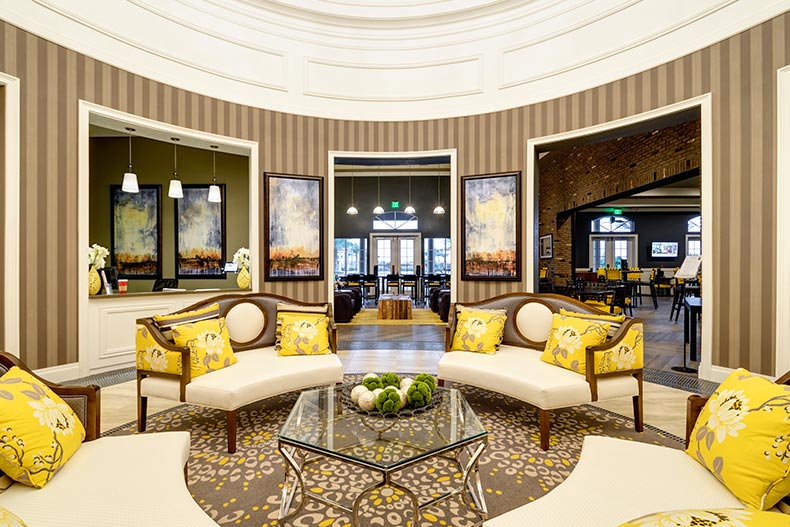 For Shea Homes, building a 55+ community like Trilogy Orlando isn't so much about selling homes to residents; it's more about providing an experience for those residents. Shea Homes has managed to set itself apart from the friendly competition, and it's not because of the resort-style amenities or open-concept floor plans. It's because of innovation, invention, and most of all, service.
Whether they need their smart home technology installed or help painting a wall, residents at Trilogy Orlando enjoy concierge services that are not so common elsewhere. It contributes to a more pleasant living environment and a higher quality of life.
Kim Burrell, a 66-year-old resident who never thought she'd be living in Florida, sums up the experience of living at Trilogy Orlando as a "mind, body, and soul experience." She says it has everything, adding: "This place is real. The people are real, and it's like a second family. We're here for each other."
Homes for Sale in Groveland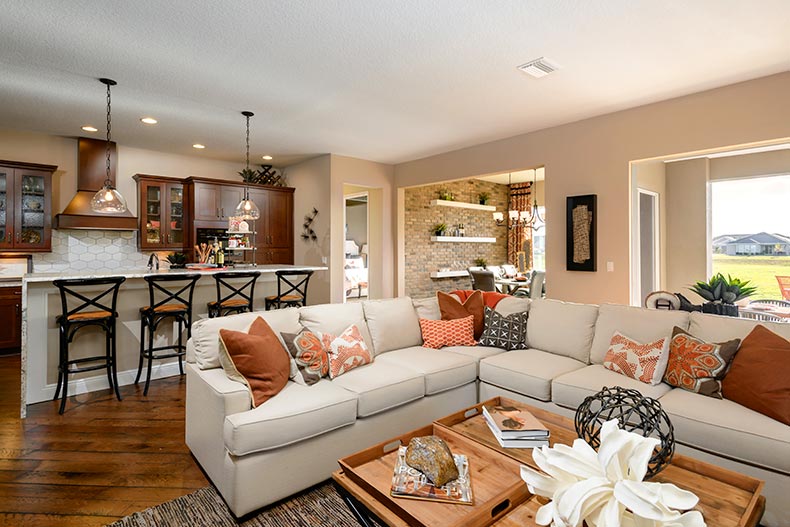 Discovery Stays attract residents who might have initially planned to buy a home on one of Florida's coasts.
Trilogy Orlando is named for its proximity to the world's theme park capital, but it's actually located 30 miles away from Orlando, in a Central Florida town called Groveland, where the rolling hillsides and the colorful wildflowers might make you forget you're in Florida at all (except that you can still wear shorts in February).
Not a lot of people have heard of Groveland. And for some 55+ buyers, relocating to Florida later in life usually means picking a coast and settling in somewhere like Tampa or West Palm Beach. But that's not for everyone, and Michael Fraley, the area vice president of Shea Homes believes Trilogy Orlando's location is a secret weapon.
"It's close to the airport, it's half an hour from Orlando, and it's in a rural part of the state that is still in the middle of everything," Fraley says, adding that local fun spots such as Lakeridge Winery and Lake Minneola are only minutes away.
According to Fraley, Discovery Stays have helped attract residents who might have initially planned to buy a home on one of Florida's coasts. "People can come here and feel what it's like to live in this part of Florida," he says. "They quickly realize that the coastal cities are expensive, they're congested, and no one goes to the beach as often as they think they will."
Potential buyers can spend a few days living in a model home, talking to current homeowners, and participating in things like water aerobics and Sunday brunch. They get to use the amenities and feel what it's like to be part of the community.
It worked for Burrell.
A lifelong New Yorker, she couldn't believe how nice everyone was during her Discovery Stay. She thought she'd end up buying in a 55+ community in North Carolina when she retired. But, after a few days at Trilogy Orlando, she realized Florida was a viable option. It helped that her pension wouldn't be taxed in the state, and she also appreciated that there wasn't a hard sell or any long-winded presentations to endure while she was exploring Trilogy Orlando.
What Sets Trilogy Orlando Apart: Service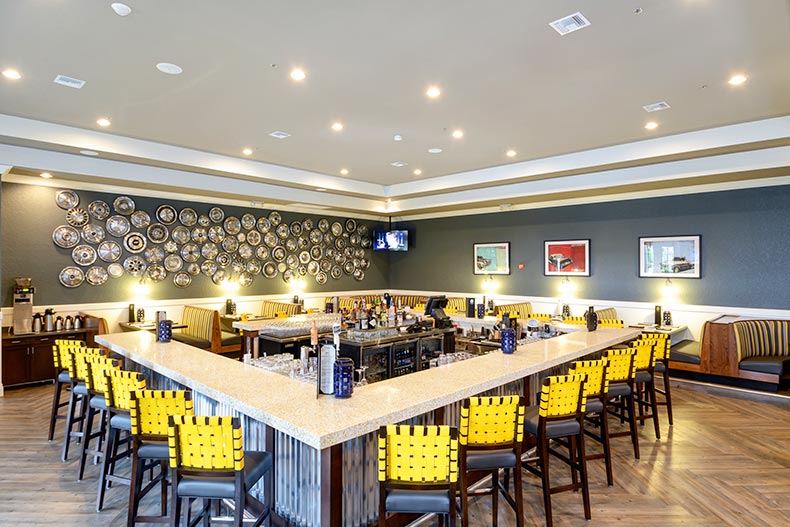 Trilogy Orlando has all the amenities active adults are looking for when they buy a home. There's a spacious clubhouse with rooms for meetings, games, and social events. There are pools and hot tubs, pickleball and tennis, and a fitness center with the most innovative workout equipment.
Fraley believes the community's competitive advantage comes with the BlueStar concierge services provided to residents. "It's our secret sauce," he says.
BlueStar is a company dedicated to lifestyle management and hospitality. They come from the Starwood family of hotel brands, and BlueStar works with builders like Shea Homes and communities like Trilogy Orlando to ensure residents feel supported, cared for, and within easy access to anything that they need to enhance their quality of life. The hospitality component allows Trilogy Orlando to serve current and future residents in a way that's innovative and flexible.
That's easy to see with the clubs, activities, and classes available to residents at Trilogy Orlando. Dozens of special-interest groups meet regularly, and new members are always welcome. There's a book club, a scuba diving club, beading groups, a beer club, and a trivia night. Interior design classes are regularly held, and there's always karaoke or concerts.
Also, the Shea Connected Home is a feature that residents love. BlueStar service professionals will help residents wire their homes for smart technology. Thermostats can be set by phone and appliances can be programmed remotely, leaving homeowners less likely to forget to turn on the dishwasher or the coffee pot.
There's no need to worry if residents don't know how to hook all this technology up themselves. The community takes care of it for them, ensuring they're fully integrated and trained on what to do going forward.
"It's white-glove service and our owners love learning the technology behind the systems," Fraley says.
Burrell appreciates that even during the pandemic, BlueStar and Shea Homes are still providing opportunities for social activities in a safe way at Trilogy Orlando. "You can still take a swim class in small groups," Burrell says. "I'm grateful that I can ride my bike and take walks and feel less isolated even during COVID."
The pandemic changed the way residents stay connected, but it didn't put the brakes on much. Trilogy Orlando and Shea Homes had been doing virtual classes and demonstrations even before stay-at-home orders went into effect. Online cooking demonstrations, wine tastings, and do-it-yourself presentations simply became more popular as more people stayed home. All anyone needs is a link to participate.
How Trilogy Orlando Embraces Three Pillars of Service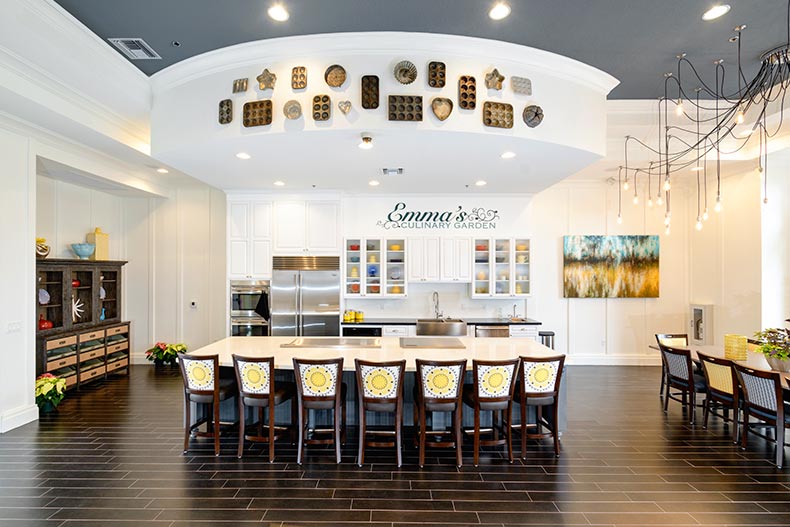 Trilogy Homes believes connection is important during what may be a new stage of life.
A lot of research went into what active adult residents really wanted before Shea Homes began developing Trilogy Orlando. According to Fraley, the three themes holding true are:
Connection
Health and Well-Being
Freedom
Trilogy Homes believes connection is important during what may be a new stage of life.
"Most people make friends because of their kids," Fraley says. "When the kids grow up and move on, you find yourself needing to make new friends. We wanted to create a community where people could connect. Neighbors are looking out for one another and with an on-site restaurant like The Grille, people can come together for food. It creates a sense of community and connection."
Health and well-being is next, and Fraley insists Trilogy Orlando has the best fitness director in the country. "People are getting healthier when they have the time and resources to focus on their health," he says. "We've heard stories about people getting off medications that are no longer needed because they're living healthier, more active lives. That's great to hear."
Finally, there's the freedom to follow passions that may have been put on the back-burnere while people were busy raising families and developing careers.
For residents like Burrell, freedom is very important. She's a cancer survivor who takes health seriously and keeps herself busy with flamenco dancing classes, workouts in the gym, and an occasional line dancing class. When she first moved in, Burrell hosted a Galentine's Day party for a dozen women who weren't necessarily celebrating the traditional Valentine's Day.
"It was a fun gathering of 12 ladies in my home," Burrell says. "The next year, we had 48 participants. Now, there are 150 people who want to come to the next one, and we need to reserve the event center."
During her Discovery Stay, Burrell invited a friend to come with her, and that friend ended up buying a home before Burrell did. They see each other once in a while, but not as often as they might have expected. They're each busy doing their own things.
"Once you move in here, you start to do what interests you," she says. "There are lots of opportunities to socialize, and you'll find you're a lot busier here than you were when you were working full time."
Choosing a Home at Trilogy Orlando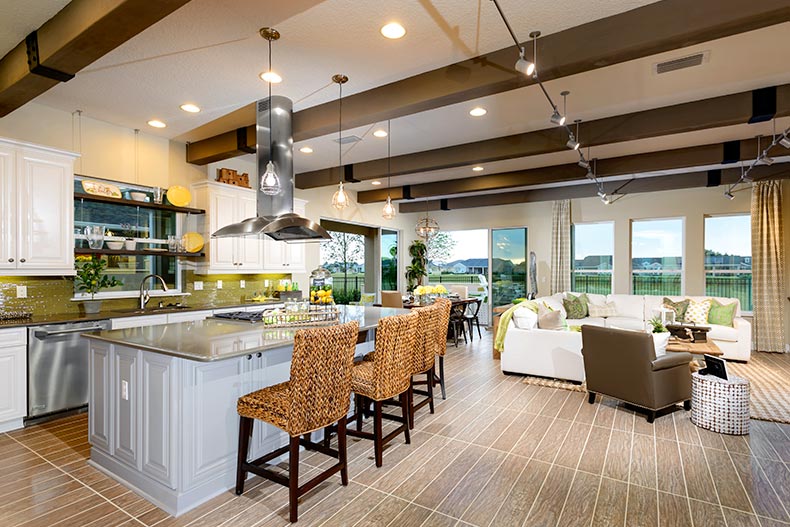 Eight collections offer single-family homes in more than 20 floor plans.
At Trilogy Orlando, buyers can choose a new construction home or a move-in ready resale property. Fraley says it's currently a split with no real preference for one over the other.
Eight collections offer single-family homes in more than 20 floor plans with between 1,256 and 2,930 square feet. Homes have one to four bedrooms, two to three bathrooms, and an attached two-car garage. Many models include dens, outdoor patios, and covered lanais as well as open floor plans that make entertaining and hosting guests pleasurable.
Initially, Burrell had decided to purchase the Larkspur model, which has 1,925 square feet, two bedrooms, two bathrooms, and a den with an attached two-car garage and a formal dining room. But in what she calls "divine intervention," she stumbled upon a new model that had just opened up when she was in town signing some documents for her sale.
"I selected the DeClare model," Burrell says. "It has an open concept floor plan, and my lot is up on a small hill, facing the water. When I look out at that water, it's my namaste moment."
The DeClare has 2,065 square feet, two bedrooms, two-and-a-half bathrooms, and an attached two-car garage. There's a den and a lounge area off the great room. Burrell says she also enjoys having the half-bathroom, so guests don't have to go through a bedroom to access the powder room.
Homes at Trilogy Orlando are priced from the low $200s to the high $500s. There are 1,500 total homes planned, and construction began in 2005.
As for the builder itself, Shea Homes is a privately held company that's been in business since 1881. Their credibility goes back to the construction of the Hoover Dam, which they helped build.
"We're part of American history," Fraley says. "And we're not on the New York Stock Exchange, which means we can focus completely on customer satisfaction. There's no confusion about who we really serve. It's our customers."