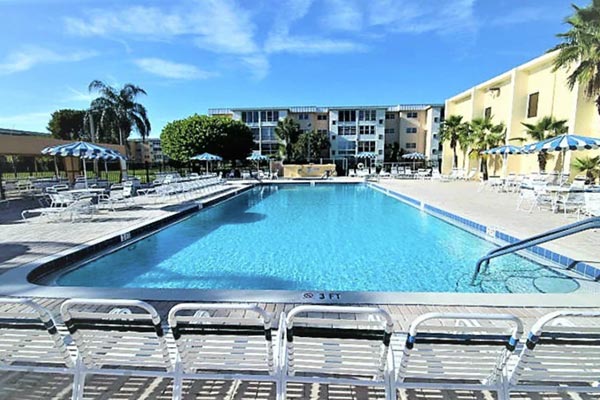 In 1894, American Civil War major and politician Nathan Boynton arrived in Southeast Florida and decided that the pristine beaches, fertile climate, and ample sunshine made this the perfect place to spend winters away from Michigan. Yes, the man for whom Boynton Beach is named was a snowbird, which is apt as the town that now bears his name boasts a number of impressive active adult communities.
One of those communities is Village Royale on the Green, a 55+ condo community located just minutes from Lake Worth Lagoon.
Home Selection
Village Royale includes 248 condominium units that range in size between 758 and 982 square feet. Residences include one or two bedrooms, two baths, and come with an assigned parking spot. Providing a very affordable living option, unit prices range between the low $100s to the high $100s.
Community Amenities
Village Royale on the Green isn't just a condo building, it's a full-fledged active adult community with plenty of activities and amenities to entertain residents. The community includes two clubhouses to choose. Inside you'll find a fitness center, billiards room, and a library with books and DVDs on loan. There's also the VRG Entertainment Center, a large auditorium that hosts performances, holiday parties, and other community events.
Because residents want to be outside in the Florida sunshine, the community also includes two outdoor pools, shuffleboard, bocce, and tennis courts, a driving range, and walking paths.
Social Opportunities
Because there is ample space for residents to gather, there are tons of social events and activities going on all year-round. Each week the clubhouse hosts bingo, cribbage games, and a free movie night. There are also multiple chances to practice yoga, or workout via floor aerobics or water aerobics. The local pickleball league welcomes beginners as well as those with experience for multiple sessions each week as well. There are also always special events depending on the time of year or occasion, everything from a Super Bowl party to a Valentine's Day Dance to St. Patrick's Day Dinner.
Location
The city of Boynton Beach's nickname is America's Gateway to the Gulfstream. It earns that name thanks to a Southeast Florida location that puts it extremely close to the Gulf Stream ocean current, which any good fisherman will tell you is one of the best places to be in the Sunshine State. Palm Beach County's third-largest city also boasts some of the best white sand beaches in the region, juxtaposed against a pedestrian-friendly downtown center full of shopping plazas, local restaurants with outdoor patios, and friendly watering holes.
Nature lovers will also appreciate the various opportunities beyond the beaches. Promenade Park, a natural mangrove preserve along the Intracoastal Waterway, offers walking trails and shaded sitting areas. Nearby, Mangrove Park is a great spot to watch local wildlife as it connects to three tidal inlets.
Village Royale on the Green location gives you easy access to the I-95 and is located just minutes from a Tri-Rail Station and multiple PalmTran stations.
To find out more about available residences in Village Royale on the Green, visit our community page.