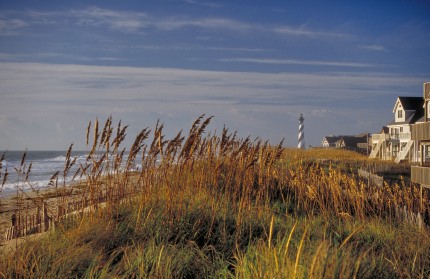 Whether you're seeking a coastal lifestyle or a mild climate that still has more than one season, it's hard to go wrong with North Carolina and South Carolina. Combine the two, and they'd be the fifth most popular state in America. On their own, they each have plenty to lure active adults to the ideal retirement lifestyle.
A slice of Southern living, residents will find much of the charm and grace the South is known for, especially in South Carolina. In both states, the atmosphere is ripe for making new friends and settling in comfortably. With only about 30 percent of the residents in each state having kids, North and South Carolina are ideal for active adults. But with an average age of 36 in each state, residents definitely won't feel like they're living in a stereotypical retirement haven.
The not-quite-South, but not-quite-North climate, is a big draw for both Carolinas. South Carolina tends to be warm and humid in the summer, while North Carolina has somewhat cooler winters. In South Carolina, the coast benefits from the cool Atlantic ocean breezes but is still quite warm in the summer. North Carolina has higher elevations inland for residents who just can't live without four distinct seasons.
North Carolina is generally divided into three areas: the mountains (along with some nice skiing), the piedmont (the economic heart of the state) and the coastal area (with plains, pine trees and the ocean). South Carolina has the Low Country (the Atlantic coastal plain) and Up Country (its piedmont area and the Blue Ridge region). South Carolina's mountainous area rarely gets beyond 3,000 feet above sea level.
North Carolina is more cosmopolitan than its sister to the south, with cities like Charlotte, Raleigh-Durham and Winston-Salem. South Carolina brings to mind historic Charleston, with plenty of old-style charm, as well as resort communities like Myrtle Beach and Hilton Head. The larger cities in both states offer plenty of amenities, from restaurants to museums to recreation. But across both states, residents enjoy plentiful fishing, hiking, swimming, golf, tennis and most other recreational pursuits. Golfers will want to take note that North Carolina has about 550 golf courses whereas South Carolina has approximately 350.
Residents looking to learn more will enjoy the University of North Carolina-Charlotte and Duke, as well as University of South Carolina, Clemson and others including The Citadel. With its famed Research Triangle (bounded by Raleigh, Durham and Chapel Hill), North Carolina, has seen more economic growth. It tends to have slightly more expensive homes, but values are rising in both states. The closer you get to the Atlantic Ocean in either state, the more likely the prices are to be higher, too. The tax burden is a little bit lighter for retirees in South Carolina. Utilities tend to cost a bit more in South Carolina, though both states charge less than the national average in many instances.
Sports fans will be pleased to find three professional sports teams in the Carolinas: the NFL's Carolina Panthers, the NBA's Charlotte Bobcats and the NHL's Carolina Hurricanes. All are based in North Carolina.
Ultimately, whether a homebuyer is looking for a quiet community in the hills or a bustling community near the ocean, both North and South Carolina offer plenty of wonderful active adult communities. Comparisons aside, both states are wonderful places to call home.