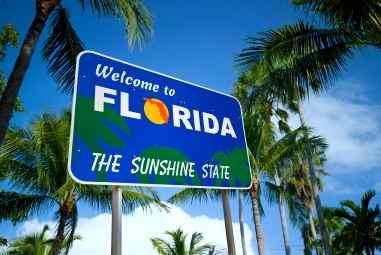 Whether heading to Florida for a vacation or to relocate, active adults are faced with the same question: East Coast or West Coast Florida retirement communities? People who love each area can cite many reasons why their coast is the better Florida coast, but the real question comes down to what you hope to find when you get there.
Northeast Coastline
Vacationers and retirees have long been drawn to The Sunshine State, yet there are some big differences found around Florida's miles of coastline. Many active adults consider Florida retirement communities in Jacksonville to be some of the best-kept secrets on the northeast coastline. The northern coastal stretch encompasses many beautiful destinations like Atlantic Beach, Jacksonville Beach and Ponte Vedra.
A bit further south, history buffs will love visiting St. Augustine, which dates back to 1562 as the oldest permanent settlement in the country. The beaches in this northern area are less developed, and less crowded, so residents of Florida retirement communities in this area will have fewer tourists taking over their beaches and more time for a tranquil retreat.
Central Atlantic Coast
Moving south along the East Coast, Florida's Central Atlantic Coast stretches from Daytona Beach to just north of Palm Beach County. At its more northern reaches, the climate is a bit cooler but traveling south quickly takes you to Florida's more expected sub-tropical climate with coconut palms and flowering trees. Like the Jacksonville area, this region is less crowded than Florida's southern destinations. Yet it certainly has its own tourist attractions including Cape Canaveral and the Kennedy Space Center in the area known as the Space Coast. Popular retirement communities along Florida's Central East Coast include Daytona Beach, Port St. Lucie, Vero Beach, Melbourne, and Cocoa Beach.
South Atlantic Coast
Florida's South Atlantic Coast features many of the state's most popular tourist destinations. The region spans 240 miles from Palm Beach down to Key West. The tropical climate is hot, humid and sunny, though cooling ocean breezes help make it a vacation paradise. Tourists and retirees alike love the varied attractions and recreations available in hot spots like Palm Beach, Boca Raton, Fort Lauderdale, Miami, and the Florida Keys. Spectacular sunrises greet residents day after day, while the Atlantic Ocean is the perfect place for world-class water sports like diving, snorkeling, surfing, boating, fishing, and swimming. Over on the west side of Florida, the Gulf Coast beckons with white sandy beaches, luxury communities, and spectacular recreations.
Southwest Gulf Coast
Florida's Southwest Gulf Coast is particularly appealing to many snowbirds and retirees, as it tends to be less congested than the Atlantic Coast. The region extends from the Everglades at Florida's tip up to the Tampa area. It includes well-known communities such as Bonita Springs, Port Charlotte, Fort Myers and Naples. It is also known as the "Golf Capital of the World" for its abundance of beautiful golf courses.
Central Gulf Coast
Moving further north, the Central Gulf Coast is another Florida hot spot. The area stretches for 200 miles from Sarasota up to the Florida Panhandle. While the Atlantic Coast may draw more vacationers, this stretch of the Gulf Coast is one of the most popular for Florida retirees. Particularly popular areas include communities in Sarasota, Tampa, Venice, and Bradenton. This may be due in part to the region's weather, which tends to be warmer and less humid during the summer months, and very comfortable in the winters with temperatures in the 70s.
Florida's Gulf Coast and Atlantic Coast each have their benefits, but which coast is best really comes down to your own personal preference. Do you have a favorite Florida coast? If so, tell us in the comments below.