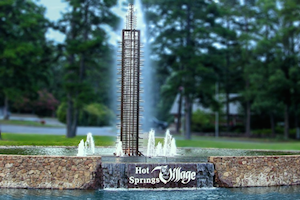 With a pleasant climate, natural beauty and a low cost of living, Central Arkansas can be an ideal place for a tranquil retirement. The area features Little Rock, the state's capital city, as well as a number of appealing active adult communities. Those interested in the area can plan a pleasant vacation to discover its unique attractions including the scenic Arkansas River Trail, the Clinton Presidential Center, and the Arkansas Governor's Mansion.
Climate
Central Arkansas is home to many enjoyable towns, such as Hot Springs, Benton, and Fort Smith. The region has a humid, subtropical climate with hot summers and cool winters. Summer high temperatures average in the mid-90s, while winter days are typically in the low to mid-50s. Central Arkansas tends to be sunny and more humid than the national average, yet winters can bring light snowfall.
Little Rock
In addition to being the capital city, Little Rock is also the largest city in Central Arkansas. The city features a rich cultural heritage, which is preserved in historic sites such as the Arkansas State Capitol, the Arkansas Governor's Mansion, and Central High School. Cultural attractions include a number of museums and performance venues, such as the Arkansas Arts Center, the Arkansas Repertory Theatre, and the Arkansas Inland Maritime Museum.
The Great Outdoors
For outdoor enthusiasts, the Arkansas River Trail offers miles of paths and spectacular scenic views. Nature lovers will enjoy the Audubon Nature Center, MacArthur Park, Riverfront Park, Pinnacle Mountain State Park, and Fourche Creek Wetlands. Golfers can also enjoy the outdoors at challenging area courses, such as Burns Park and Golf Course, Emerald Park Golf Course and First Tee of Arkansas.
Fort Smith
As the area's second-largest city, Fort Smith also offers a wide range of attractions. Just a few include the Fort Smith Museum of History, the Fort Smith Regional Art Museum and the National U.S. Marshals Museum. In nearby Hot Springs, locals and visitors alike can enjoy popular destinations such as Oaklawn Park Race Track, Magic Springs, Crystal Falls, and Hot Springs National Park.
Of course, each of these cities includes its own mix of shopping districts, restaurants, and seasonal events. Fort Smith is known for its summer concerts, rodeos, and fairs, while Hot Springs' thriving arts and music scene supports a variety of popular festivals. Additional recreations are available in Central Arkansas' lovely towns and in recreation areas near the Ouachita Mountains.
Communities
Active adults who want to settle in Central Arkansas can choose from appealing age-targeted and age-restricted communities. With plans for approximately 9,500 homes, Hot Springs Village is an open-age community that has all of the resort-style amenities needed to support active adult living. Yet, area neighborhoods also scale down to the other side of the range. In Conway, Stonebrook Cove is a new 55+ community with a charming clubhouse and plans for just 26 single-family homes.
Whether planning a vacation rich in history or looking for a retirement destination, Central Arkansas has scenic beauty and diverse attractions that will appeal to many different active adult retirees.