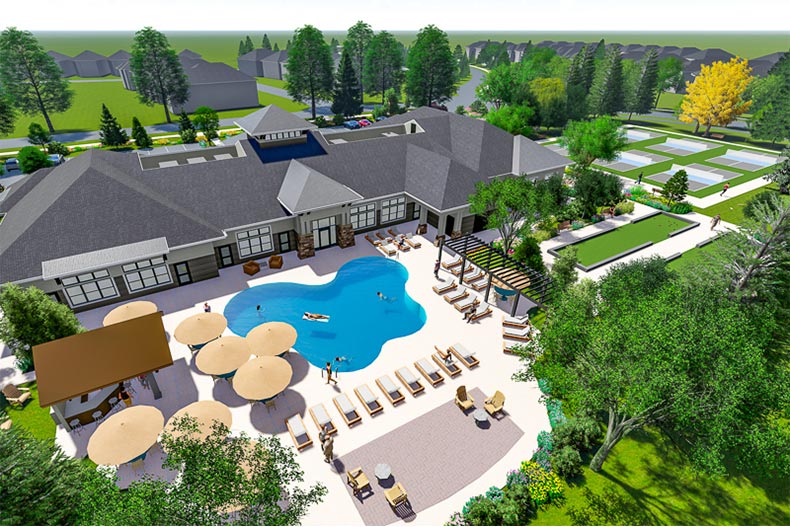 Conceived as Minnesota's first 55+ Del Webb community, Bellwether by Del Webb has officially commenced construction. Soon to be located in the city of Corcoran, Bellwether by Del Webb is being developed by Pulte Homes of Minnesota and has been conceived as a community comprised of 398 single family residences.
Since its initial unveiling in 2018, interest in the community has been exponential, with information sessions being completely filled up by prospective homebuyers.
As of now, Bellwether by Del Webb is in the land-development phase, with street construction underway and signs being put up near the community's entrance. During the development, Pulte will be putting up three model homes, one from each of the home collections they plan to offer.
Bellwether by Del Webb Floor Plans
These collections are Garden, Classic, and Estate, which will altogether have 13 home designs across them.
Garden homes will range from 1,200 to 1,500 square feet and will start in the high $200s. Classic homes will be 1,600 to 2,000 square feet and will be in the mid $300s. Meanwhile, the Estate series is the most spacious, with 1,600 to 3,500 square feet of space. Pricing for this series begins in the high $300s.
According to Jamie Tharpe, president of the Eden Prairie-based Minnesota division of Pulte Group, regardless of the home model, most of the Bellwether homes will include the option to expand and add an additional bathroom, bedroom, or living room in a loft area. Additionally, exterior maintenance, which includes shoveling, mowing, watering, and other chores will be handled by a homeowners' association.
Bellwether by Del Webb Amenities
Although features continue to be announced, so far, plans call for an 8,000 square-foot clubhouse which will be the social hub of the community. Features of the clubhouse include a state-of-the-art fitness center, several multipurpose rooms, as well as a catering kitchen.
Outdoor amenities will include a swimming pool and patio area, which are sure to be popular spots during the summer months. Residents can also gather their friends and neighbors and partake in a game of tennis, pickelball, or bocce, or just take a walk of several outdoor trails.
Bellwether by Del Webb Lifestyle
The community also has plans in place for a robust assortment of activities for its residents to join. A full-time lifestyle director will be available on site and will work with each resident to help them find the clubs and programs best suited to their interests. As the community further develops, more clubs and interest groups will be organized, ensuring that every resident has the tools necessary to expand their interests and fully enjoy their retirement.
Though plans call for the first round of homes to be completed by fall of 2020, Bellwether by Del Webb will be built out in multiple phases over the next three to five years, depending on market demand. So far, Pulte has city approvals for roughly the first 150 homes of the community.
Nearby the Community
Upon completion, the community will be the second to be located in Corcoran, which is located just 20 miles northwest of Minneapolis. When speaking on the appeal of Corcoran's location, Tharpe noted Corcoran's close proximity to medical facilities, retail, dining, and recreational activities.
Downtown Minneapolis itself is full of many experiences and destinations that should not be missed. From the Minneapolis Institute of Art to the Orpheum Theatre, Minneapolis is home to a variety of culturally significant institutions. Thankfully, because of Bellwether by Del Webb's prime location, residents will be free to enjoy the relaxed atmosphere of Corcoran while having all the perks of a large metropolitan city conveniently nearby.