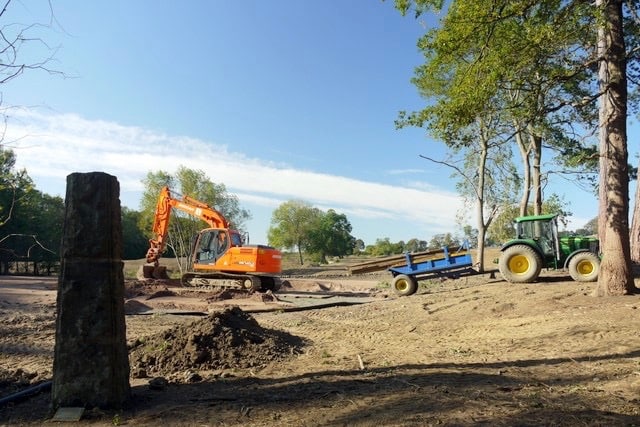 Big things are happening in San Marcos, Texas. Kissing Tree Golf Course just broke ground and will be the first public golf course built in Texas in the past five years. Premier developer and homebuilder Brookfield Residential Properties began construction on the 18-hole golf course this year and it will be completed by the end of 2017. In addition to the new golf course, Brookfield Residential is also developing Kissing Tree, their new active adult community that is also the first of its kind in the area.
Kissing Tree Golf Course will offer 18 holes and measures at approximately 6,600 yards. Each hole will offer varied angles that allow golfers of all skill levels to play. "The golf course was designed to be played and enjoyed… yet challenging but fun," said Scott Turner, General Manager of Kissing Tree. The course will feature a variety of elevation changes, natural tree-lined areas, and springs, as well as man-made lakes to make it stand out against the rolling San Marcos landscape.
Course Designer
Gary Stephenson, accomplished golf architect and Texas native, was selected by Brookfield Residential to design Kissing Tree Golf Course. His impressive resume of golf course designs and experience working with other significant names in the industry as well as being a local Texan were just a few of the reasons why Brookfield Residential tapped Gary Stephenson for this project. "Because he is a local, he understands the area and knows how to accent the natural beauty of the Texas landscape without disturbing the natural balance. Keeping its local roots and authenticity and being true Texas Hill Country allows the golf course to represent itself," said Turner. "He understands the terrain, culture, and community, which is exciting to bring to San Marcos."
Eco-Friendly Holes
One of the highlights of the Kissing Tree Golf Course is how it incorporates the natural topography of the Texas Hill Country into its fairways along with eco-friendly practices. "We are working in conjunction with Audubon International to make the course environmentally friendly and as organic as possible," said Turner. The golf course is working toward certification as a Signature Program facility with Audubon International, which is an environmental and conservation assistance program that helps landowners practice sustainable resource management principles. The golf course will be constructed and maintained with the natural elements weaved into its layout like potable and reclaimed water sources and natural fertilizers.
Golf Amenities
Once complete, the golf course will be managed by Troon, a worldwide leader in golf management. Troon will be operating the course and clubhouse with the highest standards of quality that are typically seen at luxury golf courses. "From maintenance to management, the amenities offered will be available for everyone to enjoy," said Turner. The Kissing Tree Golf Course will also have its own clubhouse, pro shop, golf carts, and restaurant featuring an American-focused menu that's available to residents as well as the public.
The golf course will also offer a full driving range as well as short game chipping and putting areas. Players will be able to warm up prior to their next game or practice on their swing with these convenient practice facilities onsite.
Kissing Tree Golf Course will be a great amenity not only to the community, but to the area as well. "It's been quite a while and we're sure this will be a great focal point to the property and future customers," said Turner. With this new public golf course and age-restricted community, residents as well as the public will now be able to enjoy these notable new features in the area. "We are really excited to bring this amenity to San Marcos…and the homeowners of Kissing Tree have the benefit and beauty of having this in their own community," he said.