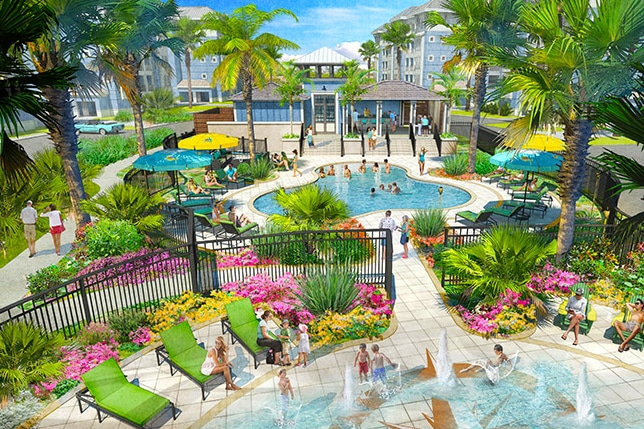 Jimmy Buffett-inspired communities continue to make headway in Florida, and that's no more evident than in Harbour Isle and its neighboring deep-water marina community, One Particular Harbour. A partnership between Minto Communities and Margaritaville Holdings on this Bradenton, Florida community combine 132 luxury residences with the marina on a private island setting. Minto is proud to announce that construction is on schedule and slated for completion in spring 2018.
"The marina's in-water dredge was completed in July, seawall construction has commenced and dock installation is slated for completion by the end of the year," notes Minto Senior Vice President William Bullock. "Construction is on schedule and we are in preliminary discussions with Margaritaville regarding amenities."
Named after the famous song from Buffett, One Particular Harbuor will include 55 wet slips and 128 dry slips. There will also be a ships store and 30,000 square feet of commercial space featuring a signature Margaritaville restaurant. Besides these amenities, residents will be able to store their boats in an enclosed space, as well as utilize the state-of-the-art docks.
One Particular Harbour will be designed with Margaritaville-inspired furnishing and finishes. Residents of Harbour Isle wake up to scenic views of Anna Maria Sound and Harbour Isle lagoon. One Particular Harbour will be the third community on Harbour Isle after Mangrove Walk and Edgewater Walk. Homeowners can choose floor plans that range in size from 1,483 to 1,650 square feet and include two or three bedrooms. Residences include spacious master suites, gourmet kitchens, and large screened lanai. Each new home purchase includes priority boat slip reservations, but only for a limited time.
"One Particular Harbour Margaritaville waterfront residences provide owners with walkable access to boating, dining and entertainment on Florida's last private island in one of the most iconic Gulf Coast settings. There is no other place like it," says Bullock. "Owners also have the option of placing their home with a rental agency for short-term rentals, making their vacation home work for them year-round," he adds.
Each neighborhood on Harbour Isle has its own private amenities, including resort-style pools, outdoor kitchens, kayak launches, and many more amenities. Besides One Particular Harbour's private amenities, each resident has access to the 23,000 square-foot Beach Club at Harbour Isle.
This resort-style clubhouse features a wide array of amenities for residents to use, including a 23,000 square-foot fitness center and Sky Bar Lounge. Beach Club at Harbour Isle also features a resort-style pool and spa, event lawn, sandy beach, and walking trails.
Request more information about this community.