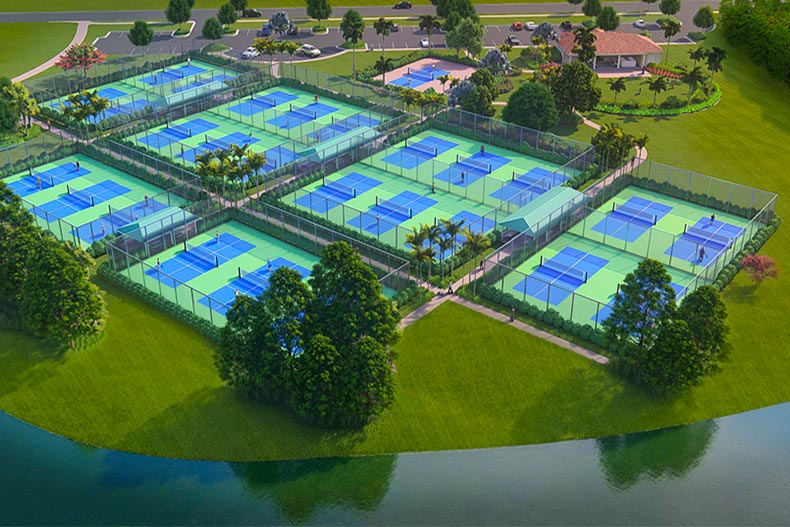 Prepare yourself for pickleball.
The sport is tremendously popular in active adult communities all over the country. In Florida, things are getting serious.
Kolter Homes is building Cresswind at PGA Village Verano in Port St. Lucie, and it's slated to have the largest pickleball facility in South Florida. PGA Village Verano Pickleball Center will include 26 pickleball courts plus a championship court, an event lawn, a pavilion, and an outdoor seating area. This is the type of facility that invites friendly competition and promotes a healthy lifestyle.
How to Play: A Pickleball Primer
According to Golf Digest, there are 2.8 million pickleball players in the United States. Pickleball is a paddle sport designed for two or four players. It combines the best parts of badminton, tennis, and table tennis. To play, you need only a whiffle ball and a paddle. The ball is served from one side of the court and must bounce once before it's returned. There's a seven-foot non-volley zone on either side of the net.
To win, a player must reach 11 points while maintaining a lead of at least two points over an opponent. Only the player serving may score. Three games are typically played, and it takes 60 to 90 minutes to complete those three games. It's a social sport, especially when doubles are played.
Cresswind at PGA Village Verano
The new Kolter Homes community is an ideal location for South Florida's largest pickleball facility. This gated 55+ neighborhood is within the PGA Village Verano master-planned community. Kolter offers 249 new single-family homes for sale, available in four different floor plans with prices that start in the mid $200s and go into the high $200s. Homes start at 1,571 square feet of living space and grow to 2,576 square feet. They'll have between two and four bedrooms and two-car garages. Buyers can opt for upgrades such as second floors and bonus rooms.
There are many amenities for residents, including a clubhouse that hosts a library, a ballroom, and an auditorium. There are pools, cabanas, and a fitness center with a dance and aerobics studio. It's easy to imagine yoga classes, water aerobics, and a lot of other opportunities for group or individual exercise. With plenty of parks and nature trails for walking and biking, residents have many reasons to get outside, including pickleball. There's even a dog park planned.
Potential Pickleball Tournament
Once the facility is finished and residents have begun moving into their homes, there are currently potential plans for a high-profile tournament at PGA Village Verano Pickleball Center. No details yet on what it could entail it can't hurt to start practicing now so you're ready if and when they do announce it in the future.
Whether you're new to pickleball or you've been playing for years, pay attention to the things that are happening at Cresswind at PGA Village Verano. While many 55+ communities are known for their golf and their resort-like amenities, this one, in particular, will have a reputation for being the best place to play pickleball.