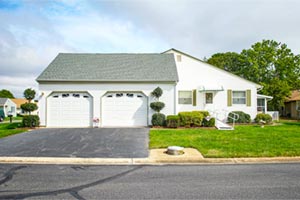 Homes in Crestwood Village VI will be going green.
Crestwood Village is a series of seven 55+ communities scattered throughout New Jersey. They're known for their variety of amenities, active social scenes, and affordability. Now one of those communities will be known for something very few active adult communities can claim: sustainability.
In April 2016, the community's Board of Trustees at Crestwood Village 6, located in Whiting, decided to add 358 solar panels to the clubhouse and several management buildings. Two years later, the Ocean County 55+ community has seen incredible savings and benefits to the environment.
The solar panels generate 100% of the electricity used in the common areas within the community, which make its electric bill balance $0 to the Jersey Central Power and Light. The project is not only saving money but injecting the community with more money. The switch to solar energy allows users to generate solar renewable energy credits (SREC). Crestwood Village 6 is currently predicted to produce nine SRECs per month, which can be worth up to $1,800 in revenue per month.
Saving money is great, but the minimal impact Crestwood Village 6 has on the environment is nothing short of amazing. Each solar panel allows for just under 3 million kilowatts per hour to be used over its 30-year lifespan. Currently, the community has reduced 10,500 pounds of smog emissions, saved 6,000 barrels of oil from electric production, and reduced greenhouse gas emissions by 4.2 million tons, which is equivalent to 10,100 trees being planted.
Such are the improvements that the Board of Trustees will now allow residents in Crestwood Village 6 to add solar panels to their homes. This is a huge benefit for homeowners because all homes in the community feature electric utilities and not natural gas. Heat, hot water, and cooking ranges are provided through electricity. This means homeowners have substantible electricity bills each month. This will surely change in the homes that opt to have solar panels installed.
The environmental impact of every home in the community switching to solar is incalculable right now. Considering the results so far, it will surely provide a positive impact to homeowners, common areas, the local environment, and quality of life. It's fair to say Crestwood Village 6 has set the standard for active adults and master-planned communities when it comes to sustainability. It may be the beginning of a trend for other Crestwood Village communities and those throughout New Jersey as well as the country.