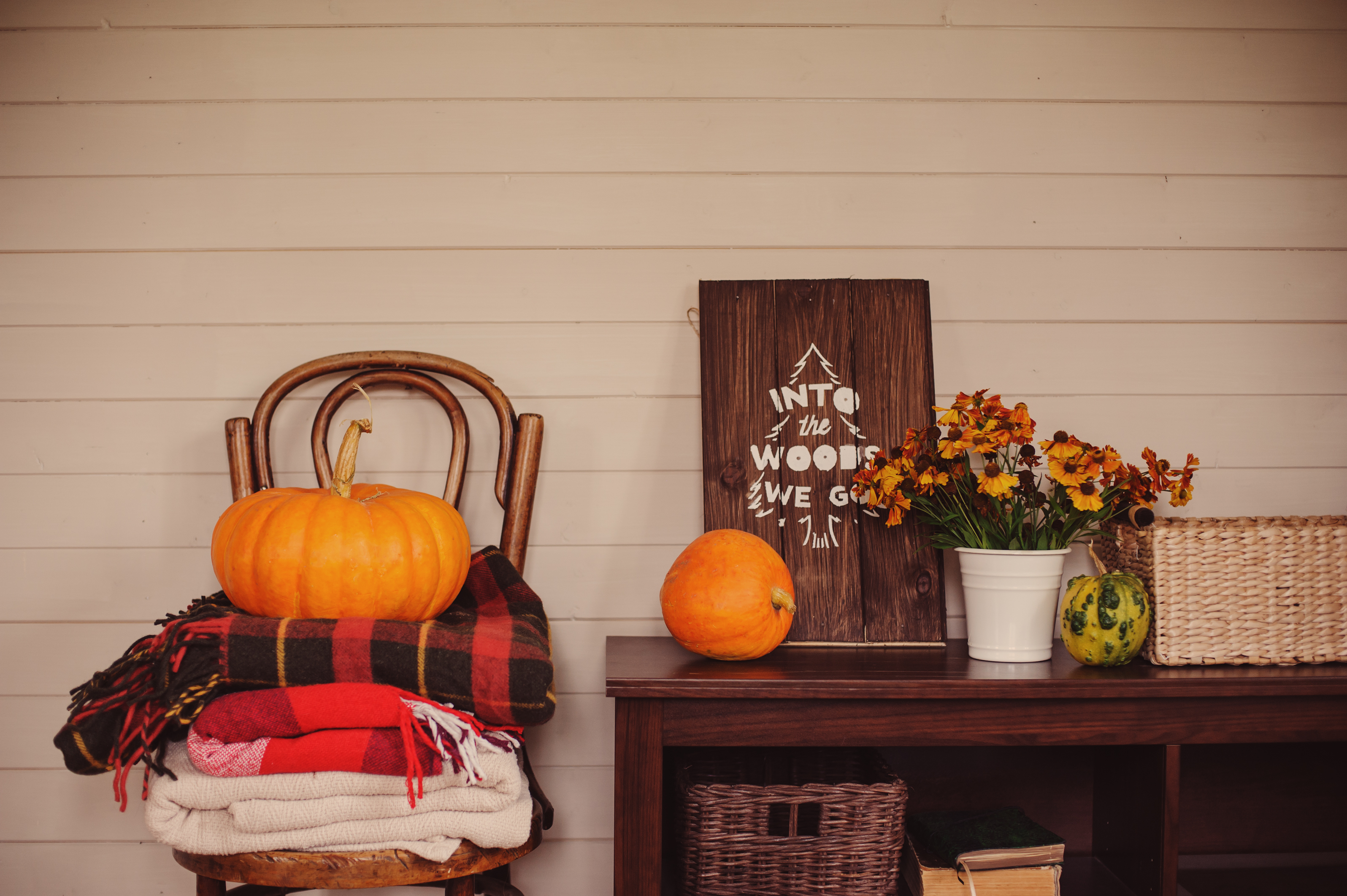 Bursts of vibrant colors and increasingly shorter days mark the beginning of fall throughout the country. It's a time where our thoughts turn to seasonal activities like apple picking, football games, and preparing for the holiday season. As green leaves turn golden and maple red, this also marks a change in home decor. Here are some ideas to get you thinking about decorating your home for the season ahead.
Start with the Front Door
The entrance to your home is the perfect place to start with a fall decor theme. A festive, autumnal wreath on the door welcomes both the changing seasons and, most importantly, your guests. Those with a talent for crafting can be inspired, and find most of their materials, on a walk through the park. Nuts, pine cones, acorns, and colorful foliage are all great items to start with. Not terribly handy with a glue gun? Any good farmers market or craft fair should have an abundance of options for seasonal front-door decor.
Last Hurrah for Gardeners
As the leaves begin to change and the weather cools, most avid gardeners begin pulling up annuals and preparing their perennials for the winter months ahead. But don't pack away all of the gardening tools just yet. Chrysanthemums, also known as fall mums, are an autumn classic and are quite hardy, with most of them tolerating a light frost. Consider pairing mums with containers or window boxes of decorative cabbage, purple kale, and sturdy English ivy, all of which thrive in cool weather. These plants not only hint at the fall harvest, but also provide a wonderful contrast to autumn's earth tones with bright whites, deep greens, and vibrant purple hues.
Explore the Fall Color Palette
The traditional fall color palette is, of course, inspired by the changing seasons, particularly those of the northern and northeastern parts of the country. Burnt oranges, deep browns and greens, and rich burgundy will never go out of style for fall decor. These colors celebrate the changing leaves and a bountiful fall harvest of late-ripening fruits, gourds, and multi-colored maize. Looking for a more modern take? Consider pairing these traditional, saturated colors with a white design element. This Scandinavian style is very trendy and helps create a look that really pops. For those who don't live in parts of the country with a traditional fall season or if you're looking for an in-the-moment modern color scheme, Pantone, the world's foremost authority on color palettes, has created a list of the most stylish fall colors in New York City and in London this year that are sure to inspire everyone from traditionalists to the more adventurous.
Make Your Home Welcoming to Guests
Autumn is a time where thoughts turn to making home interiors warm and cozy. It is also the time where we begin welcoming guests, family, and friends into our homes for the approaching holiday season. Consider an easy-to-clean rug and place an occasional chair and umbrella stand near the doorway so your guests can easily store their boots and coats. A roaring fire creates not only a rustic aroma, but is also a natural gathering point. Place framed photos of friends and family near the foyer or around seating areas. The sentimental touch is sure to inspire conversation and the sharing of fond memories. Find a great recipe for mulled cider and have some waiting when your visitors come in from the cold. The rich scent of cider and spices beats any scented candle and also, of course, provides a warming treat. For overnight guests, be sure to replace light summer linens with heavier ones and plenty of warm blankets.
Put a Pumpkin on It
No fall decor is truly complete without a trip to the farmers market or a nearby grocery store for some decorative produce. A centerpiece of decorative gourds, a carved pumpkin in the window, or ornamental corn stalks by the front door are timeless and, executed properly, are sure to go well with traditional or modern motifs. Consider picking up a few cut sunflower blooms as well. The rich browns and vibrant orange and gold colors fit right in with fall color schemes while offering one last wistful glance back at warm summer days.