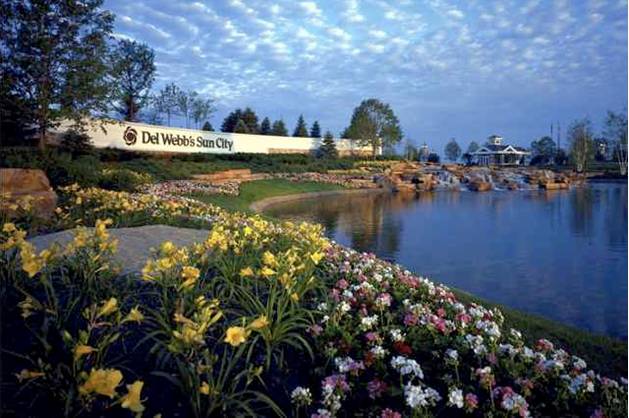 When Sun City Arizona opened its doors on January 1, 1960, the American active adult community was born. Del Webb, the developer behind Sun City Arizona, envisioned a different kind of retirement community, one in which residents could pursue an active lifestyle among neighbors of their peers. Since that time, Sun City Arizona has blossomed into a brand of active adult communities which have spread across the nation, bringing the Del Webb vision to new generations of active adults.
The Sun City Lifestyle
The Sun City lifestyle includes more than active socializing. Physical health is supported by state-of-the-art fitness centers and active recreations such as tennis, golf, bocce ball, pickleball, and fitness classes. Creativity can be explored through the pursuit of hobbies with art and ceramics studios, woodworking shops, and performing arts groups. Complete wellness is also encouraged by engaging the mind with a wide variety of on-site classes, lecture series, and active discussion groups. And while Del Webb's Sun City Arizona communities are often known for their sprawling resort-style living, they also encompass many different types of settings.
Sun City Mesquite
There are semi-tropical beach adjacent communities, those located in the high desert, and homes with lush suburban environments. Residents at Sun City Mesquite in Nevada, 80 miles northeast of Las Vegas, enjoy a quiet lifestyle in a setting that attracts many Snowbird retirees. This picturesque community boasts more scenic walking and biking trails than any other Del Webb active adult community.
Sun City West
The original Sun City Arizona, located just outside of Phoenix, has expanded to become one of the largest with over 26,000 residences, and just over two and a half miles away Sun City West is nearly as large with 16,900 homes. Both of these communities provide residents with an abundance of social and recreational amenities. In fact, with multiple restaurants, shopping centers, clubhouses, golf courses, and other activities, each of these communities is very much like its own small town.
Sun City Oro Valley
On the other end of the spectrum, Del Webb offers smaller Sun City communities, such as Sun City Oro Valley, which is located 20 miles from downtown Tucson, Arizona. With only 2,488 homes, this exciting community still offers three clubhouses, an 18-hole golf course, and a wide range of amenities and social clubs. This goes to show that the Sun City lifestyle exemplifies resort-style living, whatever the size of the community. Though Sun City developments first appeared in Arizona, these fabulous communities are situated in states throughout the country.
Other Sun City Communities
There are Sun City communities in many popular retirement states, including Sun City Texas, in Georgetown, Texas as well as Sun City Roseville, just outside of Sacramento, California. There are also Sun City communities located in states that are less known for their retirement living. Sun City Peachtree is set just south of Atlanta, Georgia, and those looking to live further north can find resort-style living at Sun City Huntley in Illinois.
Though many developers have created their own fabulous active adult communities, Del Webb's Sun City Arizona communities are known for their ample social events and exciting activities. At Sun City Arizona, residents can expect to find everything they need for rich, active living that supports physical, mental and social health.