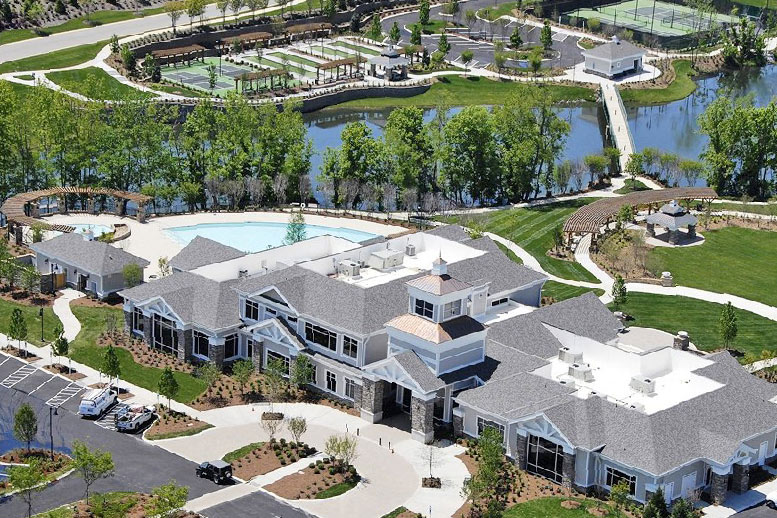 Lake Providence is a Del Webb active adult community near Nashville, Tennessee. This gated community offers a resort lifestyle with 1,069 homes centered around a large clubhouse overlooking a 15-acre lake. Residents enjoy 80 clubs and an on-site lifestyle director.
Lake Providence has experienced strong sales in recent years, despite the real estate downturn. The community's ideal location, proximity to the culture of Nashville, world-class amenities, and active lifestyle have drawn retirees from all corners of the country.
Many buyers from northern states have flocked to the community to escape high taxes and take advantage of Tennessee's mild weather and abundant outdoor recreational opportunities. Additionally, many residents of places like Florida and the Carolinas are moving northward to escape the more crowded areas in the South and to be closer to friends and family. Tennessee, which borders eight neighboring states, boasts that it's within a day's drive of 76 percent of the major urban markets in the country.
Surrounding Area
Lake Providence is situated in Mt. Juliet, TN, only 17 miles from Nashville and 12 miles from Nashville International Airport. Lake Providence offers easy access to the cultural richness of Nashville as well as nearby access to top-notch medical facilities. Additionally, Tennessee has the added benefit of low property taxes and no state income tax. Lake Providence residents also appreciate the low cost of living in Tennessee, which is 10 percent lower than the national average.
Lots of Amenities
A 24,000 square foot clubhouse overlooking a 15-acre lake provides the ideal place for all community social and fitness activity in Lake Providence. It includes a state-of-the-art fitness center, an indoor lap pool, a walking track, an outdoor resort-style pool, hobby and craft studios, an aerobics room, and a ballroom.
Outside, Lake Providence caters to fitness-minded active adults with miles of walking and biking trails, plus basketball, bocce, pickleball, and tennis courts. A large outdoor amphitheater hosts a variety of summer concerts and neighborhood events. An activities director promotes a lifestyle that caters to the interests of all homeowners. There are over 80 different clubs, interest groups, and classes offered at Lake Providence.
Homebuyers can select from eight single-family home models and three villa models at Del Webb Nashville, TN. The single-family homes range from 1,392 to 2,597 square feet and are currently priced from the high $100's to the high $200's. Single story villas, arranged in duplex and triplex configurations, are available from the $ 170s and up. True to Del Webb's style, the homes are designed for the needs of active adults and incorporate many sought after design features such as expansive great rooms, gourmet kitchens, and plenty of outdoor living space.
Nearby Communities
Lake Providence has largely evaded the downward trend plaguing many real estate markets across the country. "We are doing great, despite the real estate slowdown," said Derek Huggett, sales manager at Lake Providence. "We just sold our 300th home and we have only been open for two years."
For more information about Del Webb Lake Providence, go here. If you like Lake Providence, you should also check out: Sun City Peachtree - Atlanta, GA area, Carolina Preserve - Raleigh, NC area, Sun City Carolina Lakes - Charlotte, NC area, Village at Deaton Creek - Atlanta, GA area