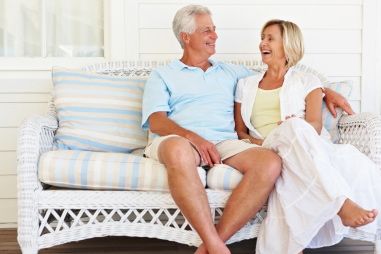 Many retirees and empty nesters move into 55+ communities for an active yet low-maintenance lifestyle. They like the idea of living in a thriving community of their peers and frequently plan to stay in the community for many years to come. Many times, however, there is more to making a plan to age in place than simply buying a ranch-style home.
What is Aging in Place?
"Aging in place" is a phrase used to describe a lifestyle where older adults plan to live independently in their own homes for as long as possible. While it's not something most people like to think about, aging is a fact of life for everyone. As adults reach their later years, certain accessibility features may be necessary, and creating a plan to age in place takes these features into consideration.
The low-maintenance ranch-style villas or single-family homes generally found in active adult communities are often designed with thoughtful features that make it easier to age in place. Some of these features are optional at the time the home is built while others are changes that can be made later on. If you are buying a home in your 50s, chances are you may not be thinking about the necessary features that you might want in your 70s or 80s.
Home Features for Aging in Place
Some structural features for aging in place include choosing a single-level home with an open-floor plan, a no-step entryway, and 36-inch wide interior and exterior doorways. Flush thresholds where there is no change level at the base of doors are convenient for active adults, as are lower windows (or taller windows with lower sills).
In a multi-story home, a good design for aging in place will have the primary living spaces on the main floor. That includes the kitchen, living room, master bedroom, and main bathroom. Guest rooms and other infrequently used spaces can then be added in a finished basement or loft. A laundry room is best located on the same floor as the master bedroom.
There are many small features which go a long way toward helping you age in place. Lever handles on both doors and faucets are easier to turn, especially for those with arthritis. On cabinets, loop handles are easiest to grip and pull. Entryways should have non-slip flooring, good lighting, and sidelights or high and low peepholes.
In the kitchen, lower wall cabinets and varied counter heights are often quite useful. A few other convenient features to consider are base cabinets with pull-out shelves or lazy susans, pull-out spray faucets, task lighting, open shelving, and counters with contrasting colored trim to more easily define the edge of the workspace.
Bathroom features for aging in place include lower bathtubs with handrails, standing shower stalls with no curb to step over, raised toilets, and non-slip flooring. Showers with built-in seats and adjustable, handheld shower heads are sure to be more accessible. Opting for anti-mildew grout will also make bathroom cleaning easier.
As you design your home with a plan to age in place, you may find that many of these features are convenient to have at any age. As a result, many aging in place elements are part of a growing trend known as "universal design". Generally, universal design refers to interior design plans that are meant to be accessible and low-maintenance for anyone, regardless of age or physical ability. You may not like to think about growing older, but designing your home to age in place is a plan that will bring important benefits both now and in the future.