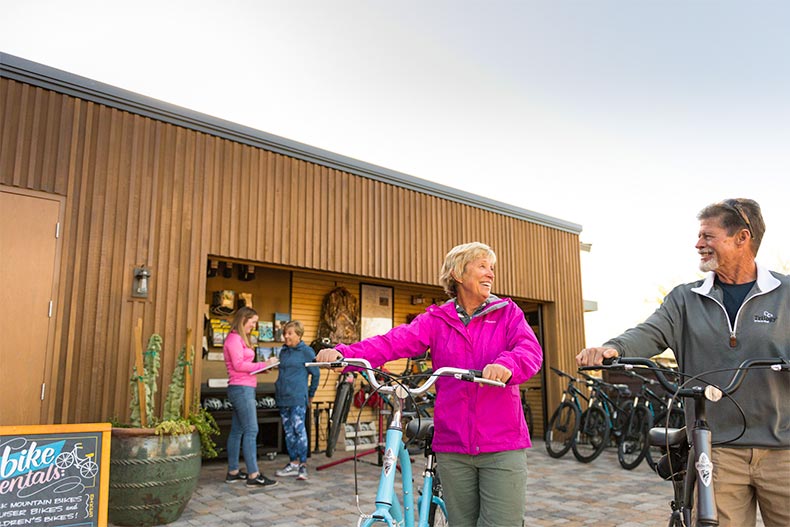 When exploring an active adult community, homebuyers are not just focusing on a home, but also a community's amenities and lifestyle options. Because these factors are so important to 55+ homebuyers, many communities work to offer new and unique amenities for its residents. In the case of Shea Homes' Trilogy Communities, residents are provided with a wide assortment of unique perks to enjoy.
Trilogy by Shea Homes is a national leading series of 55+ active adult communities. Communities are located in Arizona, California, Washington, Nevada, North Carolina, Virginia, and Florida. Since 1999, Trilogy has cemented its status as a leader in active lifestyle communities thanks to its wide range of amenities.
Staying in the Community
One noticeable difference that makes Trilogy stand out is found in its workers. Rather than being employed by a homeowners' association or volunteer staff, each of Trilogy's 14 communities nationwide is staffed by hospitality-trained resort teams that Shea Homes created specifically for their Trilogy brand. The staff is tasked with ensuring that every resident enjoys an elevated lifestyle experience by implementing new programs, events, travel, and educational opportunities throughout the year. In total, Trilogy includes over 150 fitness classes, dozens of hosted happy hour events, and group excursions.
Sports Lounges
Each Trilogy community was designed to serve as the ultimate resort-style community, where residents can sit back and enjoy their retirement in bliss. Perhaps none of Trilogy's amenities speak better to this than in its "Man Caves." Conceived to be the premier destination for all sports enthusiasts, each of Trilogy's "Man Caves" are spaces where residents can socialize and engage with fellow residents in a fun and vibrant environment.
Each space is a sports escape where residents can find everything from billiards, darts, shuffleboards, and poker tables. Residents who would rather watch sports on the big screen are covered as well. Flat-screen TV's are scattered throughout the lounge and make for great opportunities to watch big games with a group. And while the name might be "Man Cave," each and every resident and sports fan is invited to come and have a good time.
Another key feature in many of the "Man Caves" is a golf simulator. Located in Trilogy at The Polo Club, Trilogy at Tehaleh, Trilogy Orlando, and Trilogy at Lake Frederick, the golf simulators allow residents to immerse themselves in a virtual simulation of a golf course. Golfers can practice their swing and stance while also learning new techniques and forms.
An Emphasis on Travel
For Trilogy, travel is a key component of the brand. In recent years, Shea Homes has implemented a number of ways for its residents to get out and see the world, whether it be nationally or internationally. One key program is Trilogy's Explore 360, a cross-community travel program that was made in the hopes of helping residents explore the world through travel and build friendships with other Trilogy homeowners. Trips are organized and coordinated by a National Lifestyle Director. One recent excursion to Italy was sold out in just 18 hours while other past popular destinations have included trips to national parks, the Galapagos, and a cruise through Europe.