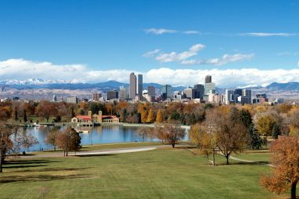 With a walkable downtown, wide blue skies and plenty of exciting attractions, Denver, Colorado, is a fabulous spot for a memorable vacation. The Mile-High City is also a great place for an active adult retirement, as the Denver area features several impressive age-restricted communities.
Set in the South Platte River Valley, Denver is both Colorado's capital city and largest city. Denver has been nicknamed the Mile-High City, because its official elevation is 5,280 feet, or exactly one mile, above sea level. Denver's urban skyline features wide vistas with a mix of modern skyscrapers and distant mountains, as the city is nestled between the Rocky Mountains to the west and the High Plains to the east.
The Denver area features a comfortable climate, although winters do typically bring snow between October and April. Summer days are generally hot with average temperatures in high 80s and record highs climbing over 100 degrees. During the winter months, days tend to be in the low to mid-40s, while nights drop well below freezing, in to the high teens. Denver's inland location at the foot of the Rocky Mountains can also lead to some sudden weather changes.
While Denver has grown into a large, modern city with beautiful architecture, it also features many parks and natural areas. The 314-acre City Park offers plenty of space to enjoy nature in the heart of the city. City Park is home to the Denver Zoo and the Denver Museum of Nature and Science, which is the fourth largest museum in the United States. Additionally, Denver is estimated to have over 200 parks of varying sizes, as well as 29 recreation centers.
If you want to stand exactly one mile above sea level while visiting the Mile-High City, plan a trip to the west steps of the Colorado State Capital. Other local must-see attractions include the Denver Art Museum, the Denver Botanic Gardens, Red Rocks Amphitheatre and Visitor Center, and Confluence Park. The 16th Street Mall features a mile of shops and outdoor cafes, while the LoDo Historic District is a hip place to shop, dine or relax at a brewpub or local bar.
When it comes to active adult communities, mature homebuyers can find impressive options close to the city or spread throughout its popular suburbs. Windsor Gardens has the distinction of being the first age-restricted community within the city of Denver. Yet, despite its urban address, the community offers nearly 2,700 homes set on 143 acres of beautiful grounds. Additional active adult communities are found in many popular areas like Aurora or Highlands Ranch.
Whether planning a vacation or a mountain retirement, the Denver area is a beautiful place to shop, dine, explore and enjoy a wide range of urban attractions.