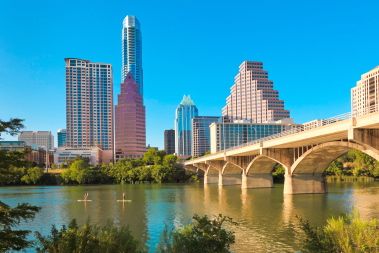 Situated in Central Texas, Austin is a bustling city that is as popular with retirees as it is with college students. What makes the capital city of Texas so appealing? Maybe the attraction lies in the city's sunny summers and mild winters, its cultural activities or its annual art and music festivals. For active adults who choose to relocate to Austin, the appeal may also include some of the area's exciting age-restricted communities.
Climate
Austin's sunny climate is one of the reasons retirees are drawn to the region. Summer in the Austin area is hot and humid with daytime temperatures averaging in the mid-90s. Though much of Texas is thought of as dry, the Austin area typically has somewhat rainy spring and fall seasons. Winters are generally mild with days in the low 60s, and snowfall is rare.
Attractions
The city of Austin is a diverse urban setting with attractions that appeal to many different interests. There are plenty of fabulous shopping centers, restaurants, historic sites, and cultural opportunities. Austin also has an exciting music scene, which is why the city is often promoted as The Live Music Capital of the World. Whether stopping by a hip nightclub or taking in a show at the Austin Lyric Opera, music lovers can find a great music experience.
Nearby Getaways
While there is plenty to do in Austin, active adults who live in the area can also plan weekend getaways at other nearby destinations. San Antonio is only 90 minutes away and it's less than a three-hour drive to Houston. Local residents can also travel about three-and-a-half hours south to reach coastal hot spots along the beautiful Gulf of Mexico.
Active adults who choose to live in the Austin area are likely to find a great community in the suburbs surrounding the city. Just thirty minutes outside of Austin, Georgetown is a fabulous area for active adult retirees. In addition to its great local shopping and dining, Georgetown offers many outdoor recreations. Those who love boating and fishing will particularly enjoy living within close proximity of Lake Georgetown.
Sun City Texas & Other Active Adult Communities
In Georgetown, potential homebuyers can find a great home in either a large, resort-style community or a smaller, more intimate neighborhood. Sun City Texas by Del Webb is a sprawling active adult community with a wide range of amenities and beautiful homes. Upon completion, this spectacular development will contain about 7,500 residences including both single-family and attached homes. Yet active adults who want a smaller community could also choose an intimate neighborhood like the 398-home Heritage Oaks development.
Austin offers exciting urban attractions, beautiful scenery, a sunny climate and so much more. Whether visiting or relocating, it's easy to see why the capital of Texas is a great destination for active adult retirees.