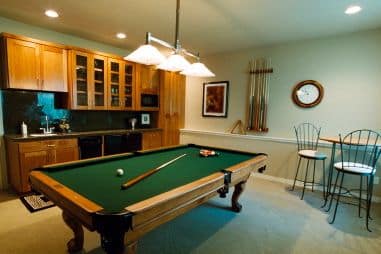 Homebuyers who are accustomed to having a basement may be afraid that they won't be able to get used to living in a home without this extra underground space. But when building a new home, a basement can potentially add $20,000 to $40,000 to the total home price. It is certainly an option that is worth careful consideration across several factors, including location, purpose, and home value.
Location
When it comes to building a home with an optional basement, the location will have a lot to do with the decision. In northern or midwestern climates, basements are found in most homes. Because of this, active adults who move away from these regions are often surprised to find areas where homes are frequently built on concrete slabs.
In southern coastal areas, many homes are built without basements out of necessity. This is particularly true in areas with elevations that are at or below sea level, as a high water table makes a basement too much of a flood risk.
Conversely, homes in Midwestern areas that are prone to tornados are often expected to have basements. In those locations, a basement is more than an extra living or storage space. In an area at risk for tornados, basements become a highly-desired safety feature.
Purpose
When weighing the worth of having a basement, active adults should think about how they would plan to use the extra square footage. Would the basement be used simply for storage, or would it be finished and used for extra living space? Perhaps it would house a workshop, a sewing room, or a tucked away man cave.
By understanding what they want in a basement, homebuyers can then look for floor plans that will meet all of their needs in a single level. This might mean buying a home with walk-in closets, a second bedroom, or a multi-functional den.
Some active adult communities also offer ranch homes with loft space which can easily make up for not having a basement. Instead of having full basements, homes in many active adult communities have storage space in attics, crawl spaces, large closets, and kitchen pantries.
If this isn't enough room for storage, active adults should take a look at how much "stuff" they are storing. It may be time to sort out the boxes, have a yard sale, or start giving some keepsakes out to the kids.
Home Value
To weigh the value of a basement, homebuyers can compare the price difference in buying a home with a basement to buying a larger home that is built on a concrete slab. Basements can be a pricey option when building, but if the space is actually needed, adding a basement may be cheaper than buying a larger home.
Comparing the homes in the community will also offer some possible insight into the home's future value. A home without a basement won't suffer in comparison to its neighbors if most of the community is built on slab foundations. However, it may not be the best idea to be one of the few homes without a basement in a community where they are considered a common feature.
When buying a new construction, opting to add a basement is a decision that isn't easy to change once the house has been built. It's important to consider the options and weigh the costs, but it ultimately comes down to a personal decision based on a homebuyer's own needs and financial situation.