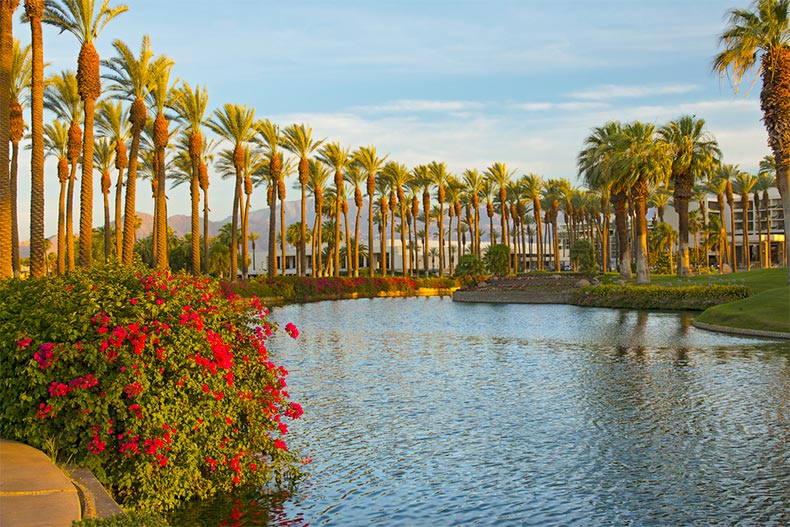 Ever since construction began on Domani, a new community in Palm Desert, it has generated a great deal of interest. This 55+ community is unique in that it offers a high-end, resort-like environment while maintaining a tight-knit atmosphere. With a total of just 202 homes planned, Domani blends the best of both worlds, offering luxury living and a strong sense of community. It is also ideally located in the scenic Coachella Valley and offers easy access to some of Southern California's top destinations.
Over the past few months, there have been some exciting developments at Domani. The developer of the community, the Rilington Group, recently rolled out grand opening celebrations and opened up sales of the new homes.
Grand Opening of Domani's Highly Anticipated Clubhouse
The Rilington Group held its grand opening for Domani's clubhouse on April 14, 2018. The event drew upwards of 200 potential homebuyers who came to partake in the festivities and explore what Domani has to offer. A total of eight homes were sold during the opening weekend alone.
Between the community's preview opening in February of 2018 and April's grand opening of the clubhouse, over 20 homes were sold, so it's no surprise that the grand opening was such a success. Due to the high level of demand that Domani has generated, the community's Phase 4 homes were even released ahead of schedule.
To help celebrate the grand opening of Domani's clubhouse, the Palm Desert Area Chamber of Commerce joined the Rilington Group for a ribbon-cutting ceremony. In addition to several members of the Palm Desert Area Chamber of Commerce, also in attendance were business associates of the Rilington Group and locals from the community.
Domani's clubhouse is expected to be a thriving social center for the community. This 5,000 square-foot clubhouse was designed to meet the needs of today's active adults. Whether seeking a quiet place to unwind or stay active, residents of Domani will have many options for relaxation and recreation. The clubhouse is equipped with a state-of-the-art fitness center with views that showcase the natural beauty of the surrounding mountains. The outdoor recreation area offers pickleball and bocce for those who want to engage in some friendly competition with neighbors. The community also offers a resort-style pool and spa for enjoying California's pleasant weather.
Phase 5 Sales Draws Lines of Eager Homebuyers
The grand opening and related events generated so much interest that potential homebuyers lined up bright and early for the community's release of sales for the Phase 5 homes. When Domani opened its gates at 7:45 a.m., many people were already waiting in line for the chance to reserve one of the 12 homes released that day. Some prospective buyers had even waited overnight for the highly anticipated release and the opening of sales.
In a news update released by the Rilington Group, Marketing Director Erin Eslinger stated, "It was really exciting to see cars waiting at the entry gates when we opened at 7:45 a.m. This sales momentum proves that Domani offers active adult buyers what is truly the right home at the right price."
All homes at Domani are currently priced in the low to mid $300s, and they range in size from 1,586 to 1,893 square feet. Homebuyers can expect thoughtfully designed floor plans and features such as granite countertops and ceramic tile master baths.