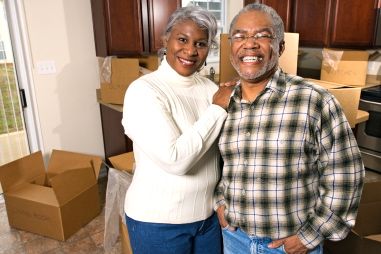 After a lifetime of accumulating a houseful of "stuff," empty-nesters often want to de-clutter their lives. This may be the perfect time to move forward with retirement plans and downsize to a home that requires less maintenance. In many cases, however, downsizing is often easier said than done. Here are some tips to help make the process less of a hassle.
Decide What to Keep
While you may think it will be easy to get rid of your excess belongings, most of that stuff is stored around your house for a reason. Perhaps it was a gift or it has other sentimental value. Maybe you've held on to clothes that are a bit snug in the hopes that they'll fit after your next diet. You may know that you don't need these things but find it hard to give away items that are still in good working order.
When downsizing, start by considering your reasons for keeping excess stuff. Examine each item individually and ask yourself, "Do I really love this? Does it add value to my life now?" Be honest with yourself. Even if you do lose ten pounds, wouldn't you rather celebrate by buying something new?
Downsizing is not an easy process and will likely take much longer than you expect. To minimize your stress, it's often best to start small and give yourself plenty of time to go through your belongings at a comfortable pace. Set a goal of sorting through one box, closet, or drawer each week. Little by little, you will reduce your belongings until you are only left with the items you really want to keep.
Donate or Sell Your Unwanted Items
Fortunately, there are plenty of options for what to do with the items you no longer want. Offer gently used clothes and household goods to friends and pass down sentimental items to your children or other relatives. You can sell items in a garage sale or on eBay. Items in good condition that can't be sold or passed on can be donated to local charities. If you are lacking in time or ability, you can even simply throw things away.
If your kids are older and establishing their own family homes, it's a good time for them to go through their childhood memorabilia. This can be a little harder when your kids are still in college dorms or in their first apartments. If they aren't ready to part with their childhood items, consider renting a small storage space to hold them, but make sure your kids share the expense until they are ready to either take their things or get rid of them.
Ask for Help
Having help when downsizing can make the process much easier. Family or close friends might be able to lend a more objective eye and offer moral support throughout the process. For bigger projects, a professional company that offers home organization and downsizing services can be invaluable. You will want to check references before hiring and ask to see proof that the company is licensed and insured.
Downsizing is difficult but worth the effort. Begin looking around for your low-maintenance dream home and keep reminding yourself just how much easier moving will be after you've gotten rid of your excess clutter.