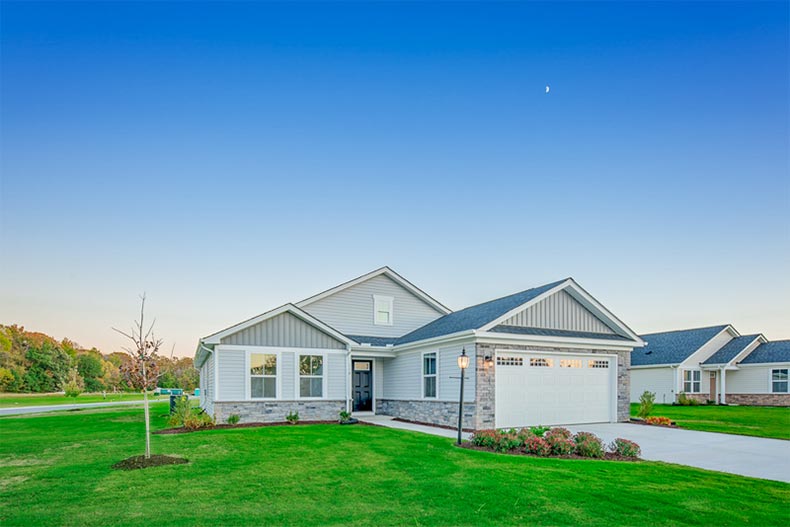 The term "active adult" can be defined loosely since the lucky people who subscribe to this lifestyle don't have to be 55 or older. As times have changed, grown-ups are learning to appreciate the benefits of living in communities that offer homeowners' associations, low-maintenance homes, and on-site amenities. Communities without age restrictions that fall into this category can be harder to find, but some states have them, including Pennsylvania.
When researching neighborhoods, it's important to check if they're age-restricted, and in most cases, this means that homeowners must be over 55. Without this restriction, residents of all ages and welcome, including children. These neighborhoods can be perfect for extended families that include grandparents and grandchildren or active adults who want neighbors of all ages.
If you're thinking of settling down in PA, Eastern Pennsylvania real estate could be a good option for you. All in all, there are 127 active adult communities in this region, and three of them are not age-restricted. This part of the state counts three big cities—Philadelphia, Allentown, and Reading—among its largest, and there are many enticing small towns as well.
Another good thing about this area is the availability of top-performing hospitals, outdoor recreation areas, and retirement-friendly state taxes. Pennsylvania also has a lower cost of living than some of its neighboring states, though prices do go up as you get closer to the metro area.
Here's the low-down on the three communities in Eastern Pennsylvania that don't have age restrictions.
High $200s - High $300s
Looking for a smaller neighborhood that offers privacy within commuting distance of Philadelphia? Carriage House Manors is three miles from the Hatboro and Warminster SEPTA (Southeastern Pennsylvania Transportation Authority) train stations, which both go into Philly. It's also near the Pennsylvania Turnpike, Route 611, and other main arteries that have shops and services like a Walmart Supercenter, a Sam's Club, a Home Depot, restaurants, and Jefferson Health Abington hospital.
This lock-and-leave community was completed in 2006, and it has 38 townhomes ranging from 1,190 to 2,129 square feet with two or three bedrooms, one-and-a-half to three bathrooms, and attached one-car garages. Options may include finished basements, walk-out patios, fireplaces, and second-story decks. The reasonable homeowners' association (HOA) fees provide for snow removal, lawn care, and common area and exterior home maintenance.
Carriage House is also near several golf courses, including Manufacturers' Golf & Country Club and Commonwealth National. Additional outdoor pursuits can be enjoyed at Bradford Reservoir Recreation Area, and you can have plenty of indoor fun at Willow Grove Park Mall.
Learn more information about Carriage House Manor here.
Mid $200s - Mid $300s
Poised on the outskirts of Pottstown, Spring Valley Farms is a Ryan Homes-built community slated for 178 new single-family homes. It's designed with four single-story models sized from 1,150 and 1,694 square feet with two or three bedrooms, two- or two-and-a-half bathrooms, and attached two-car garages. Options include great rooms, flex rooms, energy-efficient appliances, and the monthly HOA fee covers lawn care, common area maintenance, and trash and snow removal. Plans for a community clubhouse are also in the works.
Sanatoga is in Montgomery County, known for its breathtaking trails, parks, and historic sites. One of the best known is Valley Forge, which boasts 3,500 acres of natural space, great biking trails, and monuments. Other day trip-worthy landmarks include Pennypacker Mills, Pottsgrove Manor, and the challenging Wissahickon Trail.
Spring Valley Farms is also close to Routes 73, 100, and 422, making it easy to get where you need to be. The King of Prussia Mall is about 20 minutes away, and there's a Costco, a Walmart Supercenter, restaurants, and other shops nearby.
Learn more information about Spring Valley Farms here.
Low $300s - High $300s
This prestigious neighborhood is the largest of the three, and it will have 356 new and resale attached homes when work is completed by Ridgewood Partners. The five thoughtfully designed floor plans range from 1,990 and 2,400 square feet with two to three bedrooms, two-and-a-half to four-and-a-half baths, and attached one- or two-car garages. Upgrades include elevators, first-floor master suites, dens, basements, decks, and gourmet kitchens. The HOA fee covers trash and snow removal, lawn care, and common area maintenance.
Ridgewood doesn't have a community clubhouse, but its property borders 88 acres of open space that will have some walking trails and parks. It's close to the Spring Valley YMCA and the Upper Providence Township Recreation Center, and it's just minutes from a GIANT Foods/Target shopping center and a Wegmans. The center of Pottstown also has shops, services, restaurants, and the Pottstown Hospital/Tower Health medical facility.