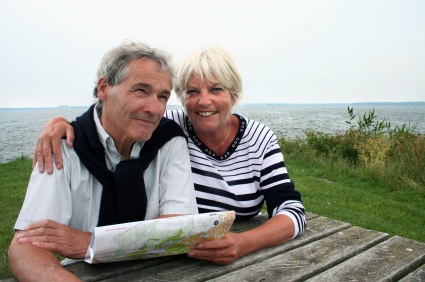 Retirement is a big part of the American dream, but many Americans don't have a clear picture of what retirement means to them. They often worry about the "how" of retirement, as in "How will I afford to retire?", but the rest of the picture may be rather vague. To bring that image into focus, let's go back to the basics of who, what, when, where, and why.
Who do you want to live near during retirement?
Whether relocating or staying close to home, what kind of people do you picture living next door? While you cannot choose your neighbors, the type of community you select will appeal to similar residents. Some retirees opt for a community with a 55+ age restriction, while others prefer the energy of an open age neighborhood. It's a personal preference that makes a big difference in terms of what kind of community you want to be in.
What do you want to do with your time?
The idea of retirement brings up images such as golf, boating, tennis, and gardening. But if you've never picked up a racket, do you think retirement will make tennis more appealing? Instead of picturing typical retirement activities, think about your current interests. What do you wish you had more time to do right now? Don't feel compelled to choose a sprawling resort-style active adult community just because it offers more amenities. You may actually be happier in an intimate neighborhood that simply has an active book club and a community garden.
When will you really want to retire?
Dissatisfaction at work might mean it's time for a change, but it doesn't necessarily point to full retirement. Many early retirees continue to work part-time, or even start a completely new second career. Instead of planning to stop work entirely, you may opt for a step-down approach to retirement, which can let your retirement investments continue to grow while you gradually work less over the course of several years. If you worked half as many hours, what would you do with your time?
Where will you want to live?
Many Americans think of retirement as a new chapter in their lives, but this new beginning doesn't necessarily mean relocating to Florida or Arizona. Though some retirees choose to leave behind northern winters, many prefer having four seasons and staying close to their current hometown. Before making a move, be sure to visit your dream retirement town during different times of the year, and be honest with yourself when it comes to each area's pros and cons.
Why retire?
This may seem an obvious question, but it is often the hardest to answer. Are you retiring to have more time for recreation? Are you retiring for health reasons? Is retirement just want you are "supposed" to do when you've saved enough? Examining the motives behind your own decision to retire is an important step in the planning process. A little soul-searching now can help you understand just what it is you want to get out of your retirement years, and that will help you make the best decisions for you.