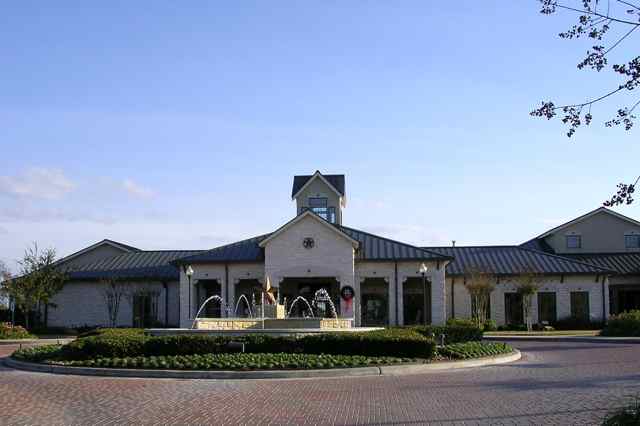 Just outside of Houston in Katy, Texas, Heritage Grand at Cinco Ranch welcomes active adults with picturesque grounds, a spacious clubhouse, and favorable homes. The amenities and social clubs make it easy for residents to get involved in the community, while the location offers easy access to many shopping centers, restaurants, and daily conveniences. With entertaining amenities, diverse home styles, and a central location, the gated community Heritage Grand at Cinco Ranch appeals to many different active adult homebuyers looking for homes for sale in Katy, Texas.
Plenty of Amenities
Heritage Grand at Cinco Ranch's 14,000-square-foot clubhouse is the center of amenities and activities within the community. Residents can gather in several social areas, including the tastefully decorated clubhouse entrance lounge, the library, the computer center, and the cards and billiards rooms. The arts and crafts studio lets residents express their creativity, while the fitness center offers equipment to help them stay in shape.
Outdoors, Heritage Grand at Cinco Ranch has many active amenities. The swimming pool and spa area features both a traditional resort-style pool and a resistance walking pool. Sports courts are available for bocce, shuffleboard, and basketball, while horseshoe pits are great for a casual game with friendly neighbors. Residents also have access to Cinco Ranch's 18-hole, par-72 golf course.
Social Activities and Lifestyle Clubs
In addition to its hobby and game rooms, the community offers a wide range of planned activities and a staff of five full-time assistants to keep the social calendar running smoothly. Many community events are held in the grand ballroom, which has a raised stage and a large multipurpose area.
Some of the regular gatherings include coffee socials, pot luck dinners, fashion shows, and craft shows. Special interest groups at Heritage Grand at Cinco Ranch are designed around many different hobbies and activities. Clubs feature activities like creative writing, gardening, bowling, cards, billiards, Bible study, and book discussions. Residents can take part in fitness classes for exercises like yoga and water aerobics as well.
Desirable Homes
Built between 2002 and 2010 by Village Builders and K. Hovnanian, Heritage Grand at Cinco Ranch is a 55+ enclave within the larger Cinco Ranch development. It includes 551 single-family homes and 196 attached homes. Most of the homes were constructed by Village Builders, but 65 of the homes were built by K. Hovnanian.
Diverse homes in Heritage Grand at Cinco Ranch include 26 different models of single-family homes ranging from 1,520 to over 3,000 square feet. Each of these homes has a minimum of two bedrooms, two bathrooms, and a two-car garage. Most floor plans were offered with a den or third bedroom, while the largest homes were built with three bedrooms, a den, and two-and-a-half bathrooms.
The community also contains 196 duplex units in 98 buildings. Though these duplex homes were only offered in one 1,611-square-foot floor plan, an optional loft brought some units up to 1,865 square feet. Each duplex home includes two bedrooms, two bathrooms, a den, and a two-car garage. Units with the optional loft also have an additional bedroom and bathroom.