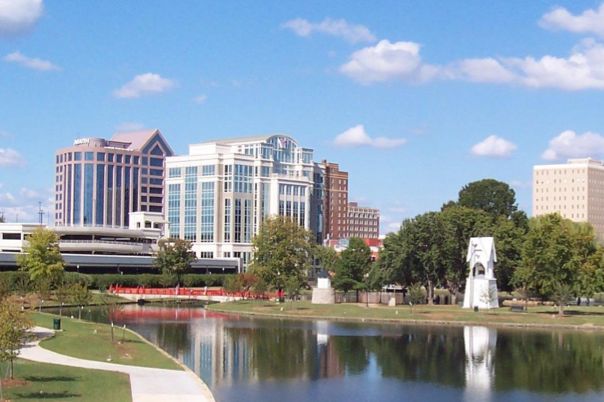 Explore the South with a trip through Alabama and you may just find an appealing retirement destination. Alabama offers diverse settings including mountainous areas in the northern part of the state and white sandy beaches along its southern coast. The state also features some great active adult communities.
Alabama goes by many nicknames, such as the Yellowhammer State, the Cotton State and the Heart of Dixie. Its most well-known cities include Huntsville, Birmingham, Montgomery, and Mobile. While the climate varies throughout the state, Alabama typically offers warm weather with very hot summers and cool, mild winters.
Huntsville
Toward Alabama's northern border, Huntsville is known as the birthplace of America's space program. The city is rich in history, offering many local museums and attractions. Visitors can explore the Twickenham Historic District, Bridge Street Town Centre, Huntsville Botanical Garden, Huntsville Museum of Art and the North Alabama Railroad Museum. The area is also home to the Monte Sano State Park, where visitors can enjoy rustic cabins, and Alabama Constitution Village, where the past comes alive with costumed guides.
Birmingham
Further south, the city of Birmingham originally began as a center for steel production. Birmingham quickly grew into the state's largest city, earning the nickname "the Magic City." The city was a key destination during the civil rights movement and is now home to the Birmingham Civil Rights Institute. In addition to world-class shopping and dining, the Birmingham area also includes several popular golf courses, including the Robert Trent Jones Golf Trail, the Birmingham Zoo and the Barber Motorsports Park.
Montgomery
South of Birmingham, Montgomery played an important role in both the Civil War and the fight for civil rights. The city is home to the historic state Capitol building where Jefferson Davis was sworn in as the President of the Confederate States of America. The state Capitol building was also the site where Dr. Martin Luther King Jr. gave his speech at the end of the Selma-to-Montgomery civil rights march.
Visitors can explore many local attractions, such as the Rosa Parks Library and Museum, the Hank Williams Museum and the Montgomery Zoo. Montgomery's Alley Entertainment District also provides a wide range of modern bars, shops, and restaurants.
Mobile
Set on the coast of the Gulf of Mexico, Mobile is the oldest city in Alabama. Mobile was the original capital of the Louisiana Territory and the first city to celebrate Mardi Gras in the United States. Visitors can learn more about Mardi Gras at the Mobile's Carnival Museum and the History Museum of Mobile, or enjoy the diverse collection at the Mobile Museum of Art.
Mobile also features antebellum homes and impressive gardens, including the Bragg-Mitchell Mansion, the Richards-DAR House Museum, Bellingrath Gardens, and the Mobile Botanical Gardens.
From its mountainous northern region to its sunny southern coast, Alabama offers a diverse mix of fabulous travel and retirement destinations.