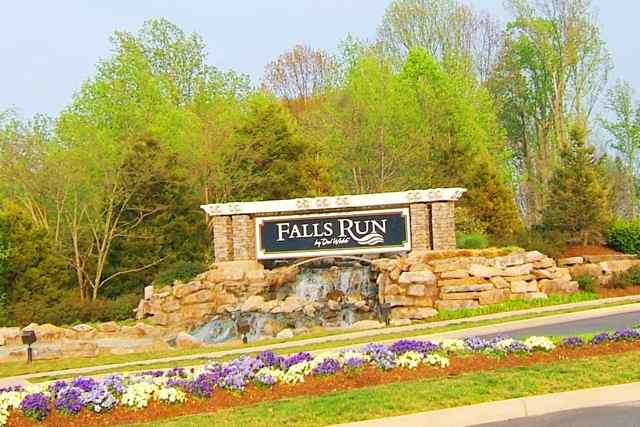 Set in the heart of Fredericksburg, Falls Run is a Del Webb development which fully supports an active adult lifestyle. This gated community provides affordable housing and an exciting line-up of amenities through its spacious clubhouse. It also enjoys a prime location halfway between Richmond, Virginia, and Washington, D.C.
Residences
Built between 2002 and 2005, Falls Run was specifically designed as an active adult community for homebuyers aged 55 and older. The 784 residences primarily consist of detached single-family homes, but about one-third of the community is made up of attached villas.
Single-family homes range in size from 1,200 to 2,000 square feet, while villas are a bit smaller with floor plans ranging from 1,100 to 1,500 square feet. During the three-year construction period, single-family homes were offered in six-floor plans and villas were available in three designs.
Single-family homes have a minimum of two bedrooms, two bathrooms, and two-car garages, while villas begin with one bedroom, two bathrooms, and one-car garages. Both designs have options for dens, basements, and additional bedrooms.
Amenities & Lifestyle
Social and recreational amenities in Falls Run are centered around the 16,000 square-foot clubhouse. The fireside lounge is a favorite spot for residents to gather with friends or relax with a book. Hobby and game rooms support a variety of activities, including billiards and club meetings.
The clubhouse also contains a demonstration kitchen and a large ballroom, which is used for a variety of community events. Falls Run's state-of-the-art fitness center features cardiovascular and strength-training equipment, as well as an indoor lap pool.
Outdoor amenities continue with a resort-style swimming pool and surrounding sundeck, and a covered patio for socializing. Sports courts support activities such as tennis and bocce, while walking and biking trails are ideal for a morning jog or evening stroll. Social clubs and special-interest groups are plentiful at Falls Run.
Activities & Clubs
There are groups devoted to arts and crafts, book discussion, cards, gardening, genealogy, hiking, and travel. Just a few of the popular clubs include the Civil War Roundtable, Environmental Enthusiasts, Falls Run Old Golfers Society (FROGS), Pounds Off Successfully, Red Hats, Retired Old Men Eating Out (ROMEO) and Shutterbugs. Community events and activities are planned throughout the year to help residents stay active and meet new friends.
Some of the regular events include card games, fitness classes, Friday Night Movies, Potluck Dinners, and the Saturday Morning Social. There is something to meet nearly any interest, which makes it easy for residents to try something new. Active adults looking for an affordable home in Virginia won't want to overlook Falls Run.
In addition to all of its on-site benefits, Falls Run also boasts a great location with close proximity to retail centers, restaurants, daily services, and the charm of Old Town Fredericksburg.