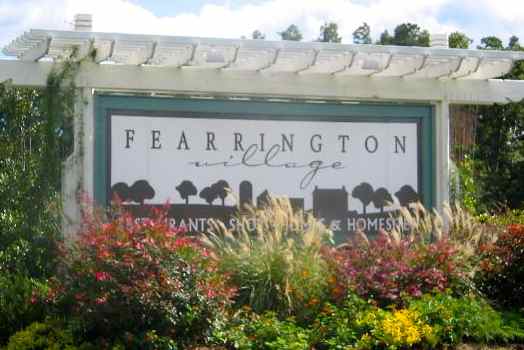 Though most active adults favor North Carolina retirement communities, many will appreciate the prestigious Fearrington Village community, which features first-class amenities and a variety of neighborhoods, home styles and floorplans. Fearrington Village may not be age-restricted, but it is an ideal community for active adults in North Carolina's Raleigh-Durham area.
This quaint development contains 15 distinct neighborhoods, numerous active recreations, diverse social activities, and spectacular scenic views. In addition to recreational attractions, on-site amenities include stores, restaurants, banks and even a continuing care facility called Galloway Ridge.
Location
Many active adult retirees have discovered the benefits of settling in the Raleigh-Durham area. With bustling city attractions and rural beauty, Fearrington Village residents can enjoy the community's small-town charm or take a short drive into the city for shopping, dining, and various cultural activities.
The region is also known for its excellent medical facilities and a variety of lifelong learning opportunities, which makes Fearrington Village attractive to active adults interested in North Carolina retirement communities.
Amenities
The amenities at Fearrington Village begin with the impressive Fearrington Village Center. This charming town center is located in the midst of verdant gardens and picturesque pastures. It contains several favorite shops and services including The Fearrington Granary Restaurant and The Spa at Fearrington. There are many local businesses such as a bookstore, a beauty shop, a bank, a deli, and various boutiques. It is also the site of a farmer's market where residents have their pick of fresh produce and other delicacies.
Fearrington Village residents will enjoy the amenities offered through the community's Swim and Croquet Club as well. This outdoor recreation center features a swimming pool with a whirlpool spa and a spacious sundeck. The manicured lawn is the perfect place for croquet, and the club has all of the equipment needed for residents to start up their own games. For further health needs, residents can exercise or take fitness classes at the Duke Center for Living.
Residences
Home construction at Fearrington Village began in 1975 and continues today. This long building period has allowed the community to grow gradually with an eclectic mix of single-family and attached home designs. Today, potential homebuyers can choose from available resale homes or customize their own new construction through the on-site Design Center.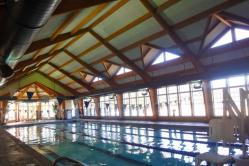 Fearrington Village offers world-class amenities including an indoor lap pool.
The builder, Fitch Creations, has been the sole developer of Fearrington Village for over 30 years. Their experienced design team has worked with many homeowners and is prepared to help new homebuyers create their own stylish, low-maintenance dream homes.
In addition to having an architectural team, the Design Center features many sample counters, cabinets, faucets, tiling, and other building products. Upon completion, Fearrington Village is expected to have about 1,400 homes.
Whether opting to create a new construction or choosing from the available resale homes, new homeowners will love living in Fearrington Village. The mild climate, scenic beauty, exciting amenities and prime location all come together to make Fearrington Village an ideal active adult retirement destination.
For more information on this community click here: Fearrington Village - Pittsboro, NC