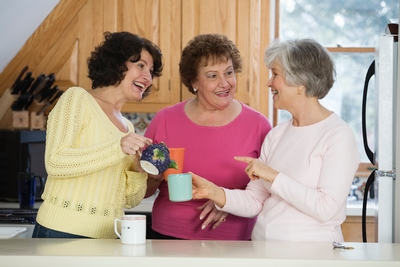 Active adult communities are known for their social and recreational activities, yet some new residents are surprised to learn that many age-restricted communities also offer counseling and support groups. While Baby Boomers grew up in a time when therapy was transitioning from a taboo into an accepted form of support, many of today's active adults are open to the benefits of talking to a counselor or sharing their problems in a group setting.
Support groups at active adult communities cover a wide range of topics. They typically are available to address concerns that pertain to family, health, aging, or general lifestyle issues. Specific support groups vary from one community to the next. Through these group meetings, members can find encouragement and understanding from others who have similar experiences.
Types of Support Groups
Many of the support groups at active adult communities are designed to help with the issues that tend to be more prevalent among older adults. Support groups can be a lifeline for a grieving widow or widower, and they often give hope to those diagnosed with a serious illness. Age-restricted communities often provide support groups for those dealing with Alzheimer's, cancer, diabetes, stroke, multiple sclerosis, Parkinson's, and other chronic conditions.
However, those who are suffering from a serious illness are not the only ones who need support. In addition to coping with and learning about the treatment and management of a specific disease or condition, caregivers have the additional burden of feeling helpless in the face of a loved one's suffering.
Active Adult Communities with Support Groups
Several active adult communities, such as Sun City Grand by Del Webb in Arizona and Village at Deaton Creek in Georgia, recognize the need to care for the caregivers by offering them their own group support as well. In addition to dealing with health issues or the loss of a loved one, active adults are faced with many other challenges and problems. The Villages in Florida offers a wide variety of support groups, including a group to help those dealing with the effects of divorce, which is a more common occurrence among active adults than many people realize.
Active adult communities can also be a supportive environment for those dealing with addiction. Though they may not be quite as prevalent as health-related or bereavement groups, some communities offer support meetings for those coping with alcoholism, gambling, drug use or other forms of addictions. Alcoholics Anonymous meetings are held at some active adult communities, including Sun City Oro Valley in Tucson and Windsor Gardens in Colorado.
While active adult communities offer plenty of social and recreational activities, they also offer an inclusive lifestyle where residents can live among peers who are likely to be dealing with some of the same life experiences. The support groups at active adult communities can help residents realize that they do not have to face the challenges of life alone.