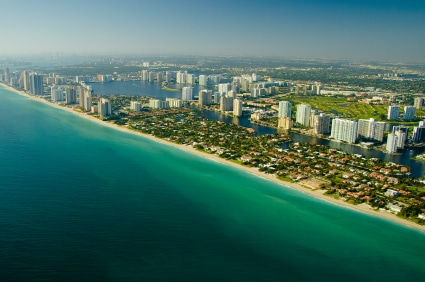 South Florida has been a popular retirement destination for decades. The sunny beaches, spectacular golf courses, fantastic attractions and resort-style communities draw active adult retirees to Florida's southwest and southeast regions year after year. However, as in other parts of the country, South Florida's housing market has been hit hard over the years. But whenever the economy rebounds, South Florida's real estate market starts to show signs of life.
The South Florida Real Estate Market
Real estate sales in Florida often pick up during the winter months when retirees who held off on purchases come back into the market. As winter approaches, Michele Harrison, a realtor in the Naples area, often expects to have a healthy selling season.
"Buyers that want to be in the Southwest Florida area understand that the market is stabilizing, and that the great deals are becoming more scarce," Harrison explains. "While there are deals to be had, the deep cuts have been taken and the prices are more in line with where they need to be."
Wilma Pinstein, another South Florida realtor, specializes in 55+ communities in the Boynton Beach and Delray Beach. She feels that active adult communities often fare well in tough times, even when South Florida's housing market struggled in 2010.
"These communities have taken a hit, as did all real estate," she says. "Although prices have come down, homeowners in these communities are not giving their homes away—they are selling!"
Pinstein notes that homebuyers are often retirees who are relocating to the area or purchasing a second home.
Potential home buyers in South Florida may be tempted by the idea of saving money on a foreclosed property. While foreclosures can be a steal, Harrison warns that buyers beware.
"With the debacle in the foreclosure arena, it is wise to have confidence in the bank holding the paper and ensure that the title is clear. Legal counsel is recommended. We are treading in unfamiliar waters with what is happening out there and I cannot stress enough the importance of knowing who you are dealing with, from broker right through to the bank."
Though South Florida's housing market has been hit hard in the past, there does appear to be signs of a life in some popular active adult markets. As winter begins, retirees and snowbirds will return to Florida's sunny climate. For those looking to buy, this may be the right time to make a deal.