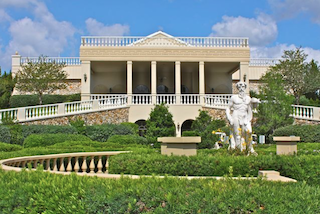 With ancient oak trees trailing Spanish moss, rolling hills and freshwater streams, the Ocala landscape may not be what comes to mind when picturing a Florida getaway. Yet this region, known as Florida horse country, is a fabulous destination for a relaxing vacation or a picturesque retirement.
Location
Ocala is located in the northern portion of Central Florida, in Marion County. The area is rich in natural beauty, being situated within close proximity of the Ocala National Forest, the Silver River State Park, and the Silver Springs Nature Theme Park, which is one of Florida's earliest tourist attractions. The Ocala area is also about 90 minutes from Orlando, where modern theme parks include Walt Disney World, Universal Studios Florida, and SeaWorld Orlando.
Climate
The climate in Ocala is great for those who like hot summers and mild winters. Summer days average temperatures in the low to mid-90s, but often climb to over 100 degrees. Winters months are mild with average days in the low 70s and nights dropping to the mid- to high 40s. Ocala also has distinct wet and dry seasons. From October through May, the region generally has sunny skies and very little rain. Yet from June to September, Ocala typically has thunderstorms every afternoon.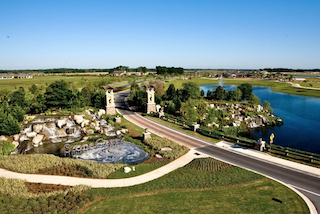 Stone Creek by Del Webb is another popular 55+ community in Ocala offering resort-style living.
Attractions
In Ocala's Marion County, horses are a large part of the economy. Not only is the area known as Florida "horse country," it has also been dubbed the Horse Capital of the World. Many Thoroughbreds have been bred and raised in Marion County horse farms, while at least 45 breeds are represented throughout the area. Horse farms are a common site throughout the county and many, such as Young's Paso Fino Ranch and the Chasin' a Dream Farm, are open to public visitors.
Horse lovers can also visit Ocala Breeders Sales to see famous owners and trainers bidding on new horses for their stables. Throughout the county, horse lovers can watch horse competitions and demonstrations, take horseback riding lessons, or arrange for a scenic trail ride.
Beyond horses, there are many other exciting attractions in the Ocala area. Golfers will find a wide variety of fabulous public, semi-private and private courses. There are several shopping and dining districts ranging from Ocala's Historic Downtown Square to the well-known chain stores at the Paddock Mall. Cultural attractions are also available, including the impressive collections at the Appleton Museum of Art and live performances at the Ocala Civic Center.
Active Adult Communities
Active adults who decide to relocate to the Ocala area will find a variety of age-restricted and age-targeted communities. These beautiful developments range from sprawling, resort-style communities, like Villages of Citrus Hills or On Top of the World, to smaller communities, such as SummerGlen or Spruce Creek Preserve.
When considering a Florida vacation or retirement, a trip to Ocala will show that Florida has much more to offer than its coastal shorelines alone.