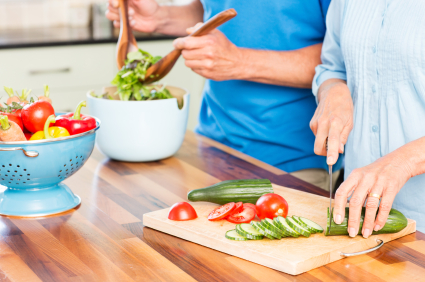 Do you associate cold weather and the winter season with unhealthy foods? You're not alone. One of the many reasons that people stop eating healthy this time of year is because their favorite produce is not as easy to come by, or simply more expensive.
Just because your favorite summer produce isn't as easily available, doesn't mean you can't find new fruits and veggies for the winter. There is plenty of cold-weather produce that you can get during the winter season. The key is to look for produce that's in season so you can get the best and freshest food available. We don't want to see you let the cold weather stop you from enjoying delicious and healthy food. So, here are some fruits and veggies to get you started this winter.
Beets – These sweet and earthy vegetables contain antioxidants that help fight cancer and other degenerative diseases, which is great for Baby Boomers. They are full of good-for-you vitamins and nutrients like folic acid and potassium. Also, because they have about nine grams of sugar per serving, they are a great and natural way to satisfy your sweet tooth.
Onions – Onions come in all shapes, sizes, and colors. They can be used on a wide selection of dishes like soups, salads, pasta, and meat. They are packed with flavor and can be cooked in multiple ways from raw to sautéed. Onions are low in calories, high in vitamin C, and contain fiber. Worried about bad cholesterol levels? Throw some onions in your food to lower it.
Cabbage – This cool weather veggie has loads of vitamins and minerals and is budget friendly to your grocery bill. Active adults should add this versatile veggie to their meals because of its antioxidants, fiber, and anti-carcinogenic compounds. Research has shown that cabbage may help reduce cholesterol and lower the risk of diabetes and cancer.
Brussel Sprouts – Brussel sprouts are like mini cabbages and share the same health benefits. With high levels of cancer-fighting antioxidants, adding these to a main or side dish will keep Baby Boomers healthy and strong throughout their golden years.
Winter Squash – You can't endure winter without including winter squash in your diet. From acorn to kabocha to butternut, there are a dozen winter squashes perfect for this chilly season. They are loaded with healthy nutrients like vitamin A, potassium, and carotenoids. Retirees will enjoy whipping up this affordable veggie in a variety of ways from soups and stews to roasted side dishes and tasty appetizers. Looking to cut carbs? Try spaghetti squash!
Potatoes – Although starchy and high on the glycemic index, potatoes aren't as bad as they seem. Potatoes are essential to comfort food dishes that are filling as well as inexpensive. They do have some good qualities like magnesium, folic acid, protein, and vitamin C that active adults love. Purple potatoes can help lower blood pressure and sweet potatoes are full of fiber, beta-carotene, and vitamins A and C. Potatoes can be as healthy as you make them, just as long as you eat them in moderation. Remember, don't fry or add butter!
Clementines - Grown in warmer climates and picked in the late fall and winter months, clementines are the perfect grab-and-go snack. They have an excellent source of vitamin C, calcium, and potassium. Retirees looking to lose weight can add clementines to their diet because they are a low-calorie fruit. Another bonus: they are super easy to peel.
Pears – Drop that muffin and grab a pear instead. As one of the highest fiber fruits, about six grams per serving, pears are great for active adults looking to control their blood sugar intake. Pears are also perfect to include in diets that can help retirees lose weight. They are also packed with magnesium and potassium, as well as tons of vitamins B, C, and K.
Cranberries – These tart berries are perfect to eat as a snack or include in a holiday dish. Cranberries are healthy because they reduce the risk of some infections, improve good cholesterol levels, and contain vitamin C. Did you know that half a cup of cranberries only has 25 calories?
Pomegranates – Deliciously sweet and tart, pomegranates are full of antioxidants and anti-inflammatories. Active adults should eat more of these red-colored seeds because they can help combat heart conditions like congestive heart failure and high blood pressure. Pomegranates can be eaten raw as a snack, sprinkled onto salads for an extra sweet crunch, or baked into a dessert. The seeds can also be extracted for their juice for a refreshing beverage. Studies have shown that pomegranate juice can help reduce the build-up of fatty deposits in arteries too. Pomegranates might just be the healthiest winter fruit!