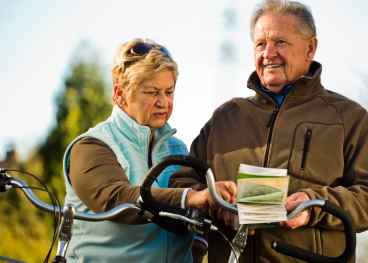 Many retirees have recently become fullbacks, and that doesn't mean that they have taken up football. Instead, this is a statement about the growing trend of retirees who choose to return, and remain, in the northern United States.
What Is A Fullback?
When discussing retirees, "fullbacks" refer to those who lived in the northern part of the country, retired to the south, and later decided to move back to the north. For example, this could be a couple from New York that retired to Florida only to later return to their original hometown in New York. Other terms that mean the same thing as "fullback" are "boomerang retirees" and "boomerang seniors."
A similar term, "halfbacks," describes retirees who move south and later relocate partway back north. This would include retirees such as New Yorkers who move to Florida, decide it's too hot, and relocate again to North Carolina. The difference is that fullbacks return all the way north, generally to their pre-retirement locations.
Why Do Retirees Return To Their Home States?
There are several reasons why retiree fullbacks are rushing back to northern hometowns, and these reasons will differ from one retiree to the next. However, the most common reason for moving back north is to live near family and long-established friends.
While technology has made it easier than ever to stay in touch long distance, this is not good enough for some relocated retirees. Many active adults want to have more regular interaction with their children and grandchildren. Living in close proximity to family can also become more important when coping with medical conditions, or after the death of a spouse.
In addition to missing their families and friends, some relocated retirees find that there are many other aspects they miss about their northern hometowns. They may miss the community, the lifestyle, or the general sociopolitical atmosphere of the area they left behind.
Climate is often a key reason for retiring to more southern states. Relocated retirees may find that there is a difference between enjoying a beach or desert vacation and living in those hot climates year-round. When their chosen southern climates turn out to be hotter (or drier, or more humid) than they expected, some retirees realize that they prefer their previous climate. They often miss having four distinct seasons, and they may even miss the snow.
Retirees who moved south mainly to live in a resort-style active adult communities are beginning to find similar opportunities in many northern areas. The Chicago area in particular has many resort-style 55+ communities. There are also beautiful active adult communities in New Jersey, Oregon, Washington, and many other northern states.
While many retirees enjoy relocating to southern states, others decide to return to the north and many opt never to relocate in the first place. As active adults are living longer and healthier lives, they continue to chart new courses for their retirement years. For retiree fullbacks, that often means resettling in familiar surroundings.