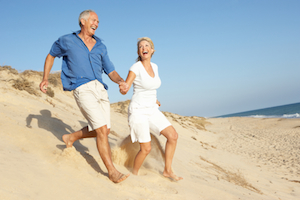 While East Coast retirees have long been known to relocate to Florida, many active adults choose to settle a bit north of the Sunshine State. North Carolina, South Carolina, and Georgia are all hot spots for active retirees. They offer friendly communities, coastal retreats, and sunny climates. But how do homebuyers choose between these popular destinations?
North Carolina
Active adults hailing from northern East Coast states like New York or New Jersey, may long for a sunnier retirement location, but not want to move too far from family and friends. North Carolina often provides an ideal destination and is frequently home to "halfback retirees". Halfbacks are people who originally retired to a semi-tropical climate, but later opt for a second relocation to areas that are slightly more north or "halfway back" to their original home state.
Depending on the location in North Carolina, retirees can enjoy warmer weather while still experiencing all four seasons. Coastal areas tend to offer a more temperate climate with slightly cooler summers and milder winters than Central North Carolina. Western North Carolina, in the Appalachian Mountains, is the coldest area in the state. Average summer days can range from the high 70s to low 90s, while winter days are often in the mid-40s to high 50s.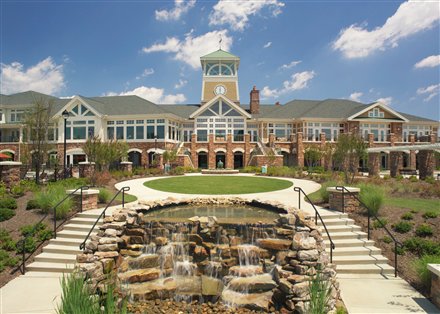 Carolina Preserve is a lovely option for active adult living more inland in Cary, North Carolina.
From Charlotte to the Raleigh-Durham area, Central North Carolina offers an exciting mix of urban attractions, including shopping districts, restaurants and an impressive line-up of performing arts venues, museums, and art galleries. Golf is a popular pastime throughout North Carolina, yet the state's sunny climate, numerous parks, and beautiful beaches offer a wide range of outdoor recreations. North Carolina's string of barrier islands, known as the Outer Banks, is a popular East Coast vacation area.
North Carolina is a great choice for retirees who want the option of both large cities and coastal retreats. Its location also offers four seasons with a warmer climate, without being too far from northern destinations.
South Carolina
Moving down the coast, South Carolina features historic charm, island resorts, marshlands, and rolling hills. Summers in South Carolina are typically hot, with average days in the low 90s. Winters are mild and daytime temperatures commonly fall in the mid to high 50s. Snow is rare, while March and April tend to be the state's rainiest months.
Throughout South Carolina, residents and visitors alike can enjoy a wide range of recreation. Charleston's charming neighborhoods, shopping districts, restaurants, and historic attractions are often a draw for active adult retirees. History buffs can also explore Fort Sumter, the site of the first shots fired in the Civil War. Hilton Head Island and its surrounding area is also a prime coastal destination where active adults can enjoy beautiful beaches and resort-style recreations.
South Carolina is known for its Southern charm and historic destinations. The Lowcountry is a beautiful place for retirees who want a tranquil retirement with plenty of scenic beauty.
Georgia
Just north of Florida, Georgia may be less well-known as a retirement destination than the Carolinas, yet it has plenty to offer active adult retirees. The climate is hot and sunny, with very mild winters. Summer daytime temperatures often fall in the high 80s or low 90s, and winter days are commonly in the high 50s.
Most active adult communities in Georgia are centered around Atlanta, the state capital and the largest city in the state. Atlanta offers impressive urban attractions, including performing arts centers, shopping districts, nightlife, and diverse restaurants. The city is also home to the Georgia Aquarium, the largest aquarium in the world.
In coastal Savannah, active adults can explore historic architecture or enjoy a thriving arts and music scene. Beyond its cities, Georgia features a number of state parks and beautiful beaches for outdoor recreation like hiking, camping, fishing, swimming, and boating.
Though often overlooked, Georgia may be an ideal retirement destination for active adults who want the diversity of vibrant cities and tranquil beach towns, but also a hotter climate than the Carolinas.
When choosing a retirement destination, plan an extended visit to experience the feel of the area for yourself. Visiting during various seasons can also help you find your own perfect retreat.