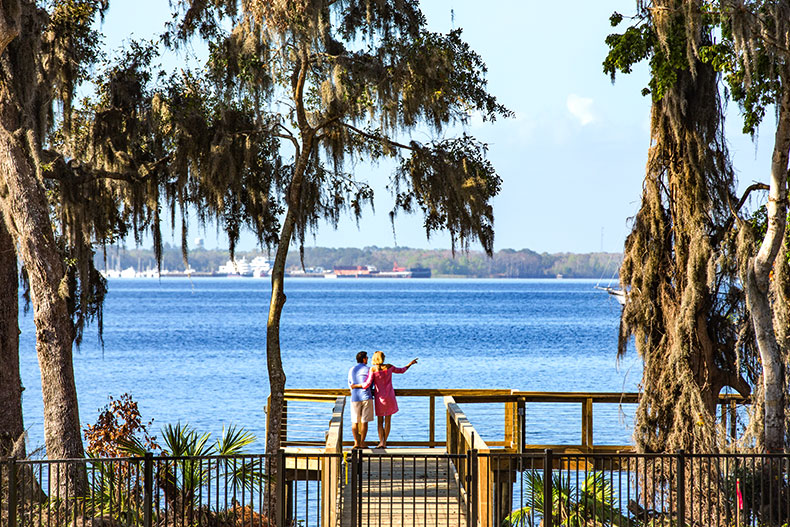 New construction single-family homes and attached villas are selling at WaterSong at RiverTown in St. Johns, Florida, and whether you're moving in or thinking about purchasing a prime piece of real estate close to Jacksonville, organizers at the growing 55+ community want to help you expand your social circle.
A series of social events have been planned through the winter and spring, and they offer a great opportunity for buyers and potential residents to meet one another and get to know the neighborhood.
Welcome to WaterSong Social Event
Mattamy Homes is kicking off the social season with an event on Wednesday, Jan. 22 from 6 to 8 p.m. at the RiverTown Welcome Center, which can be found at 90 Lanier Street in St. Johns. Music, food, and refreshments will be available as well as more information on the model homes and amenities that are soon to be completed in RiverTown's WaterSong neighborhood.
This is a unique opportunity to talk with developers and meet new neighbors. The land development team will be on hand to discuss plans for the neighborhood and ways that new residents can customize their buying experience and create personalized homes in an active and social community.
Exploring the Homes at WaterSong at RiverTown
The single-family models available at WaterSong have two or three bedrooms, two to three bathrooms, and attached two-car garages. All floor plans include an extra room that can be used as a den or an office. Some homes have an additional half-bathroom or space in the garage for additional storage or golf cart parking. There are six models total, ranging from 1,563 to 2,554 square feet.
Attached duplex villas are available in two models with 1,431 or 1,515 square feet. They have two bedrooms, two bathrooms, a den, and an attached two-car garage.
Anticipating the Amenities at WaterSong at RiverTown
One of the best reasons to attend one of these events, in addition to meeting new neighbors and making new friends, is that you'll get more information on the amenities available to residents of WaterSong and their guests. The private and gated 55+ community will have its own clubhouse, where residents can gather for events, activities, and classes.
In addition to that clubhouse, the RiverHouse Amenity Complex and RiverClub are available to anyone who lives in the RiverTown master-planned community. The RiverHouse includes a clubhouse, fitness center and yoga studio, and several multi-purpose and meeting rooms. There are also a couple of pools and a large outdoor patio. Residents can play tennis on the three Har-Tru courts and enjoy an athletic field for other sports and activities.
RiverClub features a restaurant, game room, and cafe. There's also a pool and amphitheater as well as all the waterfront activities.
St. Johns is less than a half-hour south of Jacksonville and easily reached via Interstate 95. WaterSong at RiverTown is also close to the historic city of St. Augustine, which is a mere 22 miles southeast. Residents will have access to beaches, cultural events, and highly rated restaurants as well as golf courses and opportunities for fishing, boating, and shopping.
Additional Events for WaterSong at RiverTown Buyers and Residents
The February event will focus on Mardi Gras. It's to be held on Saturday, Feb. 22 and will include live music and cajun food. Tours of the model homes completed at WaterSong at RiverTown will also be available. Instead of parading through Bourbon Street or selecting masks for Carnevale, visitors and guests will enjoy Mardi Gras on Whistling Straits, which includes a close inspection of single-family homes and attached villas.
On Saturday, April 18, Picnic in the Park will gather residents and buyers to spend a relaxing day in the springtime sunshine. Neighbors will enjoy each other's company while providing fresh picnic foods and listening to music in RiverTown's attractive natural setting. Since the community is located right on the St. Johns River, there are plenty of waterfront activities to enjoy and views to behold. This is a good opportunity to walk down to the fishing pier, look for wading birds and osprey from the boardwalk, or enjoy one of the several nature trails and bike paths throughout the community. There's also a kayak launch that's also perfect for paddleboards and canoes.
Fans of the Spanish guitar are in for a treat on Saturday, May 9, when the community will host a Puesta del Sol party. Sangria and traditional tapas will be served while residents gather to watch the sunset over the St. Johns River.
More information on WaterSong at RiverTown can be found here.