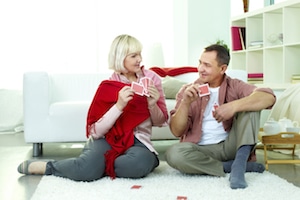 There are a lot of benefits to main-level living, especially for downsizing active adults. A one-story floor plan can make your home easier to maintain and it keeps you from running up and down the stairs all day. Yet homebuyers who opt for a second-story loft may find the perfect place for guests, a hobby room or additional storage.
A first-floor master bedroom suite is a must-have feature for many older homebuyers and it is an appealing element of many homes in active adult communities. Having the bedroom, kitchen and main living areas all on one floor is a great convenience, particularly during retirement, though additional space is nice to have, too. In many one-story homes, added living space comes from a finished basement.
The basement can easily be designed for use as a hobby room, man cave, guest bedroom or recreation room. Yet there are some drawbacks to a finished basement. For one thing, a basement is below grade level. This means that it will be more susceptible to moisture and must be finished with the proper insulation and building materials to avoid problems. It also means that windows are likely to be small, letting in little natural light.
Local building codes may have rules about basement bedrooms as well. In many areas, emergency exits are required in sleeping rooms. In a basement, that typically means special egress windows with ladders for escaping in the case of a fire. Some localities also extend those rules to other living areas, like rec rooms or home offices.
Another potential problem with a basement is that it may offer more space than needed. If the basement is as large as the home, it practically doubles the total living space. This is nice for some homeowners, but might be more of a hassle for active adults who are trying to downsize and want to have less home to maintain.
Second-story lofts, on the other hand, provide extra living space without these concerns. Depending on a home's layout, a second-floor loft might be a simple open space or an arrangement of multiple rooms. However, lofts are often smaller than the main floor, adding just the right amount of extra square footage.
By offering an additional bedroom and bathroom, a loft becomes the perfect place for visiting guests. It is separate from the rest of the house, yet doesn't have to be accessed on a daily basis. Lofts can be a great place for storage and they don't have the added risk of moisture damage that comes with a basement.
Whether building a new home or renovating an existing one, a second-story loft may be a more affordable option than finishing a basement. This is especially true if you decide to add wells for egress windows or a walk-out option.
Although the costs can vary widely depending on your builder and area. There are many reasons second-story lofts are becoming an appealing option for active adult homebuyers. Consider the benefits for your next home.