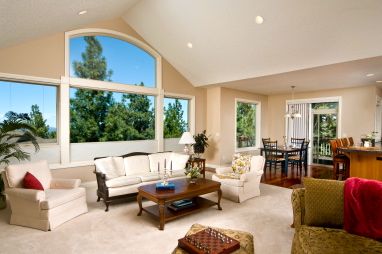 Not that long ago, potential homebuyers expected to view homes with both a formal living room and a more casual family room. Today, retirees may be surprised to see that many newer homes are designed with a larger great room instead of these two separate rooms. This trend is popular with homebuyers of all ages, but it can be particularly useful for active adult retirees.
The Benefits of a Great Room
Although the great room has been a part of popular home plans for well over a decade, this trendy room may be unfamiliar to many people. Great rooms are most commonly described as large rooms which combine the functions of several smaller rooms in one open space. In some homes, great rooms have two-story ceilings, but this is not a necessary feature of the room style.
Typically, great rooms combine the functionality of the formal living room and casual family room. However, the flexibility of a great room lets homeowners use the space in many different ways. Great rooms are often arranged with a main seating area centered around a fireplace or television, but also have a portion (or portions) of the room designated to other functions. Homeowners might add a desk for office work, a pub table for casual meals, or a card table for crafts and games.
Modern electronics like flat screen televisions and compact audio equipment make it easier to combine functions in one room. For example, a flat-screen TV can hang above the fireplace and laptop computers can fold away when they aren't in use. Modular furniture also makes it easy to arrange a great room to meet any homeowner's needs.
Great rooms are part of the open floor plan trend that has been popular in homes for the past several years. As part of universal design, open floor plans are perfect for active adults. They offer flexible design options, they are more accessible, and they are easier to clean and maintain. Open floor spaces often bring in more light as there are fewer interior walls to block the views from sunny windows.
Hostess with the Mostest
Even after downsizing to a smaller home, great rooms make it easy for active adults to host large groups of family or friends, which is a big plus for homeowners who have adult children with their own expanding families. This layout is particularly helpful during holiday visits, especially when the great room easily flows into the kitchen and dining room.
When looking for a new home, consider the flexibility that comes with choosing one large great room over a floor plan with multiple smaller rooms. Imagine the many ways the room can be used, and it's easy to see why the great room has become a popular home option.