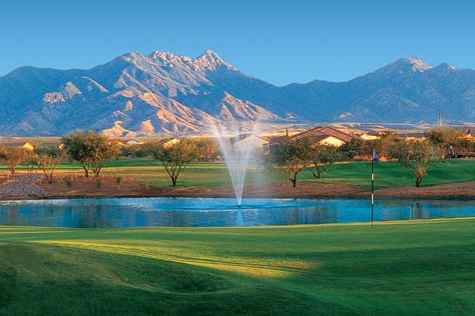 Located about 35 minutes south of Tucson, Green Valley is an Arizona hot spot which attracts many active adult retirees with its sunny weather and resort-style recreations. In fact, active adults who choose a home in a community that is associated with Green Valley Recreation, Inc. have access to shared amenities across numerous developments.
Like other Arizona retirement destinations, Green Valley offers hot summers with plenty of sunshine and mild winters with comfortable daytime temperatures. The area is set at a high desert elevation of 2,900 feet, making it a bit cooler than Phoenix or Tucson. However, summer days are still intensely hot with average July daytime highs over 100 degrees. Winters are more moderate with days in high 60s or low 70s and nights that stay above freezing.
Membership
Most of Green Valley's active adult communities differ from those in other areas by the way they provide access to their resort-style amenities. Communities which belong to an organization known as Green Valley Recreation, Inc. (GVR) share access to their clubhouses and other amenities with each other.
If you buy a home in one GVR community, you have access to the amenities in all the GVR communities. While there is a small fee to join the GVR, the membership lets retirees enjoy a wider range of amenities than they are likely to find in any one development.
Resort-Style Amenities
Currently, these fabulous shared amenities include 13 recreation centers, eight golf courses, five fitness centers, 13 heated swimming pools, 17 tennis courts and a wide range of additional sports courts for activities like pickleball, bocce ball, shuffleboard, volleyball, and racquetball. Clubhouses within the GVR association feature most of the other amenities traditionally found in active adult communities as well.
There are computer labs, libraries, ballrooms, social lounges, and multipurpose event spaces. Game rooms support favorite pastimes like cards, billiards and table tennis, while meeting rooms provide gathering space for a wide range of special-interest groups.
Creative pursuits are also well supported with studios for lapidary, woodworking, ceramics, photography, and general arts and crafts. With combined access to the amenities throughout the GVR association, residents can choose a home in whichever community they find most appealing and still have access to the same impressive recreations. This lets residents focus on finding their retirement dream home, with options ranging from small villas to spacious estate homes.
It is easy to see why Green Valley's high desert location, extensive community amenities and close proximity to Tucson's varied attractions make it an ideal retirement destination for many active adult retirees.