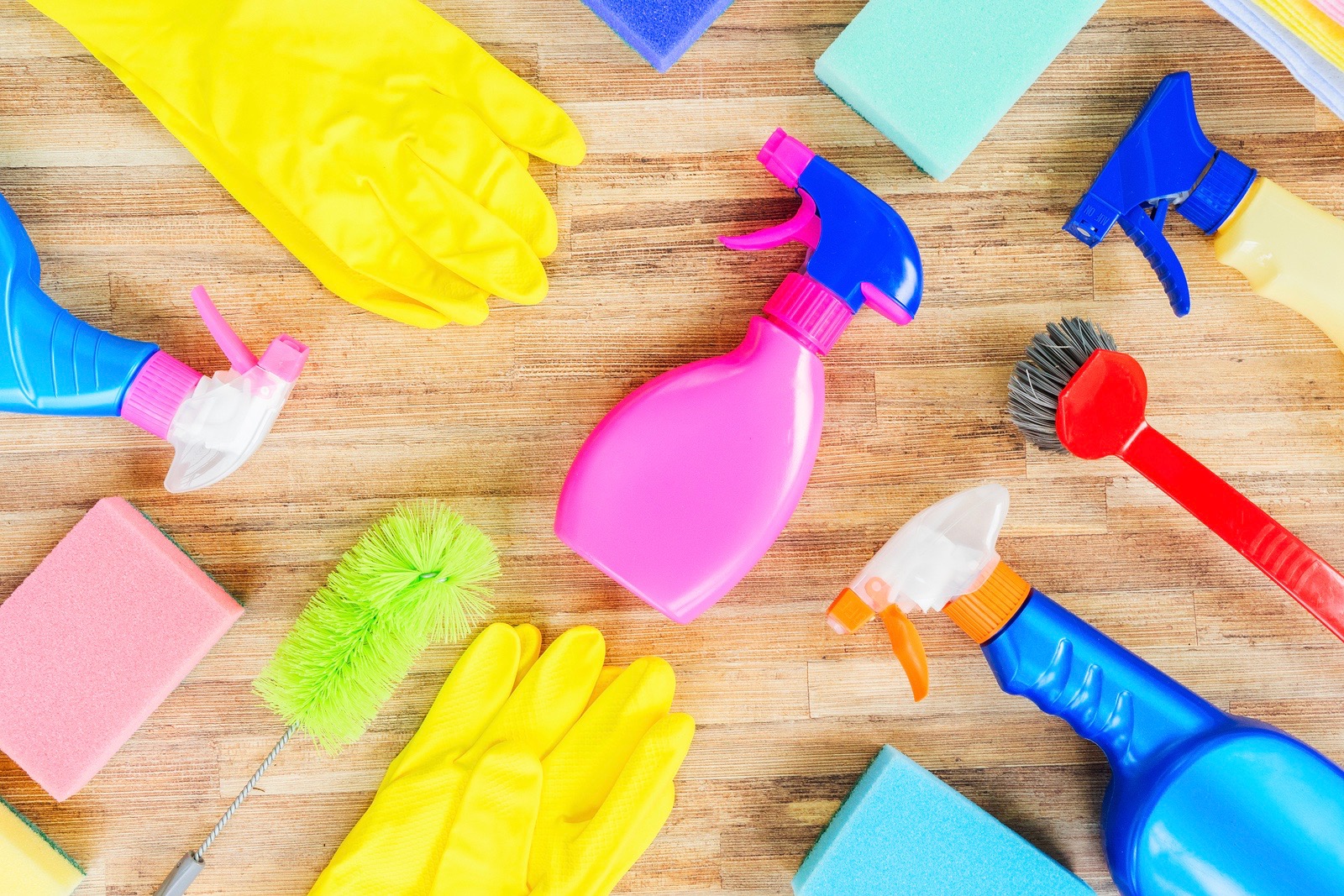 As the seasons start to change from harsh winters to blooming spring weather, every homeowner begins the process of de-cluttering and organizing things around the home that may have accumulated over the year. Not only will a little spring cleaning make your home feel like new again, it will also help you feel healthier and be more productive. But don't get overwhelmed by all the chores. Instead start tackling each room in your home one at a time. Check out our helpful guide to spring cleaning that will get you through your laundry list efficiently for a fresh, clean home this season.
Foyer
The entryway into the home will often give visitors the first impression of your home and lifestyle. In order to greet newcomers into your home, make sure it is free of clutter like piles of shoes, coats, trinkets, old newspapers, or junk mail and keep these things out of sight. If you don't have a closet in your foyer, add a coat rack to store coats. You can also add a storage bench or narrow table with a tray to store small things like keys, mail, and other items in a neat place. In addition to organizing your foyer, you should also sweep the floor, dust lighting fixtures, wash any marks off the walls and trim, wipe down doors, knobs, and light switches, and replace or scrub clean your welcome mat. As an added bonus, you should also use a plug-in air freshener or potpourri somewhere in your foyer to give off a fresh clean scent as soon as you enter your home.
Living/Family Room
This is probably one of the most frequently used rooms in the home where daily life happens in every nook and cranny, especially if you've had the grandkids come over to visit. Start by vacuuming cushions and underneath the couch to get rid of any crumbs or dust. Then tackle any spots or stains on cushions or fabric chairs with a spot cleaning treatment. It's also important to wash any throw blankets and pillows for a fresh, clean scent. Dust along your entertainment center, electronic devices, shelves, and ceiling fans. You should also tuck away any electronic wires and cables and keep them out of sight. Don't forget to vacuum and shampoo rugs too.
Kitchen
Another popular room in the home is the kitchen, where a lot of the gathering takes place. It's important to give your kitchen a deep clean because it is the place where you eat and store food, which can make you get sick if not handled properly. Tackle dirt or grease stains by cleaning and wiping down all appliances and kitchen sink with gentle cleaners or a safe, natural cleaner, like vinegar and baking soda solution.
Make sure you empty out any expired or forgotten containers of food from inside the refrigerator or freezer and wipe down the inside of each compartment with a cleaning solution. Go through your pantry and discard stale or expired items like old baking powder, flour, or cooking oils. De-clutter your kitchen and storage space by donating or storing away small appliances and cookware that you don't use daily. Once you've cleared and cleaned up your pantry, cabinets, and drawers, add some shelf paper for a brand new look.
Bathroom
The bathroom is probably one of the least favorite rooms to clean in the home but it is a must for your health. Mold, mildew, and other lingering germs and bacteria can be hidden in your tub, sink, and toilet, so it's important to clean these areas with bleach. Once you've scrubbed these important parts of your bathroom, you can move on to the easier stuff like sweeping and washing floors, wiping down mirrors, replacing shower mats and curtains, and throwing out outdated products and medications from your medicine cabinet.
Bedrooms
Our bedrooms are typically our own oasis for rest and relaxation. It's where we can get a good night's rest or enjoy some quiet time with a book. And because we love to spend time in our comfy beds, it's necessary this room gets a good, deep cleaning as well. Start by opening windows to get some fresh air circulating. Then you can tackle sections within your bedroom like dusting furniture, organizing clothes into drawers, getting rid of old clothing from closets, sweeping or vacuuming under the bed, and storing shoes in closet shoe racks.
While you can't wash your mattress, you can flip it over and spray it with products like Febreze or Lysol or sprinkle some baking soda and vacuum it up after a few minutes to freshen and disinfect it. If you have a mattress pad, let it air out before making the bed again. It's also important to wash all sheets, bedding, pillows, pillow cases and curtains in hot water. Make sure you don't forget to dust around lampshades and ceiling fans as well.
Outdoors
If you have a power washer, take advantage of this handy tool to wash the exterior of your home that may include walkways, vinyl siding, windows, doors, patios, or porches. Clean up any debris from your yard like old leaves, dead plants, or garbage and sweep away into a trash bag. If you have time and some paint, you can also give your front door a fresh coat of paint to make it look new again. If you have any outdoor furniture, clean and repair if it was damaged during the winter months. You can use an outdoor spray enamel to touch up chips on painted patio furniture too.
Now that you've cleaned up your outdoor space, you can start bringing out your gardening tools and potting supplies to start your new garden project that will add a warm look to your home's exterior.