As they say, home is where the heart is. It's also where we spend most of the time, especially after settling down and retiring. So, it's important to make your home into a space that provides a healthy environment and makes it easy to relax and unwind without any added stress.
A healthy home starts with having healthy habits like keeping up with routine cleaning and decluttering, eating well, and regularly exercising. In addition to creating better routines and habits, there are also several health-improving appliances that can elevate your space and make it even more comfortable.
Here are a few easy strategies to help maintain healthy living at home:
Cleaning Tips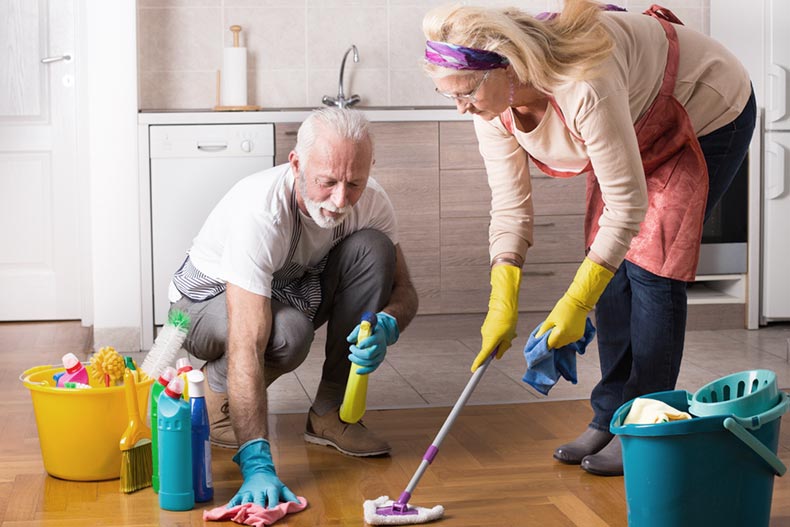 One of the best ways to ensure your home is in tip-top shape is to frequently wipe down surfaces like kitchen and bathroom counters, showers, and mirrors. Dust and vacuum regularly to reduce the allergens in the air and on surfaces.
Dust to Reduce Allergens
The most efficient way to dust is to start at the top of the room and work your way down. For example, start by dusting fan blades, then move to the next highest surface. You'll also want to dust air ducts and vents around the house.
Once you've dusted, be sure to vacuum to pick up any leftover particles as well as any dirt that may have been tracked into the house. You'll also want to wash your bedding weekly—like dusting, washing bedding helps get rid of dust, allergens, and bacteria that can cause illness.
Check Expiration Dates
In addition to cleaning your home on a regular basis, it's important to periodically go through the entire house and check the expiration dates on items and toss products that are expired. Three of the main areas of the house to hit include the kitchen, bathroom, and garage. In the kitchen, check dates on all food items, including produce, boxed foods, spices, and cooking oils. You'll also want to check any cleaning supplies you may have stored in the cabinets under the kitchen sink.
In the bathroom, check dates on everything from medicines and beauty products to personal hygiene items and sunscreens. Don't forget to check the garage for expiration dates on things like paint, thinners, cleaning supplies, and any solutions that may be considered toxic or hazardous.
Declutter Your Space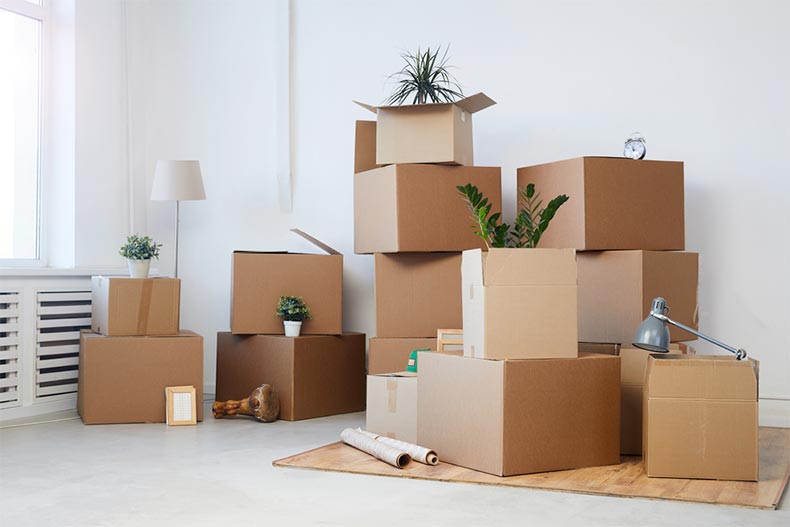 Keeping your home organized can also help maintain healthy living at home by cutting down on added stressors like too much clutter. To begin the decluttering process, you'll want to focus on only one space at a time to avoid getting overwhelmed.
Keep, Toss, Donate
Choose the space that causes you the most stress or the area where you find you waste the most time looking for lost items. These spaces vary from home to home, and person to person, but can range from an overflowing junk drawer and under sink cabinets to a jam-packed garage or messy linen closet.
Once you've decided on what space you want to tackle in your home, start by clearing out the entire space. Take everything out of the room/drawer/garage and start with a completely empty space.
Once all of your items are out of the space, sort through everything carefully, piece by piece. In order to keep track of what you decide to keep or toss, create three separate piles to place each item in as you go through. There should be "keep," "toss," and "donate" piles. Toss anything that's broken or in bad shape, and donate items that are in good condition, but you no longer want or need. If you have items that are valuable you can also consider consigning them at a local store or selling them online.
Deep Clean Before Organizing
Before putting back the items you plan to keep, take the time to deep clean the space you just decluttered. While the space is empty it's the perfect time to dust and wipe down all the surfaces in the area as well as vacuum the floors.
After cleaning, start moving items back into your space, and be sure to keep "like" items together while reorganizing (for example, put all batteries and flashlights in the same place). The easiest way to keep like items together is by using baskets or bins for storage. To go the extra mile, label each bin to make it even easier to find something right when you're looking for it.
If you've decided to downsize to a smaller home and you have a limited amount of space for storing things, take advantage of unused vertical space around the house. For instance, you can add shelving to walls to help store items, and you can also take advantage of the typically unused space behind a closet door by adding an organizing system that's designed specifically to fit that space. The Container Store carries several options for behind the door storage.
Eating Healthy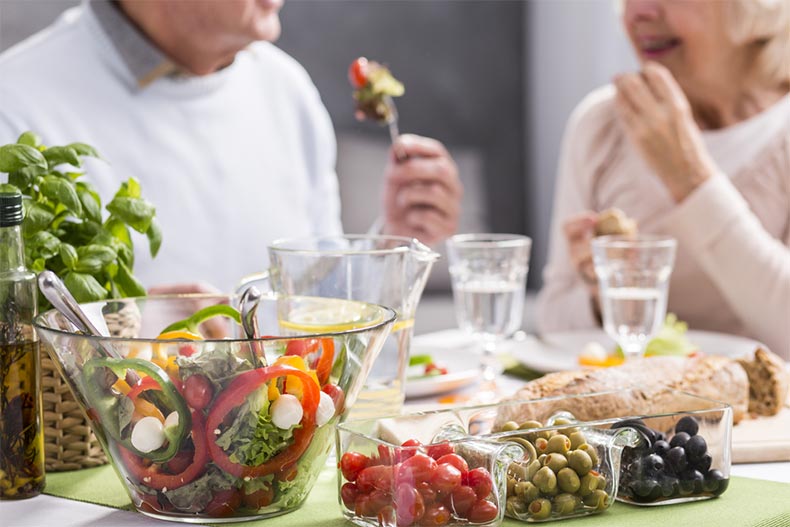 An essential part of keeping a healthy home is maintaining a well-balanced diet, which can be hard if you don't plan ahead. Dedicating time each week to meal prep your food for the week is a great way to help stay on track.
Prepare Meals Ahead of Time
Meal prepping not only helps you maintain a healthier diet throughout the week, but it also helps regulate grocery shopping habits to avoid having a ton of junk food in the house and reduce food waste. Not to mention having meals already prepared takes away the stress of deciding what to eat for each meal—which can often lead to unhealthy choices.
Pick a day each week that you'll dedicate to meal prepping—many people choose to meal prep on Sundays to start the week with plenty of meals. The easiest way to get started with meal prepping is to collect several healthy recipes that you can batch cook to get you through the week, and then write down all the ingredients you'll need for each dish. Schedule time to go grocery shopping for all of the ingredients you'll need for the week's recipes.
You'll also want to have plenty of food containers on hand to store your meals. Once you have all the necessary ingredients, begin cooking. While it may take a few hours and seem tedious to cook all of your weekly meals at once, meal prepping pays off in the long run, allowing you to easily grab or heat up a delicious and healthy meal at any point during the week.
Have Some Staple Healthy Foods
Beyond preparing your weekly meals, having certain foods on hand at all times can also help you maintain healthy living at home. Foods such as frozen vegetables and fruits provide plenty of nutrients and can often be used in almost any recipe that calls for produce. Raw nuts and seeds are full of protein and healthy fats, while beans and lentils also provide plenty of protein as well as fiber. Eggs are another item to keep on hand to help maintain a healthy home as they are cheap, easy to cook with, and they provide protein, healthy fats, and B vitamins.
Exercise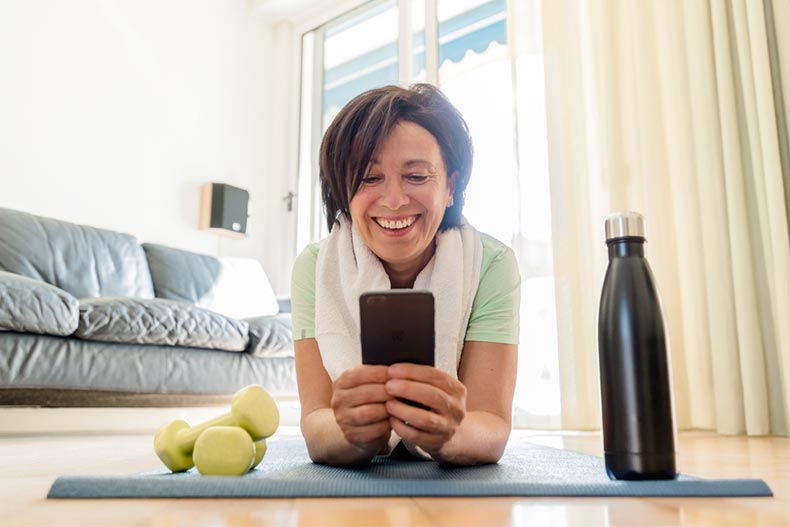 While eating well and having a balanced diet are large contributors to staying healthy, staying physically active is also a major component of living a healthier lifestyle. Working out not only keeps you physically fit, making daily tasks much easier to handle, but it also helps prevent several health problems that can occur with age, such as high blood pressure, diabetes, and arthritis.
The Center for Disease Control suggests that adults should exercise for 30 minutes a day at least five times a week to see health benefits. The 30-minute workouts can be done all at once, or even broken down to smaller increments throughout the day.
Physical activities can range from a leisurely stroll or swimming laps to a bicycle ride around the neighborhood or dancing. In-home workout equipment and streaming work out videos make it even easier to exercise without ever leaving the comfort of your own home.
Health-Improving Appliances and Gadgets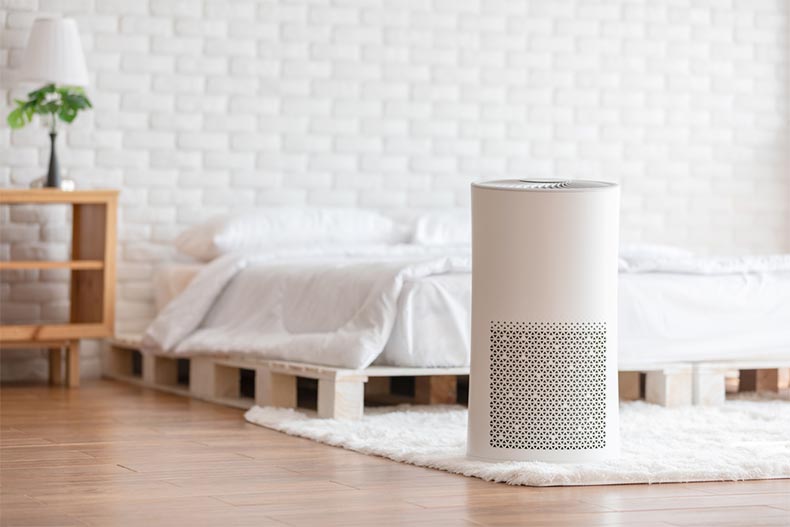 While creating healthy habits certainly leads to a healthier home, there are also several appliances and gadgets that you can purchase to help make the process even easier.
Here are six health-improving appliances and gadgets to consider purchasing in order to maintain healthy living at home:
Make keeping up with your daily exercise routine as simple as possible with a wearable activity tracker. There are currently several types of activity trackers on the market ranging from the Apple Watch to a Fitbit to the Bellabeat. Depending on the brand or model you purchase, the tracker can also analyze your sleeping habits.
Improve your indoor air quality with an air purifier, which collects dust and other allergens as well as toxins floating around.
Maintain healthy sleeping habits with a white noise machine like the Dreamegg Sound Machine or the SNOOZ, which block out unwanted noises with soothing sounds like ocean waves, falling rain, or a quiet fan.
With a smart robot vacuum cleaner like the Roomba iRobot, you can clean your floors with the touch of a button. The vacuum picks up everything from dirt to pet hair, self charges, and can be controlled from your phone. There's also an iRobot mop that can help deep clean floors without the hassle of a traditional mop and bucket.
Avoid catching colds and viruses this year by eliminating the bacteria from one of the most frequently touched items in your home—your cell phone. Within ten minutes, the PhoneSoap sanitizer and charger use UV light to sanitize and kill 99.9% of the germs that can be found on your phone.
Stay on track with your healthy eating habits by using an electric air fryer, which allows you to fry your favorite foods without using oil, cutting out a lot of unhealthy fat.