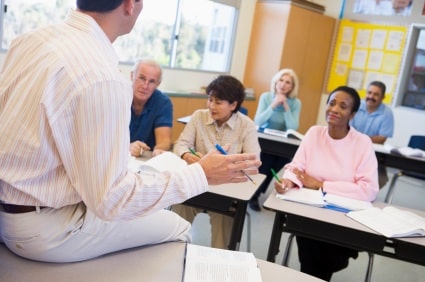 Many retirees are taking advantage of continuing education programs to earn a degree or stay mentally active. Whether you plan to attend an uncredited course, pursue an undergraduate degree or a graduate degree, there are some simple steps you can take over the summer to prepare for going back to school in the fall.
Enrolling in an undergraduate or graduate program at a college or university often requires applying during the previous winter or spring. Community colleges, uncredited programs and some Lifelong Learning opportunities may also accept applications in the summer for the upcoming fall session. Once you've been accepted, summer is a great time to register for classes or finalize your course selections.
Summer is also a good time to follow up on other enrollment paperwork. You can confirm that the school has received your transcripts or other supporting documents, and find out if there is anything you still need to provide. It's also a good idea to finalize your payment or enroll in a payment plan. Once your class schedule is confirmed, you can update your calendar along with other important dates for events during the fall session. Note important school events, like holidays, mid-terms and final exams.
Also note personal commitments that will occur while you are in school, such as weddings or family visits. Discovering conflicts early will make it easier to rearrange your schedule as needed. Your calendar is a great place to create a study plan as well. Consider your commute time, your class schedule and your other commitments to find available free time. Blocking out regular periods for studying will make it easier to keep up with your classes during the year. You may also want to talk about your planned schedule with your family and friends to help set expectations and create a more supportive home environment.
For active adults, computers can be a challenge when going back to school. If you want to enhance your computer skills you can take a summer course to bone up on the basics. Common programs you may need include web browsers, word processors and spreadsheet applications. Check your course descriptions for any specific programs that you may want to brush up on before your classes begin. Get organized for your upcoming classes by shopping for school supplies early-before they get picked over by other students. Stock up on notebooks, folders, pens, pencils, highlighters and any specialized items you may need.
You will also want a sturdy bag to carry your supplies and some comfortable shoes for walking to and from class. If you plan to buy a laptop or tablet, look for one that is lightweight for added portability, and don't forget a padded case to keep it safe. Finally, knowing your way around campus can help you feel more confident before the first day of class. Map your route to school, then make a visit to stroll around the campus. Familiarize yourself with the buildings where you will be taking classes, as well as the library and bookstore.
Going back to school as a retiree can be daunting, but some simple preparation over the summer can help you find success throughout the year.