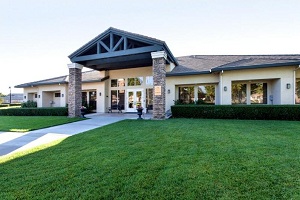 Active adults who want a smaller, more intimate community in Northern California won't want to miss the beautiful homes in Heritage at Lakeside. Designed for residents aged 55 or better, this lovely community has just 284 single-family homes, yet it also features an inviting clubhouse where residents can mingle with neighbors or make use of the exciting amenities.
Heritage at Lakeside was built in Elk Grove, California, between 2002 and 2004. The community is nestled around a beautiful fishing lake, which has a dock and boat launch. The lake is also skirted by scenic walking trails, which make it easy to explore the community while enjoying the beautiful California weather. While Heritage at Lakeside is a smaller community, its residents enjoy tranquil living as well as the appeal of a central clubhouse. This welcoming facility brings neighbors together with social clubs, special-interest groups, parties and diverse events. Residents can socialize in the sunny lobby, enjoy a game in the cards and billiards rooms, or pursue a favorite hobby in the arts and crafts studio.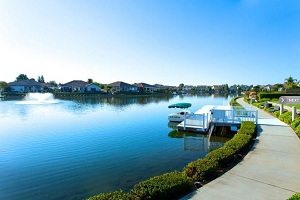 The clubhouse also features a library with computer workstations, and a fitness room with cardiovascular and strength-training equipment. A tasteful community ballroom, complete with a parquet dance floor, is an ideal place for parties, dances and other group events.
Outdoors, Heritage at Lakeside's beautiful man-made lake offers fishing, boating and lovely scenic views. There is a resort-style pool where residents can cool off with a swim or soak up some California sun. The grounds also offer walking trails, tennis courts and a putting green.
The 284 single-family homes in Heritage at Lakeside, built between 2002 and 2004, are now available on a resale basis. These homes were originally built in a number of appealing designs, with floor plans ranging from approximately 1,694 to 2,676 square feet. Floor plans vary by model, yet each home includes a minimum of two bedrooms, one full bathroom and a two-car garage.
Beyond the community gates, Heritage at Lakeside residents will find a number of attractions in Elk Grove and the surrounding area. The community is located only 25 minutes from Sacramento, where residents can explore museums and historic sites, as well as shops, restaurants and performing arts venues. The community is also within two hours of San Francisco and about two-and-a-half hours from Lake Tahoe, which are both ideal locations for day or weekend trips.
While Heritage at Lakeside is smaller than many active adult communities, it features lovely homes, an inviting clubhouse and plenty of exciting activities.
For more information on this community click here: Heritage at Lakeside - Elk Grove, CA